Chelsea target Robinho despite £30m price tag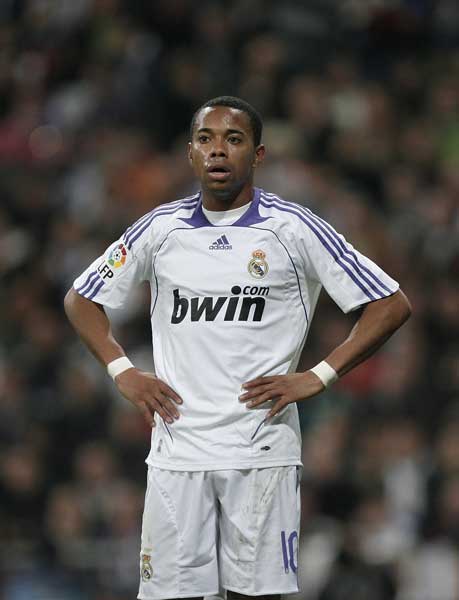 Chelsea are interested in signing Real Madrid's Robinho this summer – and may also push ahead with a bid for Valencia's David Villa as they re-shape their squad under new manager Luiz Felipe Scolari. But they faced further pressure yesterday to hold on to Frank Lampard with the Internazionale coach, Jose Mourinho, with typically mischievous timing, authorising the release of an interview hailing the midfielder as the "best professional I have ever worked with".
The interview is the precursor for a new bid, of around £10m, being launched for Lampard by Inter, possibly later today. They had an initial offer of £8m rejected by Chelsea, who insist they will not negotiate at any price. Lampard, having failed to agree a new contract, disputes the claim that they can hold him to the final year of his present deal and is considering whether to walk out of the club, invoking Article 17 of the Fifa regulations.
It would mean Chelsea would have to take action to recoup compensation while the 30-year-old would risk sanctions being imposed on him and Inter.
At the same time Scolari, who wants to keep Lampard, has told Chelsea that they should press ahead with investigating whether they should bid for Robinho, believing he is a far more realistic target than either Kaka, who Milan will not sell, or Ronaldinho, who the manager believes will join Manchester City. Even so Real are demanding around £30m for Robinho.
Chelsea, whose interest in the 24-year-old Brazil international pre-dates Scolari's appointment, are suspicious that Robinho and his advisers, headed by agent Wagner Ribeiro, are playing them off against Real. He has been seeking a new contract for the past 12 months and is annoyed that he is one of the club's lowest-paid players.
Mourinho will push on with his wish to sign Lampard having secured Roma winger Mancini for £11m. With that fee finally set, it means Inter can target their funds on Lampard who has grown increasingly angry at the stand-off with Chelsea. Yesterday a new video was released in which Mourinho spoke in glowing terms about Lampard. Speaking to Ford's FeelFootball.com debate programme, in an interview that was recorded in May, the former Chelsea manager said of the England international: "He's the player that trains better, has more concentration. He is never happy about his performance, always wants to improve.
"If he makes a mistake in a game, the next day in training he wants to stay one more hour to practice exactly that situation. I remember he missed a goal once with a difficult left-foot volley and the next day in training he was there one hour after the training session practicing that volley with the left foot. You know I had a captain in Porto, unbelievable, Jorge Costa. I think that's why he's a manager now, he was already like my assistant because of his character. He's the kind of player that is ready to die to win.
"In Chelsea I was lucky too because I had a nucleus of these kinds of characters. The African group I could say was a group of characters – Makelele, Gallas, Drogba, Essien – this group of players had incredible character.
"Lampard is incredibly professional. God gave players the talent, but some of them waste this talent but some of them with this kind of mentality make themselves better and these are the kind of the players that can last forever."
Join our commenting forum
Join thought-provoking conversations, follow other Independent readers and see their replies