Chelsea 'to net £45m Torres'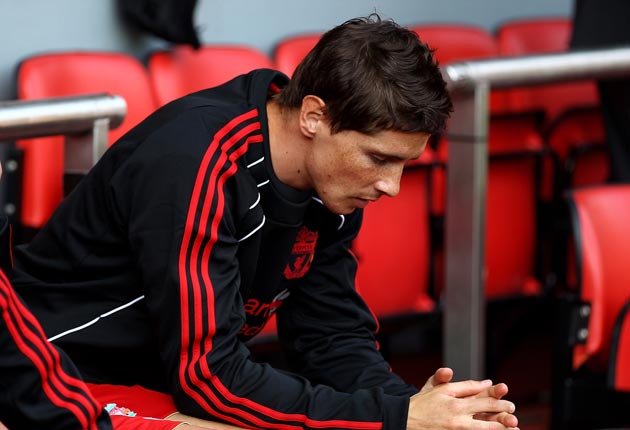 Chelsea will step up their attempt to sign Fernando Torres from Liverpool in the most expensive transfer between two British clubs before tomorrow's 11pm deadline. Although Chelsea's manager, Carlo Ancelotti, refused to discuss the bid after yesterday's 1-1 draw at Everton in the FA Cup, they could offer £45 million, with or without the England Under-21 forward Daniel Sturridge.
Liverpool were initially determined to hang on to their World Cup winning striker at least until the summer, when a £50m release clause in his contract is understood to kick in. But they were shocked when he made a formal request to leave on Friday, just as they signed Luis Suarez from Ajax with their season brightening up under caretaker manager Kenny Dalglish. Torres was one of several players who appeared to have become rejuvenated by Dalglish's appointment after giving a series of disappointing performances under Roy Hodgson. Hodgson, who was sacked three weeks ago, repeatedly had to cover up for Torres by emphasising a lack of full fitness after the World Cup campaign and a niggling injury.
Significantly, the striker's one outstanding performance in the first half of the season came when he scored both goals in a 2-0 win at Anfield over Chelsea, whose keenness to sign him was redoubled. They know they can offer what he most desires – Champions' League football – and he would be eligible for the knockout stages of this season's competition.
If he stays until summer, Torres will face an awkward few months with Liverpool's hitherto adoring supporters, now that he has made his true feelings known. "Get out now" was one comment on the official club website yesterday. The club's statement late on Friday said: "Fernando Torres submitted a written transfer request, which has been rejected."
Liverpool also have to decide whether to increase their bid for Charlie Adam, the captain of Blackpool, who say they have only been offered £4m, not the £6.5m widely quoted. In today's Independent on Sunday, Blackpool's manager, Ian Holloway, reveals the background to the controversy stirred up in midweek about his entitlement to a percentage of any profit made on transfers.
"It is a standard management contract," he writes. "The chairman told me I had improved the players so much that he wanted it to apply to any one of them that we made money on – so it's not just Charlie, it is everyone. That's been there for ages."
Join our commenting forum
Join thought-provoking conversations, follow other Independent readers and see their replies