Antonio Conte will be frustrated by Chelsea transfer window not befitting of Premier League champions
Spurned by several targets, Chelsea's summer fell flat. Why?
Jack Pitt-Brooke
Friday 01 September 2017 15:27 Comments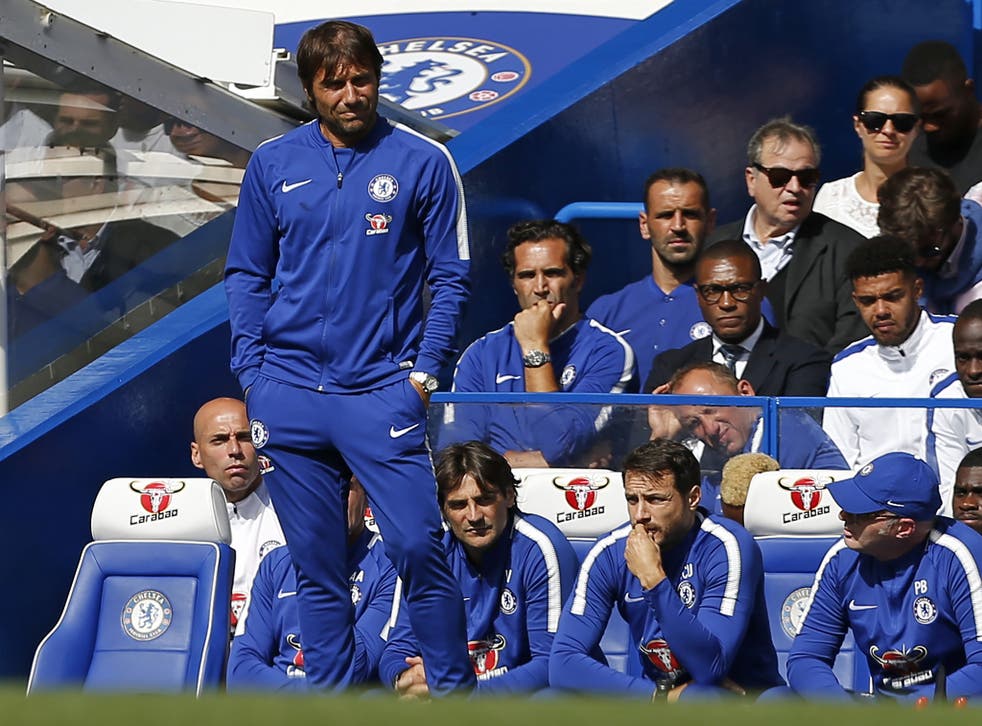 When Antonio Conte was unveiled as Chelsea manager he said that he would be a "tailor", cutting the cloth of his team according to his resources and his requirements. He was good to his word, winning the Premier League title with a squad that looked patchy and ageing at the start of the season.
But this year was meant to be different and yet it feels, at the closing of the transfer window, that Conte will have to overachieve again to win the big trophies with this squad.
They have added plenty of depth, but only two first-team players, and this week faced the unusual embarrassment of having two high-profile targets pull out of proposed moves at the 11th hour. To have Alex Oxlade-Chamberlain pull out then go to Liverpool was a surprise, suggesting an opportunistic move that did not come off. To then have Ross Barkley pull out to keep his options open all the more so. It raises serious questions about a transfer approach, when moves can be left to chance, that has frustrated Antonio Conte all summer.
It would take a very optimistic view from Stamford Bridge to suggest that Chelsea have strengthened this summer, and certainly not at the rate that Manchester City and Manchester United, their two main title rivals, have. While they have spent hundreds of millions on obvious first-team upgrades, Chelsea have not.
Two men who made up the spine of the team that ground out the 2014-15 and 2016-17 Premier League titles have gone. Nemanja Matic is one of United's obvious upgrades and Diego Costa is relaxing at home in Brazil, waiting to join Atletico Madrid in January. They were two serious senior players who had proven themselves all over Europe and had the medals to show for it.
They have been replaced by Alvaro Morata and Tiemoué Bakayoko, two talented young players, aged 24 and 23 respectively, who have shown flashes of their effectiveness in their careers so far. Morata impressed in his two years for Max Allegri's Juventus but at Real Madrid he was rarely a first choice and he will have far more responsibility to shoulder at Chelsea.
Premier League transfer window: The key moves
Bakayoko was the midfield engine of Monaco but English football is played a different speed, which he will have to get up to, although he will at least have N'Golo Kante to help him.
And this is ultimately the nub of the issue at Chelsea this summer. Technical director Michael Emenalo has wanted a youthful upgrade to this Chelsea squad that was largely put together at the start of this decade. He wants to target the best players in Europe in their early 20s, when they are cheaper, to start a new generation of stars to take Chelsea forward.
The model is Real Madrid, who have moved ahead of Barcelona recently by picking off the best young talent they can find. They have signed Isco at 21, Casemiro at 21, Marco Asensio at 18, Raphael Varane at 18, Dani Ceballos at 20 and now they have the best, most exciting and most successful squad in Europe.
That is where Emenalo wants to be but Conte has more immediate concerns. He wants immediate experience to help Chelsea keep winning, to avoid what he scathingly calls "a Mourinho season", and to help the team retain the Premier League. No-one has done that since Manchester United in 2008-09, of course, and it needs serious and targeted summer recruitment to get there.
After Juventus won their second Serie A title under Conte, in the summer of 2013, they added Carlos Tevez and Fernando Llorente, to provide the experience and edge to take the team onto the next level. They won the league with 102 points.
That was not far from what Conte wanted at Chelsea this season, starting with experience up front. The ball was rolling when Conte told Diego Costa that he would not be involved this season and the plan was to sign Romelu Lukaku, who felt he had unfinished business after leaving Stamford Bridge in 2013. But Chelsea dithered on making their move and Manchester United, frustrated by not agreeing a deal with Morata, pounced. Chelsea made a late move but Lukaku had settled on United by then and that was that. Conte was not impressed.
Chelsea got Morata and Conte wanted Llorente, his old player from Juventus, to come in as a mentor and guide for Morata. But, again, they were beaten to the signing by a rival. Tottenham made their move first, Chelsea got left behind, and he will now be a Spurs player this season.
Most of the players Chelsea signed this summer, Willy Caballero, Antonio Rudiger, Danny Drinkwater, Davide Zappacosta, are more about depth than upgrading. They will be important now that Chelsea are competing in the Champions League, but it remains to be seen whether they can improve the first team week on week.
Last summer the final week was the denouement of the window, when they added Marcos Alonso and David Luiz, the players who became the crucial pieces for Conte's surprising title. The final week this year was meant to be when they landed Drinkwater, Oxlade-Chamberlain and Barkley but they ended with just one. Playing for the champions is meant to be more attractive than this.
Register for free to continue reading
Registration is a free and easy way to support our truly independent journalism
By registering, you will also enjoy limited access to Premium articles, exclusive newsletters, commenting, and virtual events with our leading journalists
Already have an account? sign in
Join our new commenting forum
Join thought-provoking conversations, follow other Independent readers and see their replies