Daniel Sturridge's Liverpool exit flies under the radar – but West Brom move could be a marriage made in heaven
Jonathan Liew: You can hardly blame Liverpool for giving up. But Sturridge and West Brom may be just what each other need right now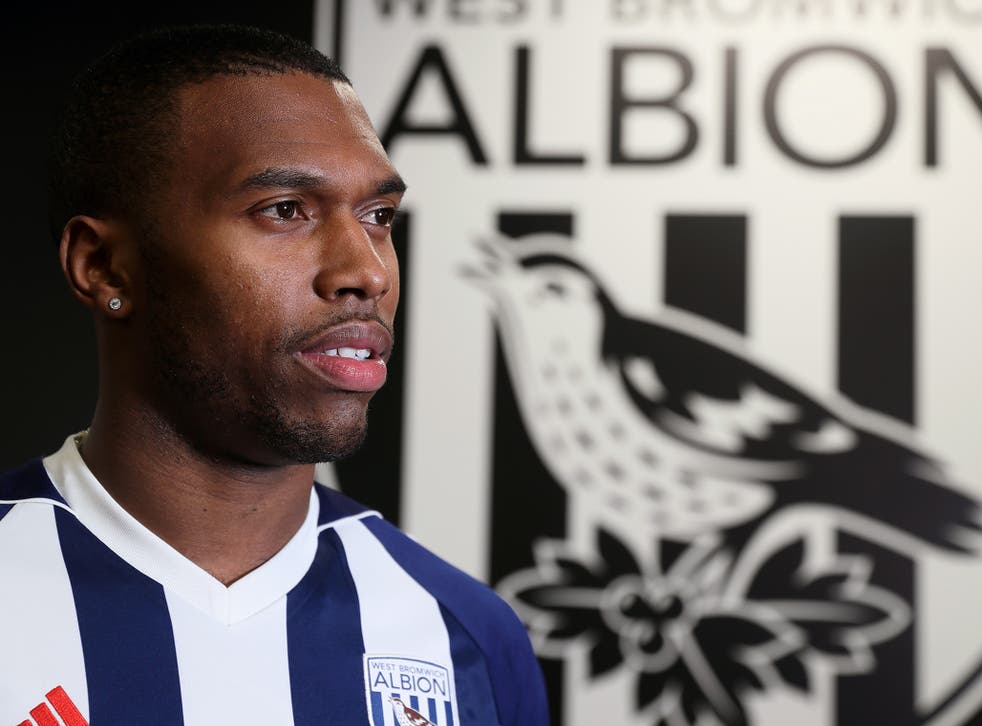 The departure of Daniel Sturridge from Liverpool, probably for good, went curiously unheralded - perhaps even overlooked - as the transfer window reached its molten, string-soaked climax. And yet, even allowing for English football's whirlwind rate of renewal, it is striking how a player who at 28 is theoretically in his peak years, who has scored his Premier League goals for Liverpool at a faster rate than Robbie Fowler or Ian Rush, is already beginning to feel like his time was yesterday.
That certainly appears to be Liverpool's conclusion, and the fact that they were quite happy to let Sturridge join West Brom on loan, but not under any circumstances to listen to offers for Danny Ings - "No chance," Jurgen Klopp scoffed earlier this week - probably says a good deal about Sturridge's place in the Anfield pecking order. Even Dom Solanke has overtaken him in recent weeks.
You can hardly blame Liverpool, either, for finally giving up. It is now almost four years since they almost surged to the title on the brilliance of Sturridge and Luis Suarez. And yet even back then, when he was at his unstoppable best, there was a sort of crystalline fragility to Sturridge, a feeling that for all his effortless speed and gossamer agility, he was never more than one well-aimed, medium-strength kick away from crumpling like a doomed school origami project.
Transfers: Players that are out of contract in 2018

Show all 43
He has missed 91 games in five years, and it is possible that the lightning burst of quickness - the one with which he would carve out his precious inches of shooting space - may be gone forever. The admission in 2014 that his chronic injuries might be "hereditary" - a result of "Caribbean vibes" - was telling not for its medical insight but more for the glimpse it offered into Sturridge's ailing self-image. A player who believes himself vulnerable is already halfway to losing the battle.
And yet, here he comes again: a fresh start, and perhaps fresh hope too. Sevilla - the team against whom Sturridge memorably scored in the 2016 Europa League final - never truly consummated their interest, instead turning to Everton misfit Sandro Ramirez to solve their acute goal-scoring issues. Inter Milan were in the hunt, and the partnership Sturridge might have formed with Mauro Icardi there will alas remain one of modern football's great dream sequences.
Newcastle also made a late swoop, but ultimately the call of the Midlands - Sturridge's home region and where much of his family still live - proved irresistible. There are similarities here, perhaps, with Jack Wilshere's decision to reject AC Milan and join Bournemouth on loan last season, a move that earned him a good deal of criticism at the time, but given his subsequent renaissance at Arsenal has to go down as a success.
The hope for Sturridge is that a change of scenery and some precious home comforts can inspire a similar renaissance. There is a place in England's World Cup squad to be fought for, and given his ability to peak in big games and conjure goals in tight spaces, tournament football may ultimately play to his strengths. Yet Gareth Southgate has made it clear to him that until he starts playing 90 minutes on a regular basis, he cannot be considered for selection. Leaving was the only real option.
It makes sense, too, for West Brom: a hard-working side still trying to shrug off the legacy of the sacked Tony Pulis, who it is hard to imagine would have sanctioned this transfer. But under Alan Pardew, a manager more prepared to indulge his flair players, Sturridge's superior ability, the talent to fashion goals out of half- and quarter-chances, may just have the same sort of talismanic effect that Jermain Defoe had on Sunderland in 2015 and 2016.
Since taking charge two months ago, Pardew has tried to play two up front wherever possible. With Chris Brunt and Matt Phillips providing service from the flanks, with Salomon Rondon or Jay Rodriguez creating space alongside him, with a team around him who have run further than any other Premier League side bar Bournemouth, the support network is already in place. Sturridge and West Brom may be just what each other need right now.
Whether it works, of course, is largely down to Sturridge himself. He won't see a lot of the ball. Against the better sides - and given that West Brom are currently bottom of the table, that means everybody - he'll have to do a lot of selfless running, the sort that may put a strain on those breadstick joints. There will be days when he does virtually nothing at all, and those invariably will be the days his critics choose to ooze out of the walls like damp: offering up the same tired tropes about Sturridge's lack of fight, parroting Klopp's deeply irresponsible observation that Sturridge had only to learn the difference between "serious pain" and "only pain".
It scarcely needs to be said, of course, that Sturridge has no obligation to spend the rest of his life hobbling around in debilitating pain to keep you or anyone else happy. The only person, in fact, to whom he really has anything to prove is himself. And if the body is still willing, if the mind is still fresh, if there's a pitch and a goal and a half-chance in a crowded penalty area, there are still few strikers you would rather see with his foot on the ball.
Join our new commenting forum
Join thought-provoking conversations, follow other Independent readers and see their replies