Eden Hazard: Manchester City, Chelsea and Manchester United in race to sign a potential global superstar
France's Player of the Year is set to join a Premier League club this summer – but is enjoying taking his time choosing which one
Andy Brassell
Wednesday 23 May 2012 11:39 Comments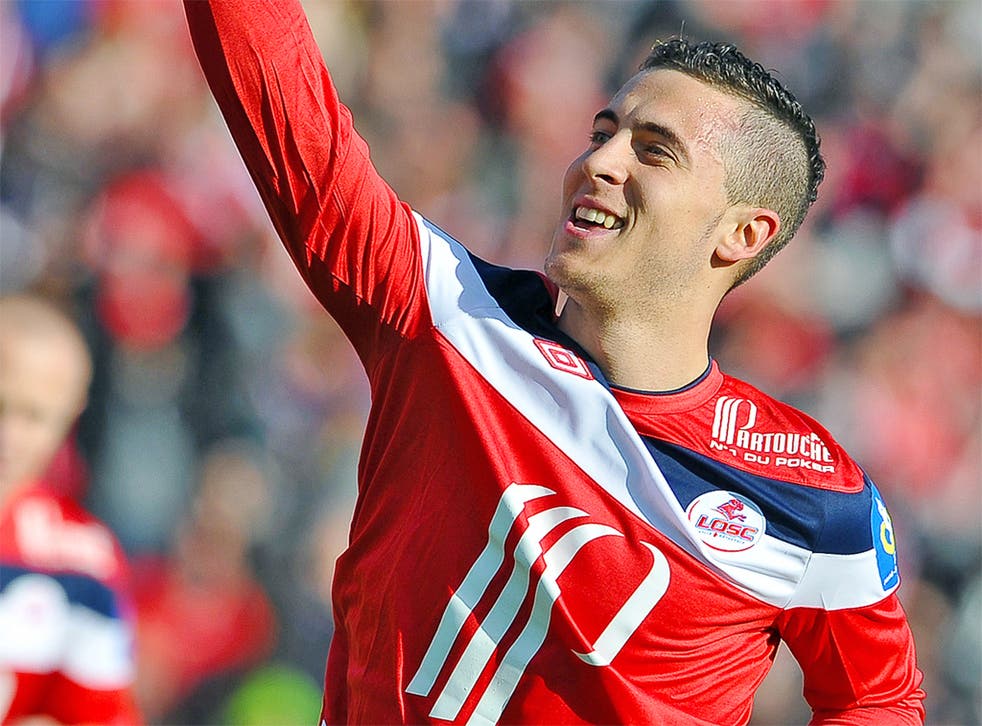 Nothing had been riding on Lille's final game of the season on Sunday against Nancy, with Champions League qualification already sealed but a chance of retaining the Ligue 1 title out of reach. Still, journalists squeezed into the modest press conference room at their (soon-to-be-former) home, Stade Villeneuve d'Ascq, to hear the definitive final word, with Eden Hazard expected to finally detail which Premier League club he would be joining.
"I haven't made my choice yet," he shrugged. It wasn't just a moment of anti-climax for those waiting on tenterhooks, but a rare sign of wavering from this most self-confident of young men. While Hazard has teased possible suitors – and the public – in recent months, he has always exuded a strong sense of assurance.
His curtain call against Nancy, the same side he made his professional debut against in November 2007 at the age of 16, showed exactly why England's finest are jockeying for position in the race to sign him. Hazard fired a first-half hat-trick, taking him up to 20 league goals for the season, one short of the French top division's top scorers, Montpellier's Olivier Giroud and Nenê of Paris Saint-Germain. The Lille No 10 was alone at the summit of the assist table, with 15.
This season Hazard has demonstrated what all the fuss is about and his projected €40m (£32.3m) move would make him the most lucrative ever player sale from Ligue 1, topping the £26.2m Chelsea paid for Michael Essien in 2005. Ten days ago, his peers voted him Player of the Year for the second successive season, following on from his Young Player of the Year titles in 2009 and 2010.
Hazard's rise is down to a number of factors: the confidence gleaned from Lille's league and cup Double last year; the move from wide left to a more central position in the second half of the campaign, and even the boost of a kindred spirit arriving in the on-loan Joe Cole, with whom the Belgian enjoys considerable creative synergy.
It is not too much of a stretch to suggest that Cole's experience and class has made the idea of thriving in England a more attractive prospect to Hazard. The admiration is certainly mutual. "I don't want to keep putting pressure on him," Cole told me just before Christmas. "But he seems like the sort of character who can deal with it all. He's just a fantastic talent. He can go on and become one of the best players in the world."
At just 21, Hazard has manipulated the prospect of his impending transfer like a seasoned pro. During the first four months of 2012, he's given all the Premier League's leading lights encouragement. As a special guest on the panel of the television programme Canal Football Club at the end of January, he gave a clear and controlled performance under some typically direct questioning from host Hervé Mathoux.
Just before the closure of the winter transfer window, Hazard firmly declared it was absolutely impossible that he would leave before summer, but that he had taken the decision to go to England at the end of the campaign. Neglecting to name a preferred club, he praised the qualities of all the Premier League's leading lights in turn.
"I bet it's Chelsea," Canal Plus's leading pundit, Christophe Dugarry, suggested towards the end of the segment. "Well, you're free to bet as you want," Hazard smirked back, before unwittingly stoking further rumours of a move to Stamford Bridge among English fans by tweeting: "What did you think about me on CFC?" (using the acronym to describe the show, not the English club) on the way home from the studio.
Such poise may be a surprising quality in a relative stripling, but Hazard is the product of his environment. He is the oldest of four brothers. Thorgan, 19, is attracting interest from Italy and Portugal after just six starts for Lille's second-tier neighbours, Lens. Kylian joined his big brother at Lille last summer, signing up for the academy when he turned 16. Seven-year-old Ethan has just started on the same path. Like Eden, he has joined the youth ranks at AFC Tubize, a second-tier club based 15 minutes' drive from the Hazard family home in the small Belgian town of Braine-le-Comte, 30 miles from the French border.
The boys are of good footballing stock; father Thierry was a semi-professional in the Belgian Second Division, while mother Carine was an accomplished centre-forward in Belgium's top flight before quitting at 26, when she became pregnant with her eldest son. "Eden was scoring goals before he was born thanks to me," she told Le Parisien last year.
The next generation has already begun to emerge, with Hazard becoming a father to a baby boy in December 2010. Yet if he is lauded for his maturity in France, the Belgium national side has yet to see him at his best. Hazard's international career has been a slow burner, and he has scored just once in 26 matches for his country.
A testy relationship with then-coach Georges Leekens came to a head last summer, when Hazard was substituted after an hour of the Euro 2012 qualifier against Turkey in Brussels. A photographer later snapped Hazard eating a hamburger with his father outside the Stade Roi Baudouin while the game was still going on. He apologised, but Leekens suspended him for three games in August, before relenting later in the month.
Even though he identifies himself as an Anderlecht fan, there is a sense that there is a certain disconnect between Hazard and his home nation: much as with Lionel Messi, it seems an inevitable consequence of the vast majority of his football education unfolding abroad. After being spotted by Lille scouts at Tubize, he moved to France at 14 to join the academy. Leekens' replacement, Marc Wilmots, once suggested French observers are "blinded by Eden's moments of magic."
Hazard's talent has certainly infuriated opponents in the past. "Even though they were already winning 3-0," Nancy defender André Luiz complained after a game last January, "he [Hazard] was taking the piss out of us with the ball, waiting for an opponent after having dribbled past him so he could dribble past him again. Even his team-mates thought it was over the top."
Any perceived annoyance at Hazard's star status within Lille's corridors appears vastly exaggerated. When coach Rudi Garcia substituted Hazard a few minutes from the end of Sunday's match to allow him a prolonged ovation, each one of his team-mates ran across to individually embrace him.
It wasn't just an indication of how honoured the Lille squad feels to have watched Hazard grow, but also of how much they appreciate his work ethic. He is no shallow egotist. "Is this my best season?" he pondered last week. "Stats-wise, yes. But last season, there was the Double, and this, nothing." His voice trailed away, losing interest. Hazard wants to shine individually, and be well paid while doing it, but he also wants to win things – which is exactly why Chelsea are back in the running following their Champions League triumph.
Hazard: Young duke
Born 7 January 1991, La Louvière, Belgium
Club career
2007- Lille (192 games, 50 goals)
International career
26 caps for Belgium, one goal.
Debut v Luxembourg, Nov 2008
Honours
Ligue 1 2010-11, French Cup 2010-11
Individual honours
Ligue 1 Young Player of the Year: 2008-09, 2009-10
Ligue 1 Player of the Year: 2010-11, 2011-12
Register for free to continue reading
Registration is a free and easy way to support our truly independent journalism
By registering, you will also enjoy limited access to Premium articles, exclusive newsletters, commenting, and virtual events with our leading journalists
Already have an account? sign in
Join our new commenting forum
Join thought-provoking conversations, follow other Independent readers and see their replies