Fabregas misses Germany trip as Barça drag feet
Midfielder left behind to nurse hamstring injury as frustrations grow over move back to Spain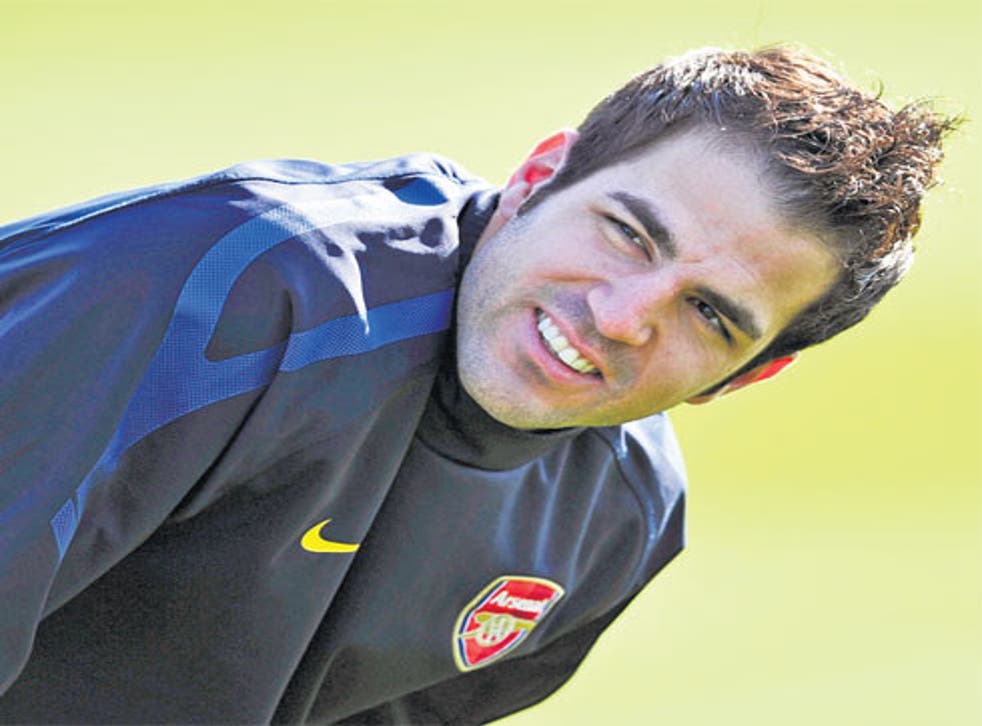 Cesc Fabregas will not be on Arsenal's flight to Germany today for their key pre-season training camp, as the club captain remains in limbo waiting to be told whether Barcelona have been successful in their efforts to bring him back to his boyhood club.
The same hamstring injury that prevented him from travelling to the Far East on the club's more commercially oriented tour earlier this month continues to be a problem for Fabregas. Quite apart from whether Barcelona, who yesterday confirmed they will sign Udinese's Chilean winger Alexis Sanchez for €26m (£23m) plus add-ons, meet Arsenal's valuation of the player, it means that he will miss the bulk of the pre-season preparation for the squad in a summer that has been full of frustration for the player.
For now the chances are that Fabregas will still be an Arsenal player when his team-mates return to play next weekend's double-header in the Emirates Cup against Boca Juniors on 30 July and New York Red Bulls the following day. Barcelona are dragging their feet over a third bid, this time of £35m, and in the meantime Arsenal have told them they will not do business after the end of the month.
Whether they hold true to that promise, or whether it is another of the negotiating positions adopted in this interminable saga between the two clubs, remains to be seen. But what is not in doubt is that Fabregas, having reluctantly agreed to give the Arsenal manager, Arsène Wenger, one more season last summer, is determined to get his move back to Barcelona.
There is quiet despair in the Fabregas camp that Arsenal are proving so stubborn in their £40m valuation and that Barça are not prepared to push their offer closer. The player's wage demands of around ¤6m (£5.3m) net a year are by no means modest and, for a club labouring under a £400m debt, the investment in Fabregas would be substantial.
For the next few days Fabregas will be on his own working on his rehabilitation at Arsenal's training ground while his team-mates face Cologne in a friendly tomorrow. Abou Diaby is out the trip with an ankle injury while Manuel Aluminia and Nicklas Bendtner have stayed behind to complete their moves away from Arsenal.
As for Fabregas, so far he has not taken the nuclear option favoured by Luka Modric at Tottenham in pushing for a transfer – that of publicly blaming the club for reneging on promises – but there is no doubt among those close to him that he does not want to stay for another year.
In the past Arsenal have managed to sell key players – notably Patrick Vieira and Thierry Henry – with decorum and goodwill on both sides. But, with Barcelona and Arsenal still a long way apart and Fabregas himself set on the move, it may come to the point when the player feels he has no option but to force the issue.
For Wenger the problem is to portray his club as ambitious and forward-thinking to potential signings while having to acknowledge that, in Fabregas and Samir Nasri, he has two key players who want to leave. Arsenal's moves for Phil Jagielka, for a long time their first choice to partner Thomas Vermaelen, culminated yesterday in a £10m offer, which is nowhere near Everton's £20m valuation.
The key problem in signing Jagielka is that the player is happy at Everton – he signed a new four-year deal in March – and does not regard Arsenal as the major step up the ladder that would justify uprooting himself. He was the subject of interest from Wenger last summer and did not push Everton in the slightest to respond to Arsenal. But Everton's financial position may mean they have no choice but to listen to offers this time.
In the past few days the signing of the 19-year-old Costa Rica international Joel Campbell has slipped through Arsenal's fingers when he changed his mind at the last minute. Southampton's 17-year-old prodigy Alex Oxlade-Chamberlain was a serious target in January but Arsenal's £6m offer – including add-ons – is not close to the £12m Southampton want.
The £1m signing of Carl Jenkinson from Charlton Athletic is an intriguing one but it is understood that he was a recommendation to Wenger from one of his scouting staff upon whom the Arsenal manager was willing to take a chance because the fee was so low. The £11m spent on Gervinho, from Lille, has been Arsenal's only major signing of the summer.
With £110m in cash reserves, £40m of which has been made available for transfers, and a potential further £40m from Fabregas there is money for Wenger to spend. He is fond of saying that players who justify such outlay are few and far between – but the imperative to find them has rarely been greater.
Register for free to continue reading
Registration is a free and easy way to support our truly independent journalism
By registering, you will also enjoy limited access to Premium articles, exclusive newsletters, commenting, and virtual events with our leading journalists
Already have an account? sign in
Register for free to continue reading
Registration is a free and easy way to support our truly independent journalism
By registering, you will also enjoy limited access to Premium articles, exclusive newsletters, commenting, and virtual events with our leading journalists
Already have an account? sign in
Join our new commenting forum
Join thought-provoking conversations, follow other Independent readers and see their replies