Gareth Bale finally departs Tottenham for Real Madrid in 'record' £86m transfer
Spanish giants dispute claims over amount paid to Tottenham for the Welsh winger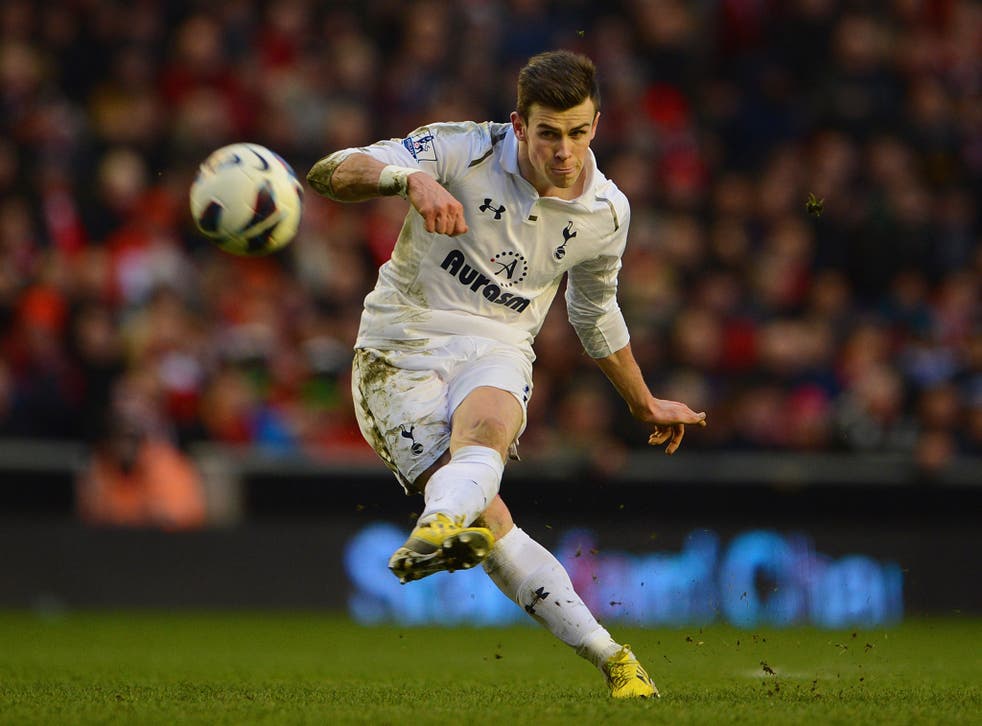 Gareth Bale completed his move to Real Madrid from Tottenham Hotspur on Sunday night, for a fee Spurs – but not Real Madrid – insisted broke Cristiano Ronaldo's world record.
While Tottenham said they had been paid €100m for Bale – £86m – sources in Spain described the fee as €90m, or £78m. The record, before Sunday, was the £80m (€94m) that Real Madrid paid Manchester United for Ronaldo in 2009.
Bale has signed a six-year deal and will be presented at the Santiago Bernabeu, which has had a stage erected for a week, at midday.
After weeks of negotiations, the 24-year-old winger, the winner of the Professional Footballers' Association Player of the Year and Football Writers' Association Footballer of the Year for his remarkable 2012-13 season, was confirmed as a Real Madrid player on the websites of the two clubs yesterday evening.
Spurs chairman Daniel Levy said Bale had only been sold because his head had been turned by Real Madrid. "Gareth was a player we had absolutely no intention of selling as we look to build for the future," Levy said. "He is a player whose career we have fostered and developed and he was only a year into his new four-year contract.
"Such has been the attention from Real Madrid and so great is Gareth's desire to join them, that we have taken the view that the player will not be sufficiently committed to our campaign in the current season.
"We have, therefore, with great reluctance, agreed to this sale and do so in the knowledge that we have an exceptionally strong squad."
Bale released a statement on the Spurs website, hoping the fans would "understand this amazing career opportunity".
He said: "I am not sure there is ever a good time to leave a club where I felt settled and was playing the best football of my career to date. I know many players talk of their desire to join the club of their boyhood dreams, but I can honestly say, this is my dream come true."
The Spurs manager, Andre Villas-Boas, confirmed that Bale had gone in the aftermath of Spurs' 1-0 defeat to Arsenal in the north London derby.
"We have moved forward in our work, moved forward in our transfer activity," said Villas-Boas, denying that the transfer saga had affected the start to Spurs' season. "It hasn't really had that kind of effect on us.
"Bale is an absolutely wonderful player, he is going to join Real Madrid, we wish him all the best. He has left us with great memories from last season, which I think every Tottenham fan cherishes, but he has moved on, we will move on as well."
Spurs have already spent much of the fee on new recruits. Paulinho, Etienne Capoue, Roberto Soldado and Nacer Chadli all started the weekend's game while Erik Lamela came off the bench. Christian Eriksen and Vlad Chiriches were not registered in time. There was fear of a serious injury to Capoue, though, after the French midfielder was carried off following a challenge from Santi Cazorla.
Arsène Wenger, the Arsenal manager, was delighted with his team's performance. "It was a convincing win in a very intense game. We showed aspects from our game that people are not used to seeing from us, that means commitment, desire, defending. Their keeper was their best player."
Although Arsenal have only made two free signings, Wenger said he may surprise people with transfer activity on Monday, with Real Madrid's Mesut Ozil a target.
"We need one or two super players. We will try to add that. There are 24 hours left maybe we can surprise you, maybe not."
Wenger insisted he was happy to spend. "I am ready to pay what we can afford. Even if it is a bit over the market as long as it is not crazy."
Register for free to continue reading
Registration is a free and easy way to support our truly independent journalism
By registering, you will also enjoy limited access to Premium articles, exclusive newsletters, commenting, and virtual events with our leading journalists
Already have an account? sign in
Register for free to continue reading
Registration is a free and easy way to support our truly independent journalism
By registering, you will also enjoy limited access to Premium articles, exclusive newsletters, commenting, and virtual events with our leading journalists
Already have an account? sign in
Join our new commenting forum
Join thought-provoking conversations, follow other Independent readers and see their replies