How Isco slipped from Tottenham's grasp and made himself Real Madrid's most important player
Isco has enjoyed a brilliant last year or so for Real Madrid but it was not always like that and back in the summer of 2016, Mauricio Pochettino tried to poach him on loan
Jack Pitt-Brooke
Madrid
Tuesday 17 October 2017 11:34 Comments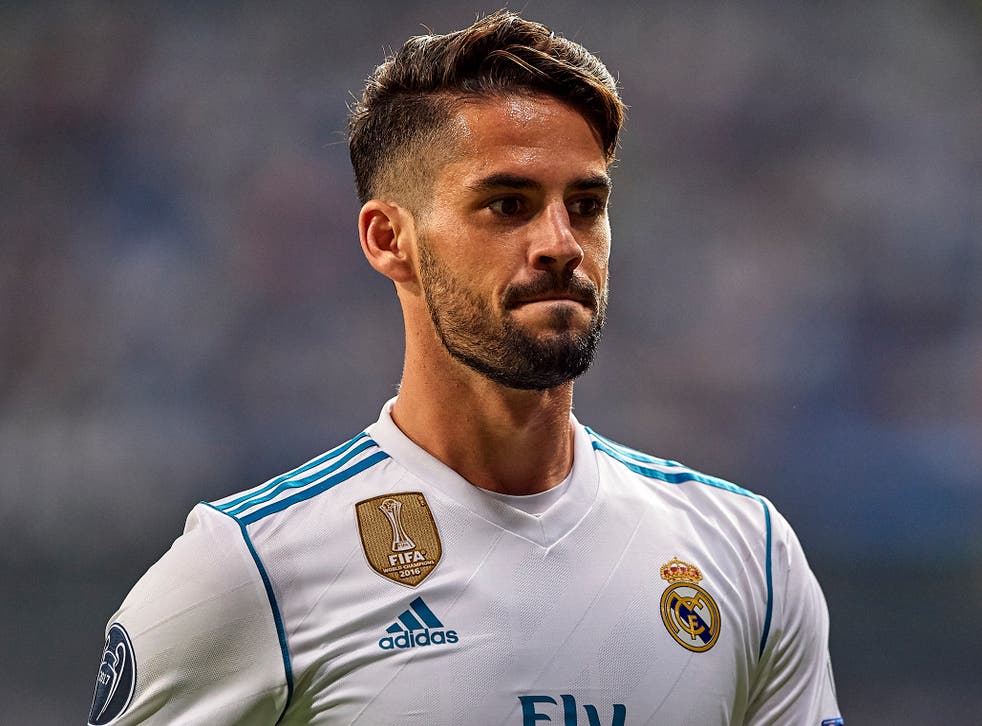 Mauricio Pochettino does not like to talk about other team's players, especially those he has tried to sign in the past. But he did nothing at his press conference at the Santiago Bernabeu on Monday night to hide his admiration for Isco, Real Madrid's brilliant midfielder, who has asserted himself over the last year as one of the world's best in his position, and as the man who knits this Real team together.
Isco has enjoyed a brilliant last year or so for Real Madrid but it was not always like that and back in the summer of 2016, when Isco was looking slightly overwhelmed at the Bernabeu, Pochettino enquired about the possibility of taking him to White Hart Lane on loan for a season.
He wanted some extra incision in the final third but Isco would prove to be out of his grasp. Since then he has got better and better.
"Every coach wants to sign the best players," Pochettino said last night when asked about his Isco bid. "And Isco is proving he is one of the best players in the world. We have known about him for a while, I have seen him in different clubs in his career, and he has always been a player with great creativity, great capability, beyond the average."
Isco was certainly a sensation at Malaga before he turned 21 but it has only been since the start of last season, that is since Pochettino tried to sign him, that he has fulfilled his potential at Real. There is little chance of him showing up at Tottenham any time soon, it must be said.
"He is a player who has reached his maturity at this great club," Pochettino said, "and obviously he is a player we must take into account when we play against him. His magic and quality are absolutely obvious."
2017 Ballon d'Or nominees

Show all 31
And yet Isco's magic and quality were not absolutely obvious during his first few years at Real Madrid. He was unlucky enough to join in 2013, the same summer as Gareth Bale, and the formation of the 'BBC' meant the team did not need a number 10. That meant his opportunities were limited and the arrival of Toni Kroos the following summer only made things worse.
But it became clear last season that this Real Madrid team worked best with Isco in a 4-4-2, rather than without him in a 4-3-3. He was the man to link the midfield of Kroos and Luka Modric with the big guns up front. So while he was sat on the bench for the 2016 Champions League final – prompting Pochettino's call – he was starting ahead of Bale for the 2017 final. When Real Madrid picked Manchester United apart in the Super Cup in Skopje in August, Isco was the best player on the pitch.
It helps that Isco is playing further forward now than he used to, playing in what he describes as 'his poisition', but he puts his improvement down most of all to his maturing.
"I think I have improved," he said in his own press conference at Valdebebas yesterday. "I have been at Real Madrid for more than four years now, I have matured in football terms. I understand the game better and what is needed. Eventually, thanks to different experiences, you improve and learn, as I have."
Now, having just signed a new deal, 25-year-old Isco looks like a player nearing the peak of his powers, and he is as likely as anyone – even Lionel Messi, Neymar or Cristiano Ronaldo – to dominate the World Cup in Russia next summer. He has finally got to the level everyone thought he would reach, but he will not let it bother him too much.
"I've said many times, I try to go unnoticed," he said. "I don't watch the news, I don't read the papers. It helps me a bit to stay away from the praise. We know how football is: if you play great you're a god, if you lose a few passes in a row they want to sell you from Real Madrid. You just have to find balance so these things don't affect you."
Register for free to continue reading
Registration is a free and easy way to support our truly independent journalism
By registering, you will also enjoy limited access to Premium articles, exclusive newsletters, commenting, and virtual events with our leading journalists
Already have an account? sign in
Join our new commenting forum
Join thought-provoking conversations, follow other Independent readers and see their replies