Isco reveals Real Madrid and Manchester City have made offers for him
The Spain international appears certain to leave Malaga this summer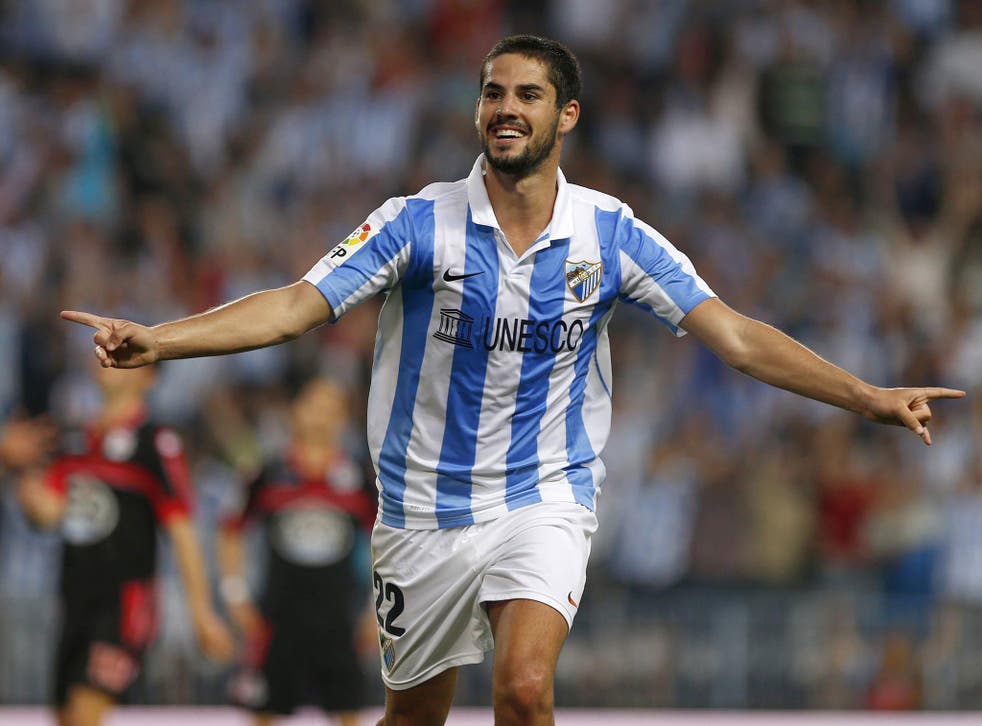 Spanish midfielder Isco has revealed that his future club is a straight choice between Real Madrid and Manchester City.
The 21-year-old is certain to leave cash-strapped Malaga and he told Spanish newspaper AS that both the Spanish giants and Manuel Pellegrini's side have made concrete offers.
Asked about the efforts the two clubs have made to sign him, Isco responded: "Those are the two clubs that have shown the most interest.
"I hope to decide soon because I still have a contract with Malaga. I know that Manchester City and Real Madrid are both huge clubs. I hope that whatever I choose will be the best for me and for Malaga."
When pressed on the matter, he added: "Yes, there are offers on the table from both clubs."
He insisted he had not made any decision yet and had no preference between the two clubs, adding: "All I want is to play football wherever I go and enjoy myself."
A move to City would mean linking up again with Pellegrini, with whom he has spent the last two years at Malaga.
Isco was keen to highlight the crucial role the Chilean coach has had on his career and hinted the fact he has been confirmed as the new coach at the Etihad may play to City's advantage.
"It's true that I already know him, I know how he works and in the two years I spent with him at Malaga he he has been fundamental to my career," he said.
"The fact that we have worked together and I know his style of management is another reason, but it's not a decisive factor."
However, he was keen to stress that he had not made any contact with his former boss since he was announced as City coach.
"I haven't spoken with him," he said. "I found out they had hired him while I was reading the news on the internet, but he hasn't called me.
"He is a great coach who did an incredible job with Malaga, as he did with other clubs, and I'm sure he will do well at City."
PA
Register for free to continue reading
Registration is a free and easy way to support our truly independent journalism
By registering, you will also enjoy limited access to Premium articles, exclusive newsletters, commenting, and virtual events with our leading journalists
Already have an account? sign in
Register for free to continue reading
Registration is a free and easy way to support our truly independent journalism
By registering, you will also enjoy limited access to Premium articles, exclusive newsletters, commenting, and virtual events with our leading journalists
Already have an account? sign in
Join our new commenting forum
Join thought-provoking conversations, follow other Independent readers and see their replies