Liverpool transfer news: James Milner explains why Manchester City frustrations drove him to Anfield move
'That role of filling in, more when other people aren't available, playing all over the field; I don't think it lets you show your best football'
Simon Hughes
Tuesday 14 July 2015 11:15 Comments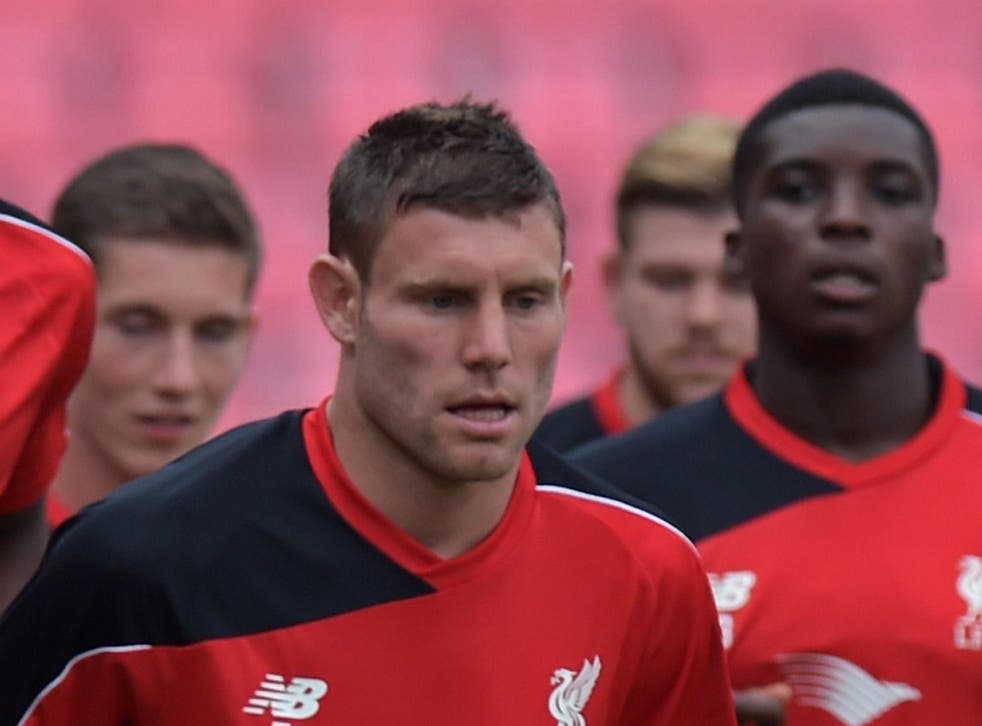 When James Milner steps out as a Liverpool player for the first time on the pitch in Thailand's Rajamangala National Stadium in Bangkok later today, it is likely to be as a central midfielder.
Milner has been told by manager Brendan Rodgers that he considers it the 29-year-old's best position and depending on form, will mean he is stationed there from now on.
Such an assurance Milner never received at Manchester City, where a lack of opportunities to function in the role that earned him a move to the Etihad in the first place led to him being considered as a Jack of all trades and master of none.
It is an issue that clearly frustrated him and ultimately explains his departure from a club that will probably win more trophies to one that will find it more difficult.
His first answer on the matter is likely to be as full as you will get from a footballer. Six-hundred and 15 words were used across nearly three and a half minutes, without any need for a push.
Milner's decision boils down to the following points: "I thought at times at City I won Player of the Month and then didn't play for three, four or five games after," he said. "I feel here if I play well, I'll keep the shirt. It's down to me.
"That role of filling in, more when other people aren't available, playing all over the field; I don't think it lets you show your best football."
It has been suggested by Raheem Sterling's representatives that the winger's deteriorating relationship with Rodgers was a contributing factor towards his departure from Anfield. But Milner, speaking for himself, talks of a manager who made him feel he "wanted to go and run through a brick wall for" after the initial conversation, although afterwards he changed his mind "on a weekly basis" about leaving, mainly because City really wanted to keep him and generally, he enjoyed it there.
"They saw me as a big part of the club," he said. "However, when we come to it, getting to finals and things like that, the default was for me not to play. That's the way it was and I want to play as much as I can."
Milner believes his association with diligence and not kicking up a fuss maybe harmed his prospects at City. At Aston Villa, former manager Martin O'Neill said that he was the lowest maintenance player that he had ever had.
Yet Milner argued forcefully when it was suggested that signing for Liverpool displays a lack of ambition, considering how keen City were to keep him. "I wouldn't say so because I was at Man City for five years, I signed a contract for five years and I played for them for five years – I played every single position except for centre midfield so if that's a lack of willing to fight for your place, then…"
After a pause, he began again. "The last year the manager knew my contract was running down but he played me right to the last games of the season, so that shows what the club thought of me, and how much I gave to that club, and the fight I gave to that club.
"So, I would probably disagree. Some people may look at it the other way and say I was not willing to sit on the bench for half a season, I wanted to play every single game and fight for a shirt and play that way, and I couldn't see that happening at Man City.
"So you can look at it anyway you want, you can go away and write a story and twist it anyway you want to put it. We know how it works and I can only tell you my thoughts and see it as a positive, and other people can look at it as a negative."
With his 30th birthday approaching, Milner clearly considers it time for him to emerge as an important figure at Liverpool. "You get labelled as a player – and I'm 'Boring James Milner', that's the way it is," he explained. "But I feel as though I can go and play like I did in that season at Aston Villa. I feel I am a better player now than I was then. So it's a perfect opportunity to go and kick on with great players around me at a great club."
Register for free to continue reading
Registration is a free and easy way to support our truly independent journalism
By registering, you will also enjoy limited access to Premium articles, exclusive newsletters, commenting, and virtual events with our leading journalists
Already have an account? sign in
Join our new commenting forum
Join thought-provoking conversations, follow other Independent readers and see their replies