Luka Modric tells James Rodriguez that moving to Manchester United would be a step down
The Independent understands that United are deep in discussions with Real Madrid over Colombian Rodriguez in a move that would likely cost upwards of €70million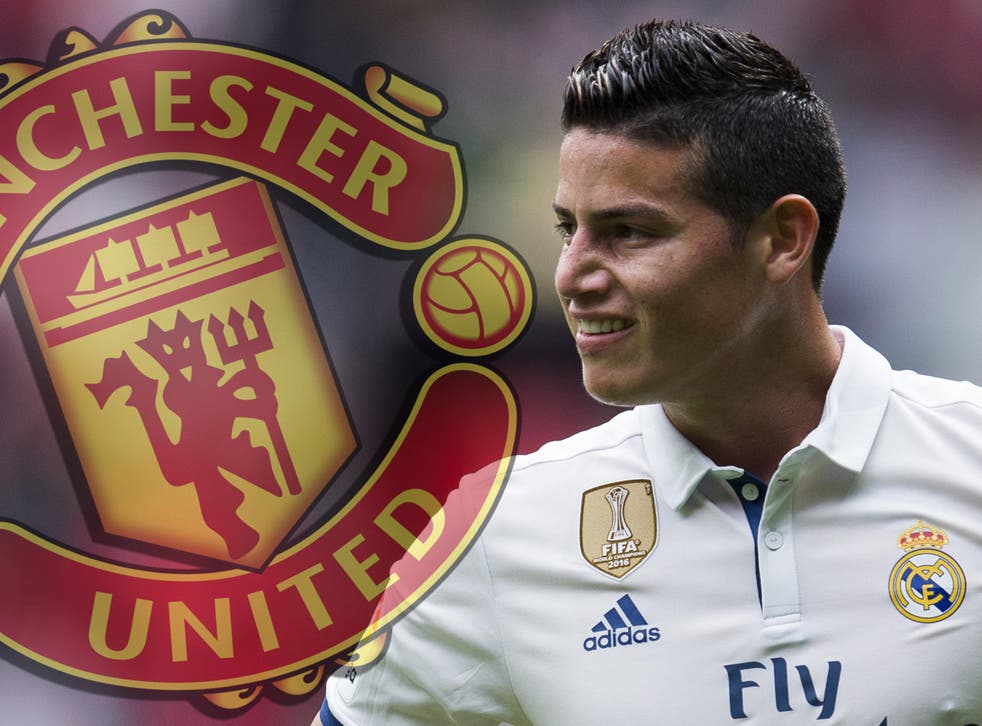 Luka Modric has warned James Rodriguez that a move to Manchester United would be a step down.
The Independent understands that United are deep in discussions with Real Madrid over Colombian Rodriguez in a move that would likely cost upwards of €70million.
Earlier this week Jose Mourinho instructed executive vice-chairman Ed Woodward to move on from striker target Alvaro Morata and on to Everton's Romelu Lukaku after growing impatient with the Spanish club's refusal to budge from their €90m asking price.
How Manchester United could line up next season

Show all 12
However, that hasn't yet affected talks over Rodriguez, as Mourinho seeks to solve one of United's main problems last season and make them more productive in front of goal.
But while Modric, who moved the other way - from Premier League to La Liga in 2012 - would understand any player leaving to get more playing time he believes walking away from the Bernabeu would see you leave the biggest club in the world.
"It's certainly not an easy decision to leave Madrid," he told Marca. "When you leave here, nothing is the same. You're at the best club in the world, that's for sure, and from there you can only go down.
"Everyone will have their reasons. If I continue like this, I will do everything possible to stay, but things in football change fast."
While Mourinho has previously had reservations about signing James, he can see a role for him in attack that will also lack the versatility of Everton-bound Wayne Rooney. The player's marketability and commercial appeal would also fulfil Woodward's desire to bring in a "star" every summer. United had previously felt a deal may have been possible for Gareth Bale, but he has decided to remain in Madrid.
The move has been mooted in the past - and looked a distinctive possibility were Louis van Gaal to remain at the club after 2015-16 - but has increased in possibility now, as Real look to sell both Morata and James in order to finance and clear space for a deal for Monaco's Kylian Mbappe.
James would likely cost less than Morata, although United would similarly hope to pay less than the €70m Real Madrid would want. The fact that asking price was one reason that the Old Trafford club moved on from Morata, however, adds further intrigue to the dealings between the club this summer and the possibility of James moving to United.
Manchester United summer transfer targets

Show all 8
United are set to complete the £75million transfer of Romelu Lukaku from Everton imminently with the Belgian international having already completed a medical in Los Angeles this weekend.
Register for free to continue reading
Registration is a free and easy way to support our truly independent journalism
By registering, you will also enjoy limited access to Premium articles, exclusive newsletters, commenting, and virtual events with our leading journalists
Already have an account? sign in
Register for free to continue reading
Registration is a free and easy way to support our truly independent journalism
By registering, you will also enjoy limited access to Premium articles, exclusive newsletters, commenting, and virtual events with our leading journalists
Already have an account? sign in
Join our new commenting forum
Join thought-provoking conversations, follow other Independent readers and see their replies