James Rodriguez is interested in a move to Manchester United, but that doesn't mean Jose Mourinho is interested in him
Manchester United have been mentioned more than anybody as a potential signing, but several Old Trafford sources have told the Independent that interest is still only one-way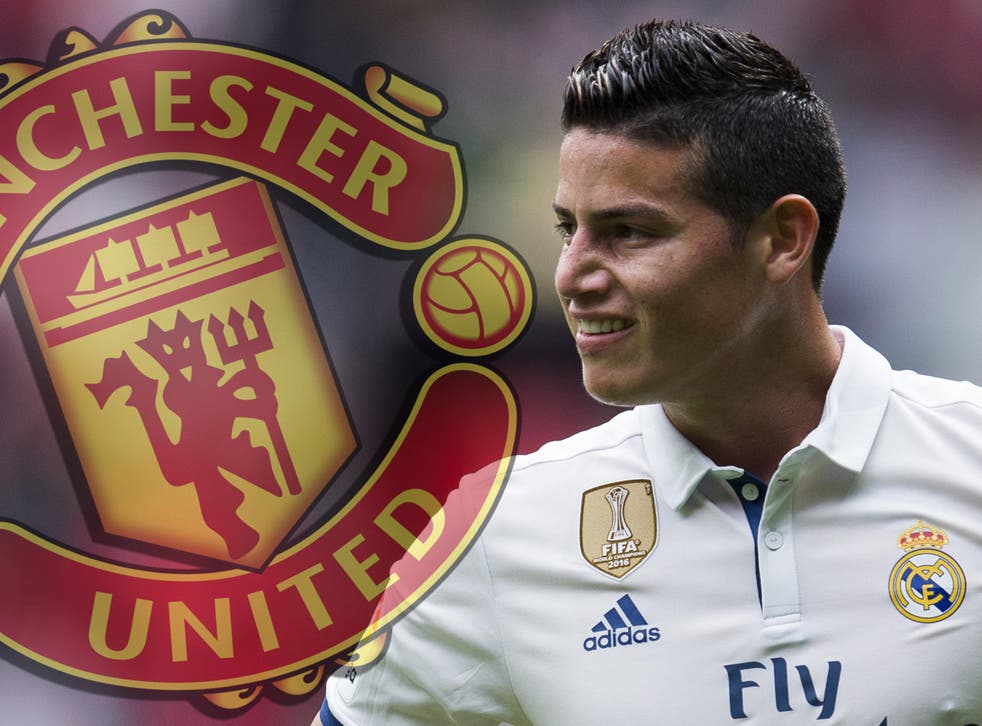 If football history has been diverted by so many what-if moments, from near misses to millisecond on-the-pitch decisions, so many players' careers have been diverted by what-if moves.
How different could certain stars have ended up had they chosen a different transfer? It is something that has been said of Alan Shearer, Fernando Torres and so many others… but is probably most meaningful for James Rodriguez.
In the summer of 2014, after a supreme World Cup that ended with the Colombian as top scorer and the competition's crown prince who was at that point considered superior to Neymar, he could really have had his pick of any club in the world.
Manchester United summer transfer targets

Show all 8
The one he finally picked, however, was pretty much the only one he shouldn't have. It seemed so obvious at the time that there was no clear place for James in the Real Madrid team who had just won the Champions League, and that his expensive signing was just another obvious case of club president Florentino Perez looking to shoehorn in the latest famous name, when it should have been a case of the then 23-year-old perpetuating his upward trajectory by going to a club where he would have been the star; where the team would have been built around him so he could continue to build his career.
That career has instead stagnated, and James is now being punted around Europe by both the Colombian media and his Gestifude representatives, with nothing like the same interest as 2014.

Manchester United have been mentioned more than anybody as a potential signing, but several Old Trafford sources have told the Independent that interest is still only one-way. While James was a much more likely signing in the winter of 2015-16 when Louis van Gaal was still manager, the playmaker hasn't been discussed in any meaningful way at boardroom level since then.
Jose Mourinho was not interested in him in the summer of 2016, and those close to the United hierarchy say the Portuguese still can't see how a playmaker of the Colombian's type would fit into his plans for the team.
There are a few reasons why that could change, though. For one, United executive vice-chairman Ed Woodward has a strong relationship with Gestifute boss Jorge Mendes. They have already done a lot of deals, especially when United have struggled for signings. A prime example was the player who coincidentally made way for James at Real in the summer of 2014, Angel Di Maria.
If it does get to the point this summer that United cannot get their primary target of Atletico Madrid's Antoine Griezmann, or any other marquee name, the Colombian could prove a glamorous alternative.
The future of David De Gea could yet influence all of this, especially as James has been quoted at a similar price to the goalkeeper. Real may be hopeful of some kind of swap but, if that is to be the case, United are determined to play hard-ball and insist on one of the bigger Bernabeu stars or more regular starters like Gareth Bale, Casemiro or - above anyone - Toni Kroos.
The only thing certain right now is that, for all the talk, James is not one of United's primary targets.
That is not quite the case for the newly super-wealthy Internazionale, though.
They had begun investigating a deal for the Colombian last summer, but were scuppered by Financial Fair Play restraints, that will be loosened for the Milan club this summer. It may well represent the best option for all concerned: an upwardly mobile club signing a player who still isn't at his peak, who can still be the dominant star he should be in the right circumstances.
It seems even clearer now that Real was not the right destination in the summer of 2014. We have since then only seen flashes of the player that had illuminated that year's World Cup, cameos that don't really reflect his quality.
He still has a lot of his career at the top level left to show it. He just can't afford another what-if wrong move.
Register for free to continue reading
Registration is a free and easy way to support our truly independent journalism
By registering, you will also enjoy limited access to Premium articles, exclusive newsletters, commenting, and virtual events with our leading journalists
Already have an account? sign in
Register for free to continue reading
Registration is a free and easy way to support our truly independent journalism
By registering, you will also enjoy limited access to Premium articles, exclusive newsletters, commenting, and virtual events with our leading journalists
Already have an account? sign in
Join our new commenting forum
Join thought-provoking conversations, follow other Independent readers and see their replies