James Rodriguez to Real Madrid: Star lands in Madrid ahead of potential €90m move... and shirts are already on sale in the Spanish capital
Monaco star pictured at Barajas airport in the Spanish capital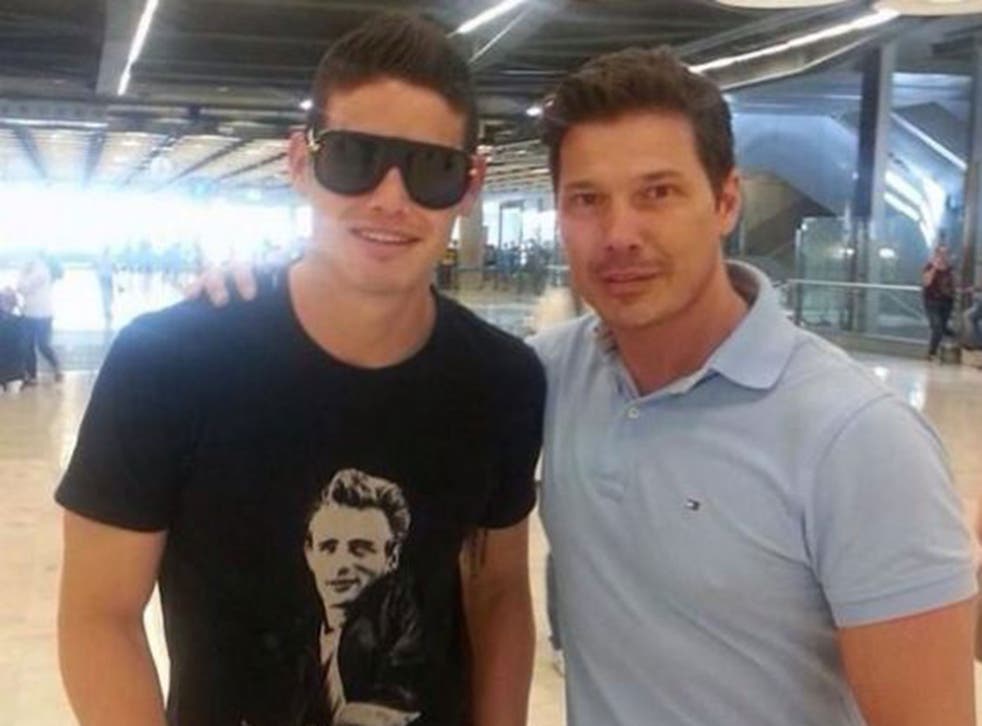 James Rodriguez has been pictured in Madrid ahead of potentially completing a €90m (£71m) deal to join Real Madrid.
The World Cup star, who was last night seen boarding a plane from Medellin, Colombia, to the Spanish capital, has been reported to have already agreed terms with Real Madrid.
He has now been pictured at Adolfo Suarez Madrid–Barajas Airport by a Spanish journalist, Juan Gato.
French newspaper L'Equipe said on Saturday night that Monaco would accept a €90m offer from Los Blancos for the 22-year-old who took the World Cup by storm.
They reported that a deal could be completed by Monday, while Spanish paper AS last week said Rodriguez and the defending European champions had already verbally agreed terms.
Rodriguez also allegedly refused to play in Monaco's pre-season freindly against Junior Barranquillo on Sunday night, for fear of an injury ruining his dream move to Los Blancos.
Real Madrid shirts bearing 'James 10' have also reportedly already gone on sale in the Spanish capital.
The No 10 shirt, Rodriguez's preferred number, was vacant at the club last season.
A picture appeared on Twitter by @rm_bgrd with the message: "The Madrid shops already have the shirt in the window".
Rodriguez, who took the World Cup by storm winning the Golden Boot with six goals and two assists as Colombia reached the quarter-final, was shortlisted for the World Cup Golden Ball and has also been nominated for Uefa's Best Player in Europe.
Rodriguez cost Monaco €45m (£36m) last summer and went on to score 10 goals and provide 12 assists in all competitions as Monaco finished second in Ligue 1.
Register for free to continue reading
Registration is a free and easy way to support our truly independent journalism
By registering, you will also enjoy limited access to Premium articles, exclusive newsletters, commenting, and virtual events with our leading journalists
Already have an account? sign in
Join our new commenting forum
Join thought-provoking conversations, follow other Independent readers and see their replies