Real Madrid news: James Rodriguez insists he's 'staying put' after firing Los Blancos to Copa del Rey win
The Colombian's future at Madrid has been called into question in recent weeks but the player insisted on Wednesday night that he won't be leaving the Bernabeu this month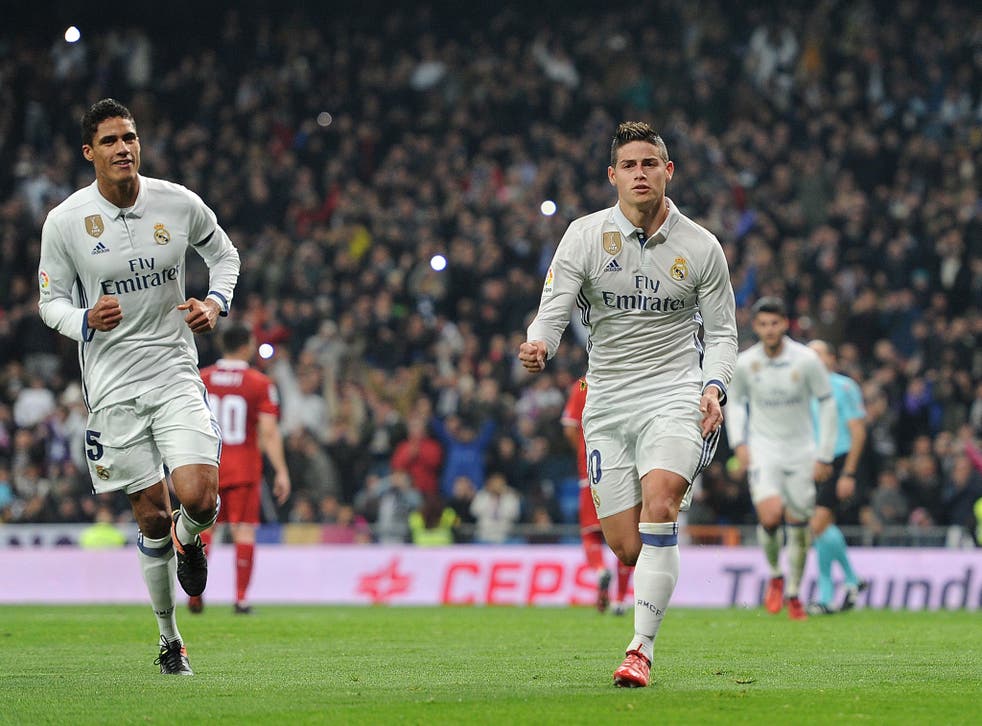 After bagging a brace in Real Madrid's Wednesday night Copa del Rey victory over Sevilla, James Rodriguez has now insisted he will be staying put at the Bernabeu.
The Colombian's place at the club has been called into question in recent weeks, with the player increasingly linked to a number of top European teams including both Chelsea and Manchester United.
And speaking last month following his side's Club World Cup victory, Rodriguez himself conceded he can longer "guarantee" his future at Real.
But after helping fire Los Blancos to a comfortable 3-0 win against Sevilla with his first-half brace, Rodriguez has now confirmed he won't be leaving the Spanish capital.
"I'm staying, I'm staying," he said on Wednesday night.
"I just want to play well when I have the chance and help the team scoring goals and playing passes. I felt good out there. But the whole team played well and when that happens it is easier to perform."
When asked if he wanted more minutes he said: "Obviously everyone in the squad wants to always play. This is a new year and a new life for me."
With Cristiano Ronaldo, Gareth Bale and Karim Benzema all absent from Wednesday's starting XI, the 25-year-old was able to take centre-stage and prove his worth to the club's hierarchy.
Whether or not his performance was enough to retain a place in Madrid's next game against Granada remains another question.
But manager Zinedine Zidane reaffirmed that all players play a role in his team.
"All the players are important," he said, before adding: "Obviously some players are more important than others but the important thing is we are all striving for the same thing."
Rodriguez's latest remarks follow the insistence of his father who made it clear earlier this month that his son would honour his Real Madrid contract.
"He has a commitment to Real Madrid and he has a contract," Wilson Rodrgiuez said.
"He is going to stay."
Join our new commenting forum
Join thought-provoking conversations, follow other Independent readers and see their replies