The Independent's journalism is supported by our readers. When you purchase through links on our site, we may earn commission.
Juve are top of my list, RVP tells Arsenal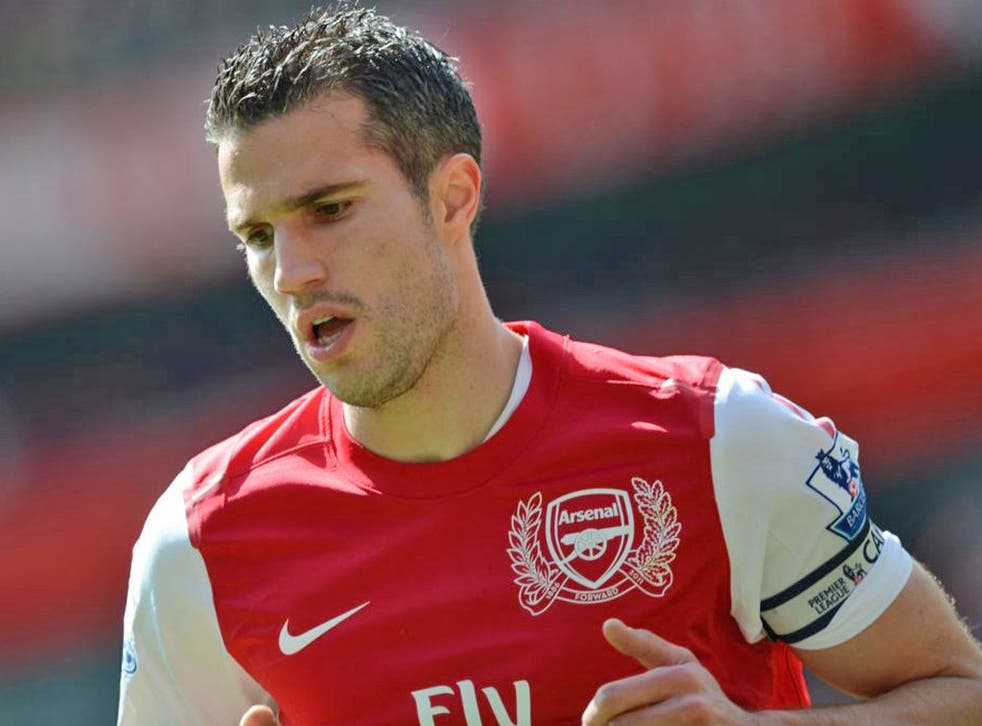 The negotiations over Robin van Persie's future have been complicated by the Dutch striker having indicated to Arsenal that his first choice of the three clubs pursuing him is Juventus.
Van Persie has not ruled out the possibility of going to one of the two Manchester clubs, and his first choice from those two would be United, but if possible he would prefer to go to the current Italian champions. Of the three, Juventus are the least financially powerful but in an ideal world the player would rather leave the Premier League than play for one of Arsenal's rivals.
Negotiations to sell Van Persie are expected to develop this week with the player's representatives keen to move the situation along. The club have been told that it is Juventus whom Van Persie would prefer to join and it is Arsène Wenger's preference that he would not go to Manchester City, but there are serious doubts over whether the Italians could come up with a deal acceptable to Arsenal. The asking price is thought to be between £20m and £25m with Van Persie seeking a five-year contract worth in excess of £120,000 a week contract. Both sides, the player and the club, are agreed that any deal will not hinge on a question of money for Van Persie – if it did he is well aware that his best option would be City – although it does now appear to come down to whether Juventus can formulate a deal.
Juventus had been favourites to sign the Napoli striker Edinson Cavani this summer but have not yet done so. The club are still recovering financially from their demotion to Serie B after the 2006 calciopoli scandal, and posted losses in their last published accounts of £75m for the 2010-11 season. Like all leading European clubs they are also trying to comply with Financial Fair Play regulations.
Turning 29 years old next month, with a less-than-perfect injury record and the prospect that he will be a free agent next summer, Van Persie, for all his qualities, is not a simple player to arrive at a price for. There has been significant discrepancy on what he is worth to the clubs interested.
United would like to do a deal for the player but they are aware that they are always likely to be outmuscled on the question of price by City, if it comes to that. City have stayed in touch over Van Persie in spite of knowing they are third in the pecking order.
Both clubs are obliged to wait to see whether Juventus can come up with the kind of package that would convince Arsenal to do the deal. The Gunners' players leave for Malaysia on Saturday, arriving on Sunday ahead of the first game of their three-match pre-season tour of Asia, a week today against a select Malaysian XI.
It is agreed that it would be best for Van Persie and the club were there to be some resolution on his future by then, in light of his statement on 5 July that he would not be signing a new contract at the club.
Register for free to continue reading
Registration is a free and easy way to support our truly independent journalism
By registering, you will also enjoy limited access to Premium articles, exclusive newsletters, commenting, and virtual events with our leading journalists
Already have an account? sign in
Register for free to continue reading
Registration is a free and easy way to support our truly independent journalism
By registering, you will also enjoy limited access to Premium articles, exclusive newsletters, commenting, and virtual events with our leading journalists
Already have an account? sign in
Join our new commenting forum
Join thought-provoking conversations, follow other Independent readers and see their replies