Kylian Mbappe, Jadon Sancho, Kai Havertz? An inside look into Liverpool's summer transfer plans
Long read: The Premier League leaders, who have been linked to football's foremost young superstars, plan to stick to the principles that put them back on their perch, reports Melissa Reddy
Monday 03 February 2020 13:00 GMT
Comments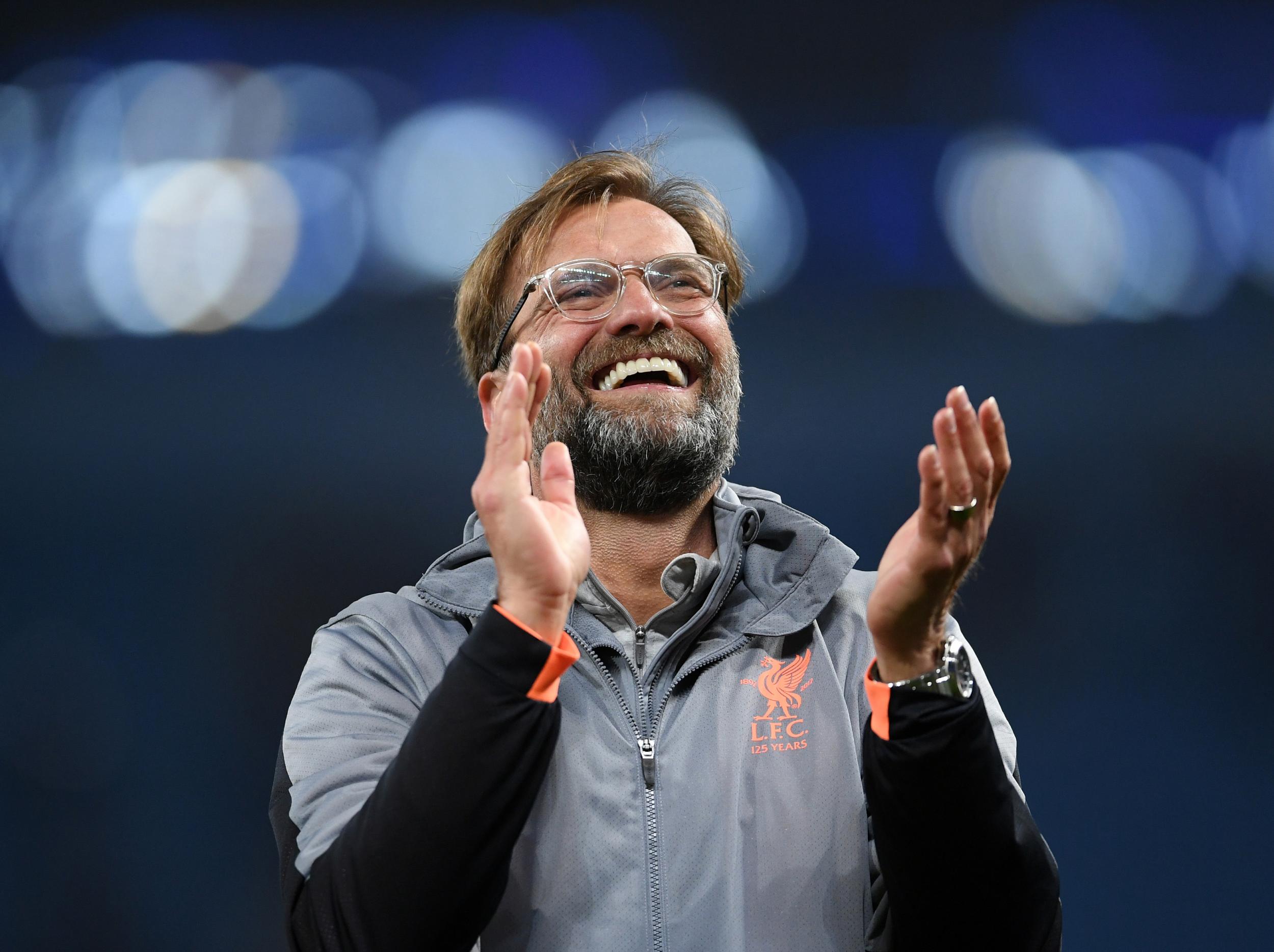 Last Friday, as several of their rivals desperately scrambled to get deals done ahead of the transfer deadline, Liverpool's core triumvirate were far removed from the mayhem while discussing their summer window strategy over dinner.
There was an overriding message underpinning the conversation between manager Jurgen Klopp, sporting director Michael Edwards and Fenway Sports Group president Mike Gordon: Do not get sucked into abandoning the principles that have got the club to this point.
The reigning European champions and world champions, who command a dizzying 22-point lead atop the Premier League as they edge closer to ending a painful three-decade wait for the title, are cocooned from the rapture surrounding their record-shattering season.
It is why the players continue to claw for victories even though they can afford to lose games. And why the decision-makers have the clarity of thought to know now is not the time not to make mistakes that jeopardise what Liverpool have sagely constructed.
There is an appreciation that there is a massive difference being at the summit versus playing catch-up in trying to reach it, but there will be no significant alteration to the methodology that has restored the club as a domestic and continental powerhouse.
Transfer window power rankings
Show all 21
Anfield is now a destination and it is testament to Klopp's tenure, the work of the recruitment team and the support of FSG that the game's most gifted talents aren't just solidly linked with Liverpool, but enthusiastically speak about the Merseysiders too.
That obviously brings expectation, much of it unrealistic.
So, let's get straight into it: do the league leaders have an interest in Kylian Mbappe, Jadon Sancho and Kai Havertz? Of course they do. It would be utterly ridiculous for them not to.
This writer first reported on Liverpool's scouting of Paris Saint-Germain's phenom in February 2016 when he hadn't yet signed professional terms with Monaco, and by that point, the dossier on him had been drafted around 16 months earlier.
Liverpool would have recruited Sancho from Manchester City in the summer of 2017 if trade between the clubs was possible, while Havertz is a player that Klopp and Edwards may as well have stylistically stitched together given his ticking of their requirements.
Interest, though, is only the starting point and a tiny part of transfer thinking. The recruitment team and Klopp are big admirers of Heung-min Son and Marcus Rashford, as examples, but that interest is immaterial given neither are available to them.
Plausibility and cost are therefore bigger determining factors. Do Liverpool have the financial muscle to secure these brilliant youngsters?
Yes, on account of the surgical work done in the market in recent years – a net spend of around £74.5m since Klopp's appointment in 2015 – as well as the funds generated from on-pitch success and ballooning commercial gains.
However, the club are aware they have navigated to this position by being responsible and will continue to do so. Business will be determined by what the team needs – the ultimate influence – rather than the buzz surrounding high-profile players.
Take Havertz, who has been priced upwards of £80m. That is considered to be nearly double his market value by Liverpool and so there has been no attempt to start a process over securing him. They like him, but not at that price. They like him, but they don't need him – certainly not at that price.
Sancho and Mbappe are in the same bracket, albeit with greater valuations, and a huge transfer fee is accompanied by a huge salaries which has a knock-on effect on the rest of the squad.
Unless Liverpool lose one of their pedigreed front three – a situation they are not expecting this summer with none of Sadio Mane, Mohamed Salah or Roberto Firmino showing any intent to exit – there isn't room for a blockbuster attacking purchase.
The other point to make on the players being linked to Liverpool is that anyone could suggest the signing of the trio mentioned in this piece.
You do not need to be a skilled sporting director to conclude that Sancho, Mbappe and Havertz are targets to consider. And, as proven, Edwards and his recruitment team don't often plump for the obvious choices armed with the information from their research group, led by Ian Graham.
They were pilloried for advocating a £29m deal for Firmino, pushed the pursuit of 'Chelsea flop' Salah, found Andy Robertson to solve Liverpool's long-standing left-back issue, attracted criticism for signing Sadio Mane, Alex Oxlade-Chamberlain and Gini Wijnaldum and recently trumped rivals by activating Takumi Minamino's release clause before it was widely known.
The two duh! moves made by Edwards was to land Virgil van Dijk and Alisson – players who were seen as "transformers" and committed an all-in approach from the club.
Liverpool believe there is no option on the market that fits into the pair's territory this summer given the shape of the squad.
The club's priority is to lock down the world's best centre-back and goalkeeper for the long-term with both wanting extended contracts. Joe Gomez, Trent Alexander-Arnold and Andy Robertson have signed new deals in the last 13 months. Continuing to retain and reward an outstanding rearguard is not cheap.
There are legitimate calls for Liverpool to bring in cover at left-back and they had looked into doing that last July. Borussia Dortmund's Raphael Guerreiro was their target and he would have cost around £17m, with a salary in the region of £60,000 a week.
The club decided it was not the best use of money as Robertson would only be out of the starting XI due to injury, suspension or rest with James Milner and Gomez able to provide cover while Yasser Larouci's development is monitored.
It is similar on the other flank where there is no desire to bring in a deputy right-back that'll fetch £30m+ with Neco Williams emerging. Klopp feels adding variety to his roster is more essential than having largely dormant understudies.
Liverpool rate this no-wastage policy allows them to be flexible enough to react if there is a need to bring in a game-changer.
A revisiting of the Philippe Coutinho saga of 2017, which was sparked by PSG's eye-popping activation of Neymar's release clause, helps to understand their stance.
The Brazilian reported to Melwood for pre-season happy and talking up the new campaign with his mood only shifting on July 21, when Barcelona's shock first bid for him was rebuffed.
Jurgen Klopp lost for words after Liverpool's Club World Cup win
Up until the point that Klopp spoke to Coutinho at the Ritz-Carlton in West Kowloon the evening of that development, there was zero sign the playmaker wanted out of Anfield. His agitation to leave afterwards was out of character and forced Liverpool to recalibrate their transfer plans so close to the start of the season.
Despite ultimately handling the matter quite well in getting a guaranteed £130m for Coutinho, delaying his departure until January, and reinvesting those funds into getting Van Dijk and Alisson, Liverpool are confident they have greater flexibility in manoeuvring a similar situation now.
This is put down to the strength of the group, the money they can spend, the calibre of players they could attract, all while having the luxury of being patient and waiting a window to get in the right fit if necessary.
Liverpool do not need to panic buy, even in that scenario. The expectation is that they will lose only Adam Lallana and Nathaniel Clyne as it stands, while a few on the fringes might want more minutes elsewhere.
As such, Liverpool are preparing for a relatively quiet summer unless there are any significant problems (an injury to a key player, a core asset pushing to go), which they are geared to solve.
Given they do not require major surgery, it is quite something for England's pacesetters to be tied to options that would draw circa £80m and beyond.
Who are these players replacing in Liverpool's best 11 at such fees? One of the great strengths of the club's transfer business has been their detailed character assessments.
Can a target withstand months of patience while getting to grips with Klopp's demands and mastering the standards on and off the pitch? See Robertson, and more pertinently as he cost £43.7m, it is worth remembering Fabinho didn't make the matchday 18 when he joined Liverpool.
'It's not about the first three months, but the first three years' is a refrain of the recruitment staff, whose objective this summer is to stay ahead of the curve and 'fix the roof while the sun is shining'.
The six-time European champions want to avert a rebuilding phase by allowing the team to age together as was the case with Bayern Munich.
Succession planning has already materialised both internally – Harvey Elliot – and externally with Liverpool looking at players with high ceilings that are eager to further develop.
They would be filed in the same category as the likes of Mane and Firmino – good upon arrival, but can grow into certified superstars under Klopp's tutelage. There is an understanding that the figures for those kind of talents are now closer to £50m rather than £30m, so Liverpool would not be making insignificant investment.
Over the next two months, Liverpool will also be making calls on their young players and loanees. Is Curtis Jones ready to make the step up next season or would it be of greater benefit for him to get a full season of regular football elsewhere? What happens to Harry Wilson? Rhian Brewster? These decisions will inform their wider transfer picture.
As ever, it is worth underscoring that there is fluidity involved with market matters. When Liverpool were sketching their plans for the summer of 2017, Klopp noted Julian Brandt as his primary forward target at the turn of the year.
In the background, recruitment were doing due diligence on Salah, and over the course of the next few months, the Egypt international replaced the German as the club's priority.
Brandt was concerned about his settling-in period and earning regular starts, while Edwards believed the Roma attacker would provide a greater threat and sharpen Liverpool's transitions.
The manager ultimately agreed and Liverpool shifted accordingly. There are names linked with the club that are on the agenda now, but may not be in two months' time, while the reverse of that could also be true.
The certainty, though, is that Liverpool are determined to stick to the principles that put them back on their perch.
Join our commenting forum
Join thought-provoking conversations, follow other Independent readers and see their replies