No ego, no excuses – just a burning desire to win at all costs: Meet Malcom, the 'responsible irresponsible' superstar
A single-minded young man from the streets of São Paulo the 20-year-old has worked every day of his life to get where he is - and it's set to take him to the Premier League and beyond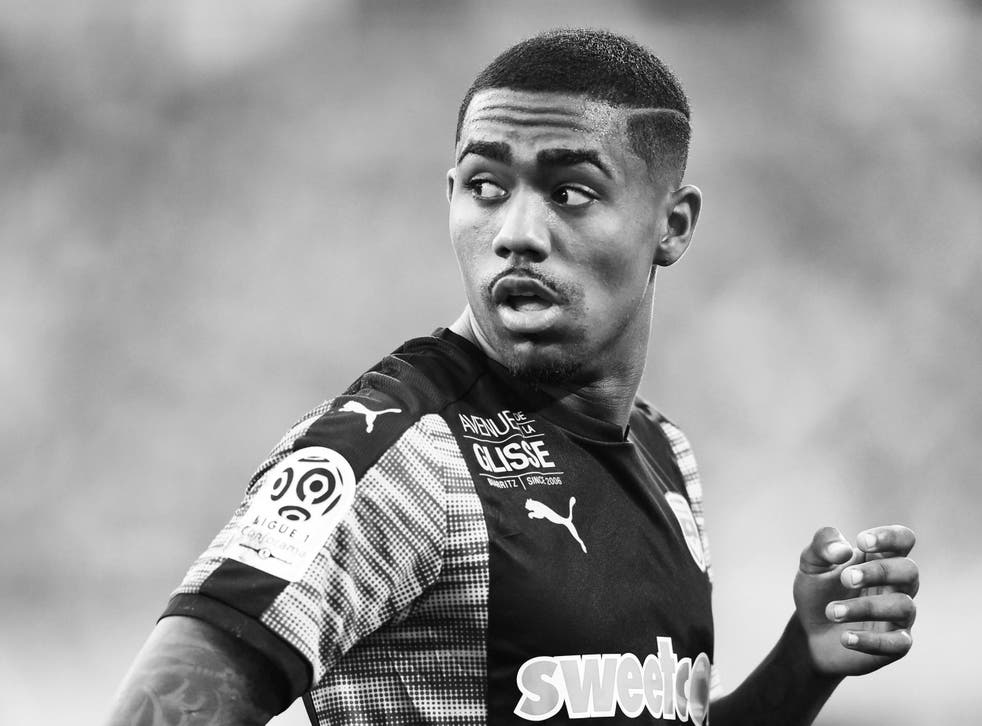 The pitch at the ADC Volkswagen Clube was in appalling condition, but he was not prepared to use that as an excuse. There was a game to be won, three more points at stake, so when the players ambled off for their half-time drinks, the score goalless, he let rip.
There were admonishments and accusations, delivered in the strongest terms. Standards, commitment, responsibility, that kind of thing. Honouring the Corinthians shirt. No matter that this was a low-wattage under-20 game; he cared, and cared deeply. He urged them to give more, to dig a little deeper.
Through it all, the coach stood silent. Open-mouthed, too. For this rousing team talk was delivered by one of his players – a wide-eyed 17-year-old who, having already begun to make a mark at senior level, would have been forgiven for taking such things a little less seriously.
Malcom's career in pictures

Show all 13
That, though, is not Malcom Filipe Silva de Oliveira's style. No inflated ego, no excuses – just a burning desire to win at all costs. And, it would appear, a way with words: Corinthians scored four times in the second half.
He will probably not be required to perform similar feats of oration when, as seems increasingly likely, he moves to the Premier League next summer. But the story is instructive and will surely chime with the scout reports compiled by Tottenham and Arsenal in recent months. For Malcom, now 20 and the darling of Ligue 1 after a superb year with Bordeaux, has always had unflinching commitment sewn into his DNA.
It helped him cope with the physical demands of playing with adults when he still listed kite-flying and marbles among his pastimes. It won him an army of admirers – and a league title – in Brazil before his move to France in January 2016. It made a non-issue of the challenge of adapting to life in Europe, and now it looks set to propel him towards the upper echelons of the game. If Mauricio Pochettino is to be his next manager, he will not be the first to be won over by this single-minded young man.
"That game against Taubaté, when he gave the team talk, really showed his personality and his competitiveness," his former Corinthians youth coach, Osmar Loss, told The Independent. "All the players reacted to his attitude, to his level of engagement. He has a constant desire for victory."
It was under the tutelage of Loss that Malcom – named, albeit sloppily, after Malcolm X, a hero of his father's – first came to the fore, starring at the 2014 Copa São Paulo de Futebol Júnior (aka the Copinha, Brazil's premier youth tournament) despite being four years younger than many of his team-mates. "I first saw Malcom when he was 16," Loss recalled. "I had just joined Corinthians and I was watching an under-17 game. I was impressed by his intensity, and his technical ability whenever the ball came to him.
"Not long after that, we put on a training match between the under-17s and the under-20s. The under-17s won 1-0, with a goal from Guilherme Arana [now at Sevilla], and Malcom was simply spectacular. I called him over for a chat, congratulated him, and told him that he would be in my thoughts for the Copinha if he continued playing in that way.
"Malcom was a reserve as we started to prepare for the competition, but he won a starting spot in the warm-up matches. He was a player who lent 'depth' to our attack and gave us rhythm. He would improvise, trying interesting things, and he was mobile, too: he played on the right flank but was always moving into the middle to shoot or combine with team-mates. He played a fundamental role in that campaign."
Corinthians would come up short at the final hurdle, losing to Santos in the final, but a star had been born: Malcom was promoted to the first team by Mano Menezes and made his professional debut just three weeks after his 17th birthday. By the end of September he had chiselled out a starting spot and scored his first senior goal, bewitching his marker before drilling a shot inside the near post against Chapecoense.
That swift ascent and the attendant attention – he sheepishly admitted to having received thousands of Facebook friend requests, a large proportion of them from schoolgirls, after his Copinha exploits – may have tested a more pliable character, but the teenager took it in his stride.
"Even in his first training sessions, you could could see his potential," former Timão left-back Uendel told The Independent. "You have to adapt to the pressure at Corinthians, especially when you're a starter at 17, but he coped well. He had so much quality for his age, but what really stood out was his personality: he trained like he had been in the senior squad for years."
It helped that he was a shining example of diligence. Not all young Brazilian forwards relish the defensive side of the game, but Malcom was always willing to track his man. "He followed tactical instructions really well," explained Loss. "He was always looking for 'the why' of things... why he had to position himself in a specific way, why he had to do certain things. He really understood his function in the team, carrying it out with a lot of intensity."
Those qualities led Loss to describe him, memorably, as "um irresponsável responsável" – a responsible irresponsible – and were coupled with an endearing thirst for self-improvement: Malcom studied YouTube videos of Romário in a bid to improve his heading and began to appear more in the six-yard box on the advice of the experienced Paolo Guerrero.
The trait survives until this day, too: he has worked tirelessly on his right foot – there is still some work to be done on that front, it must be said – and is often seen out on the Bordeaux training pitch, practising penalties and free-kicks long after his team-mates have headed for the showers. "He's a really hard worker and takes things on board so quickly," former Girondins stalwart Jussiê told the newspaper 20 Minutes last year.
Not that the conscientiousness comes at the cost of attacking verve, as anyone who has seen his highlights reel will attest. Malcom is a natural, explosive dribbler and, after contributing a modest five goals as Corinthians cruised to the Brasileirão in 2015, has become a more consistent scorer in France. He has already matched last season's tally of seven, and it's tempting to think the long-range stunners against Lyon, Toulouse, Saint-Étienne, Dijon should count for more than one apiece.
It is easy to forget, in light of his recent monopolisation of the gossip columns, that there was originally some sniffiness in Brazil about Bordeaux as a destination. Some saw it as a sideways move, and perhaps an indication that he was not destined for the very top. But the move now looks like a masterstroke: Malcom has 82 senior appearances under his belt in Europe and has been able to refine his game without the scrutiny that might have come with a move to a bigger club. Compare his fortunes to those of, say, Gabriel Barbosa and the appeal of Bordeaux is clear.
Some thought went into the decision, too: Malcom went on a fact-finding trip to Marseille with his agent way back in 2014 and Ligue 1 clearly struck both player and representative as an ideal proving ground. The presence of experienced compatriots Jussiê and Pablo at the Matmut Atlantique sweetened the deal, and the club were at pains to make his adaptation as frictionless as possible.
"They signed him with the idea of giving him six months to adapt," Nicolas Le Gardien, who covers Les Girondins for local paper Sud Ouest, told The Independent. "They knew that he would need time to settle. The other Brazilians definitely helped him to integrate, and one of his best friends is Valentín Vada, the little Argentine, who has been at Bordeaux since he was young. His family lives in the city and helped Malcom a lot. He adapted swiftly for a player of that age and already speaks good French."
The results tell their own story. Bordeaux have endured more lows than highs over the last two years, but Malcom has been a shining light, inspiring his team-mates both with his dynamism on the pitch and with his light-hearted exuberance off it. Jocelyn Gourvennec, his coach until being sacked earlier this month, called him "joyous and galvanising"; Cédric Carrasso, the veteran goalkeeper, praised his "brilliant mentality". Already, he has become a leader in the dressing room. "When Malcom doesn't play, or has a bad game, Bordeaux suffer a lot," ex-Bordeaux favourite Wendel told GloboEsporte. "He's the brains of the team this season, their reference point."
There has been the odd misstep, like when he and his family posed for a photo with Neymar just moments after Bordeaux had shipped six goals against Paris Saint-Germain ("A youthful mistake," said Gourvennec. "We explained that we weren't going to Paris to take photos and swap jerseys"). Yet Les Girondins did not hesitate to renew his contract in September, Gourvennec having convinced him to ignore a forceful approach from Borussia Dortmund in the summer.
Wolfsburg and Liverpool were among the other clubs to express an interest then, but Bordeaux, having stood their ground, will now be preparing for a much bigger windfall – and Malcom for a new challenge, most likely, it appears, at the shiny new White Hart Lane. It will be another step up, to be sure, but those who know him well are optimistic about his chances.
"I think he's up to the task," Uendel continued. "I remember when we played Shakhtar Donetsk in a Florida Cup game. Malcom was only 18, and up against Darijo Srna, an excellent, experienced full-back, but he won every individual battle. His evolution has continued since then: he's getting better every single month.
"Forwards in the Premier League have to make quick decisions and need the physicality to compete with the centre-backs, and he has those things. He has a great shot on him, protects the ball well and is brilliant in one-on-one situations. He has everything it takes to be successful in England."
Loss is also predicting great things from his former apprentice. "I always imagined that Malcom would play at a high level, but I didn't expect that he would get there this quickly," he concluded. "I think his characteristics – his intensity, the tactical discipline, his brilliance on the ball – give him a great chance of shining at one of the big Champions League teams.
"It's fantastic that these huge clubs are looking at him. I think he's reaping what he has sowed. In the future he's going to be rewarded for everything he does."
Join our new commenting forum
Join thought-provoking conversations, follow other Independent readers and see their replies