Manchester United are ready to enter race for Gareth Bale
Spurs ace could provide David Moyes with marquee signing as prospect of Real Madrid deal recedes
Ian Herbert
,
Glenn Moore
Monday 12 August 2013 14:45 Comments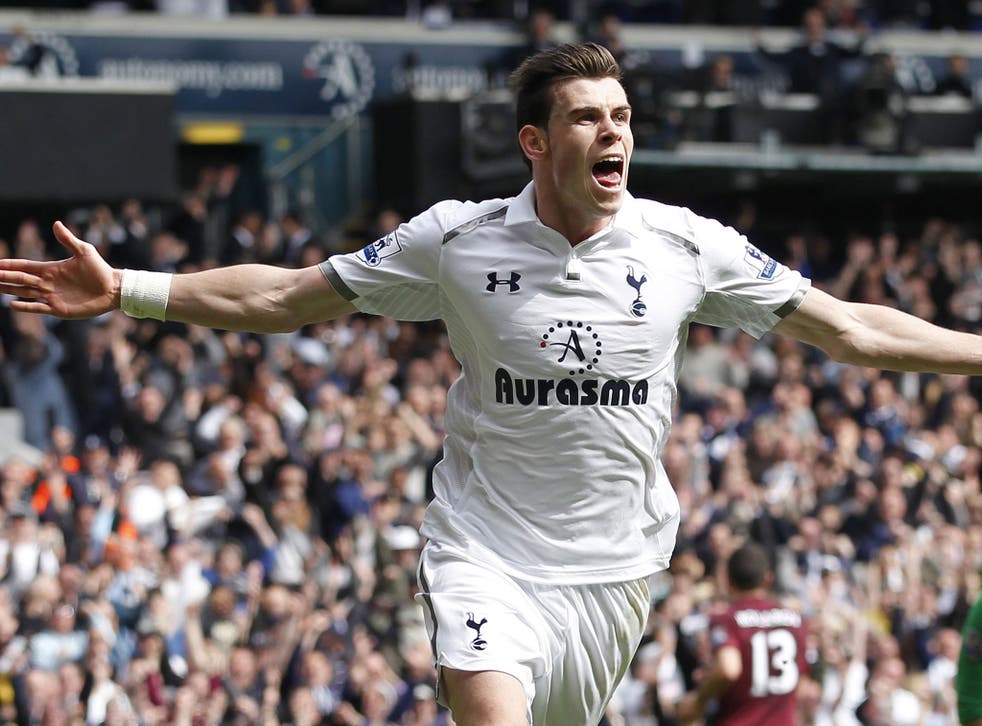 Manchester United may offer competition to Real Madrid in the pursuit of Gareth Bale this week, with Tottenham Hotspur seemingly more receptive to the English champions, having become deeply frustrated by negotiations with the Spanish side.
United have not made a firm offer for Bale and, as the transfer window enters its last three weeks, they will be acutely aware of any attempt to use them as a way of flushing out a serious bid from the Bernabeu, at a time when Spurs chairman Daniel Levy is beginning to doubt whether the Spaniards actually possess the funds.
But United's failure to land a big-money signing this summer may persuade them to make a huge investment, to deliver the boost which is badly needed at the start of the David Moyes era, as well as goals and momentum. The failure to secure a marquee name has only amplified the noise created by Wayne Rooney and his desire to leave.
The odds are stacked against such a deal coming to fruition. The impediments to United securing Bale include Spurs' valuation which is believed to be around £110m, though the appeal of Javier Hernandez to the north London club could conceivably help in that department. It is also unclear whether United would be able to agree personal terms with Bale. They have been reluctant throughout about the prospect of being strung along by Levy, a frustrating sparring partner in the acquisition of Michael Carrick in 2006 and Dimitar Berbatov two years later. But that sentiment may have changed now that the summer has brought no new big name.
Moyes insisted Rooney is staying at Old Trafford, and his determination to hold on to the unhappy England striker was easy to understand after watching Manchester United labour to a 2-0 victory over Wigan Athletic, of the Championship, in the Community Shield. United dominated possession but the provenance of Robin van Persie's goals – an unmarked long-range header and a deflected shot – underlined their lack of creativity. Rooney, of course, was absent with a shoulder injury.
That injury, said Moyes, was genuine, but would not prevent him returning to Wembley to play for England against Scotland on Wednesday, albeit not for the whole game. The Scot said: "Wayne wasn't fit [today], he's a bit short. You don't think I'm going to send England a fit player! It is a big game for Scotland too."
That moment of jocularity was the exception in a spiky exchange with the media regarding Rooney. Asked if he was fed up of talking about the 27-year-old, Moyes said: "I'm enjoying talking about it because so many of you have got it wrong. I didn't fall out with Wayne, he trained with the reserves at his own request. He couldn't have contact because of his shoulder injury so he played as a floating player [a player who plays for the team in possession] with no contact. Anyone who wrote anything else is misleading their readers."
Moyes, who said he had spoken at length with Roy Hodgson about Rooney's condition, added: "I want him to join up [with England]. It would be great for Manchester United, hopefully he can get some playing time. He is not fit and you will probably see that in the game. He will probably play a chunk, but he has not had enough football – just 45 minutes against Real Betis in a friendly. The club's policy is he will not be sold. That has not changed."
With United expected to make a joint £35m bid to Everton for Leighton Baines and Marouane Fellaini this week, Moyes said: "We're moving forward [to making signings]. Every day you get closer – and so does the [transfer] deadline – but if we have to I am happy to go with what we have. We have a lot of good, young English players."
Register for free to continue reading
Registration is a free and easy way to support our truly independent journalism
By registering, you will also enjoy limited access to Premium articles, exclusive newsletters, commenting, and virtual events with our leading journalists
Already have an account? sign in
Join our new commenting forum
Join thought-provoking conversations, follow other Independent readers and see their replies