Manchester United dealt blow in bid to sign Thiago Alcantara from Barcelona
Spain manager Vicente del Bosque urges midfielder to remain at the Nou Camp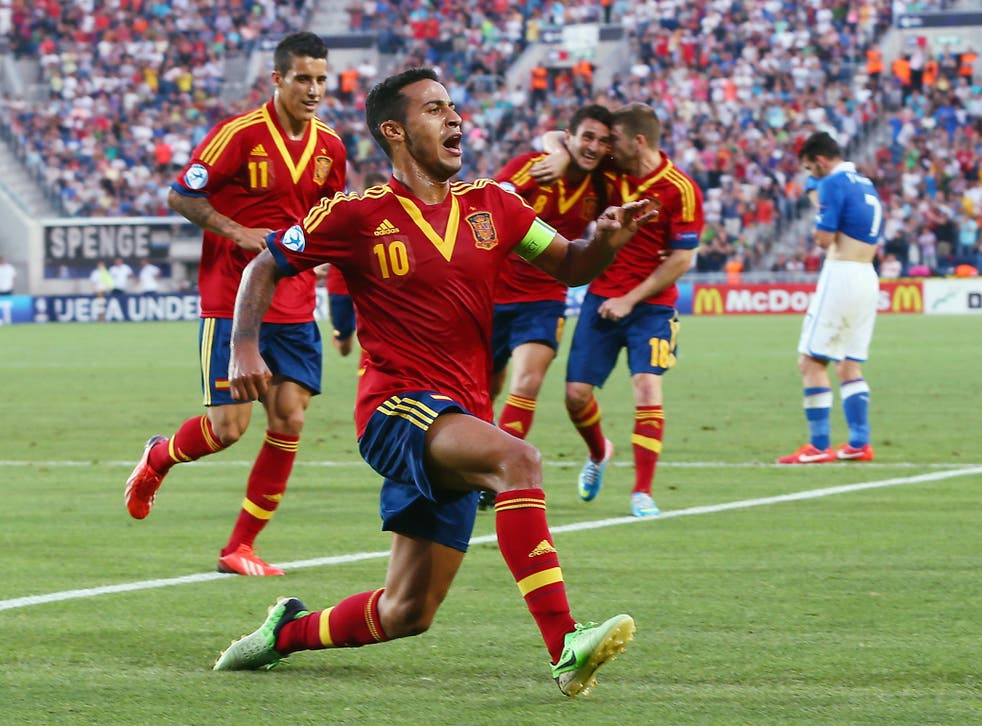 Manchester United's hopes of signing Thiago Alcantara have been dealt a blow after Spain manager Vicente del Bosque urged the youngster to remain at Barcelona.
The 22-year-old midfielder is among United's top summer targets after some impressive displays at the European Under-21 Championships with Spain, including a hat-trick in the final against Italy.
While few players opt to leave the Nou Camp, Alcantara is understood to be concerned by the lack of first-team football at Barcelona. With Xavi, Andres Iniesta and Cesc Fabgregas also vying for a place in Tito Vilanova's midfield, opportunities will likely be limited.
Barcelona have looked to give Alcantara assurances and now del Bosque has joined them.
"The most important thing for Thiago is that he keeps getting games," said the World Cup winning coach.
"There are other options, but I think he will get them at Barcelona, he is held in a very high regard at the club."
While Manchester United have not named Alcantara as a target, manager David Moyes has looked to assure fans of the Red Devils that there is activity behind the scenes.
"Manchester United will always be interested in the very best players in the world but we are also committed to developing our own youth players and bringing in potential players for the future," he said.
"We are working on that just now. It may look like there has been a lack of activity but we are working hard behind the scenes to improve the squad.
"I am fortunate that Sir Alex Ferguson has given me the Champions of England so my goal is to keep that going, maintain it and build on it. We are out there trying. I won't talk about players at other clubs, I don't think it's right but we are out there trying to do some business."
Join our new commenting forum
Join thought-provoking conversations, follow other Independent readers and see their replies