Manchester United make £26m Fabregas bid after missing out on Thiago
Moyes faces tough fight to land ex-Arsenal star after Barcelona lose midfielder to Bayern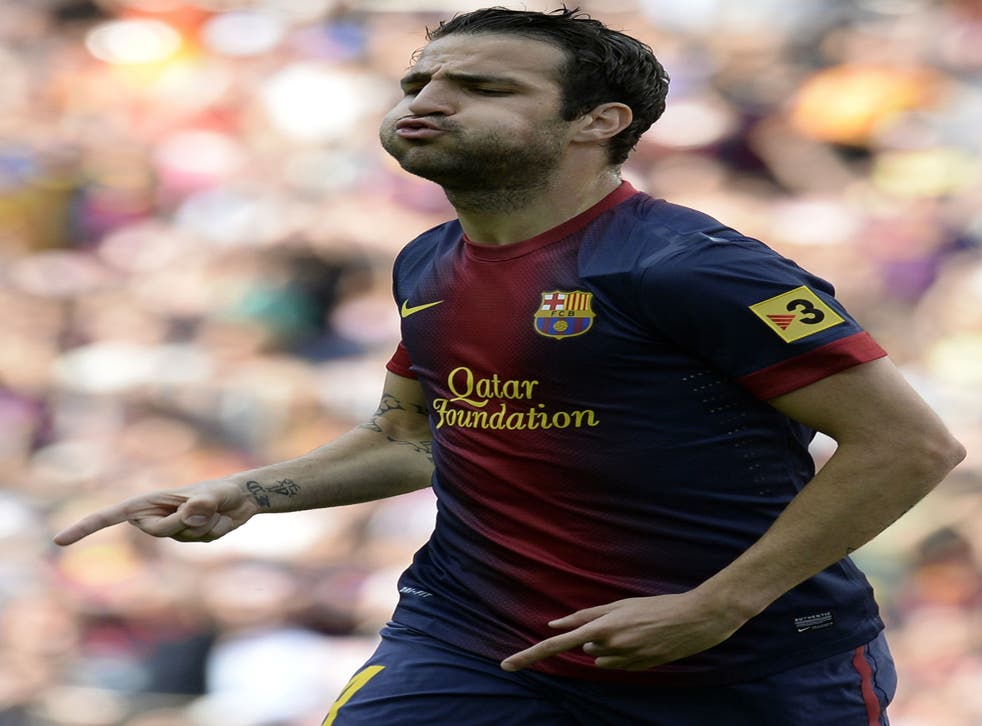 Bayern on Sunday reached agreement with Barcelona on a €25m (£21.5m) deal for 22-year-old Thiago, despite United's interest, and the loss of that target will increase the appeal of Fabregas to United.
The Premier League club face a tough battle if they are to secure the 26-year-old midfielder, though. The loss of Thiago to the Bundesliga champions will reduce Barcelona's inclination to sell and United would need to find in the order of £34m if they are to secure the former Arsenal player's services.
There has been an acceptance at United that Fabregas is the type of player the club need as they enter a new era under the management of David Moyes, and they have lodged a £26m offer for the midfielder. Ryan Giggs is expected to play a lesser on-field role, having become a player-coach this summer, Paul Scholes has retired and Darren Fletcher's comeback date is unclear.
Any interest in Fabregas from Arsenal would create another immediate impediment for United. The deal that took Fabregas back to Spain gave the London club a £25m first-option clause, should they want to take him back. That would give them first refusal at that reduced price.
Thiago's move to Germany on a reported four-year contract at the Allianz Arena reunites him with former Barça coach Pep Guardiola. "I know him very, very well," Guardiola said. "He is a super, super player. He can play in three, four or five positions."
Meanwhile, Giggs has acknowledged that this season is going to be a balancing act between continuing to play and taking up his role in Moyes's backroom team.
Giggs believes he still has a major contribution to make on the pitch, his hunger for success not sated, even after 22 years and 13 Premier League titles. "Crazy, aren't I?" the 39-year-old said. "I'm enjoying it just as much as I did 20 years ago. It's as simple as that.
"Every year is a bonus to me. Take last year – winning the league, that feeling you have after the hard work you put in. Winning that trophy makes it all worthwhile."
However, Giggs accepts this season will be different, even though his twin role is not entirely an alien concept. Twelve months ago Stuart Pearce asked Giggs to do a similar thing for the Great Britain Olympic squad.
Giggs flew to Turkey this summer to go through more work on his coaching badges. For now, however, his time will need to be managed very carefully.
"I am excited about it and it has worked well so far," he said. "But it is about getting the balancing act right because I am still playing. [Coaching] is completely different from playing. Even though I have been playing for 20-odd years, I am seeing the other side of it; how you prepare for games. Some things I knew, others I didn't. It has been a real education."
Register for free to continue reading
Registration is a free and easy way to support our truly independent journalism
By registering, you will also enjoy limited access to Premium articles, exclusive newsletters, commenting, and virtual events with our leading journalists
Already have an account? sign in
Register for free to continue reading
Registration is a free and easy way to support our truly independent journalism
By registering, you will also enjoy limited access to Premium articles, exclusive newsletters, commenting, and virtual events with our leading journalists
Already have an account? sign in
Join our new commenting forum
Join thought-provoking conversations, follow other Independent readers and see their replies