Jose Mourinho wants to sign Monaco's Bernardo Silva for Manchester United, and it's no surprise why
He is higher on the Red Devils' transfer targets than Kylian Mbappe or Tiemoue Bakayoko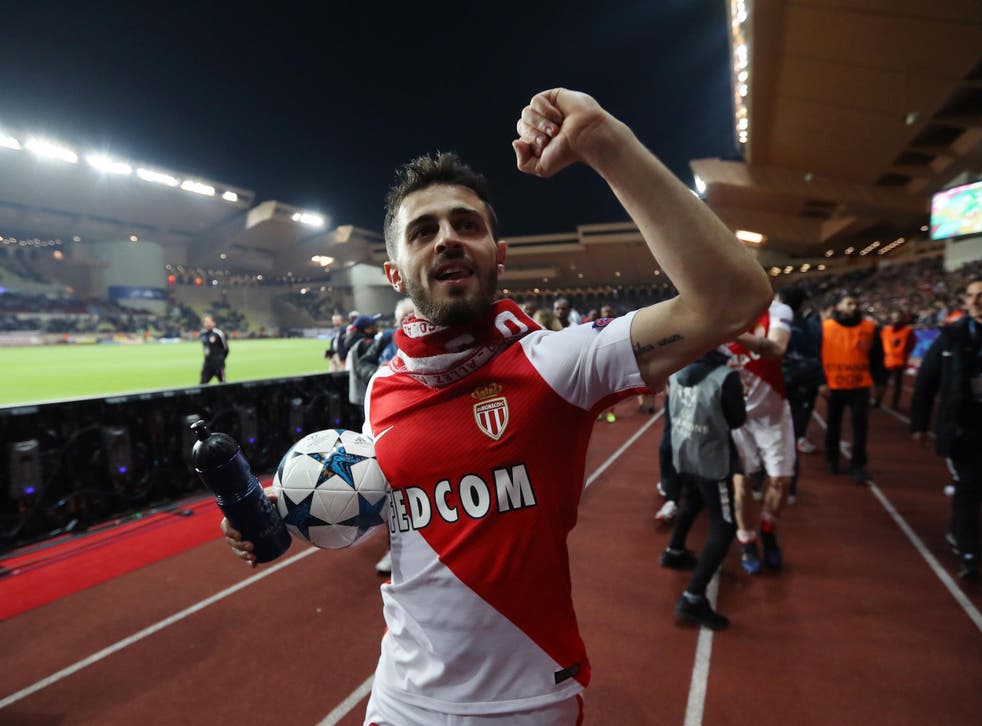 The biggest auction in football this summer will be for Kylian Mbappe, and if Tiemoue Bakayoko or Benjami Mendy leave Monaco it will only be for huge money, close to the £45m Tianjin Quanjian offered for Radamel Falcao back in January. Dmitry Rybolovlev, remember, does not exactly need to sell players to keep his club afloat.
But if there is one man who Monaco will be most desperate to keep at the Stade Louis II this summer, and who could do the most for whichever team he joins, it is none of those players but Bernardo Silva. The little 22-year-old midfielder is Monaco's most important player, the man that Juventus have to stop this evening. When he controls the game then Monaco can be irresistible, as Manchester City and Tottenham Hotspur have already found this season.
At least City and Spurs have been warned now. Because Silva could well be a regular rival next season, if Jose Mourinho gets his way. The Manchester United manager is a long-term admirer of the Portuguese midfielder and he is top of the list of Monaco players United want to sign this summer. City, Barcelona, Real Madrid and Juventus themselves also like Silva, who would cost £60m at the least.
Manchester United's potential summer transfers

Show all 6
What so appeals to Mourinho is that the fact that Silva, for all of his chessboard vision and his precise technique in small spaces, is also a ferociously hard worker. Like his namesake David Silva, the player he is most often compared to, he is far more willing to track back and put a foot in than people first suspect. This is why Mourinho likes the idea of playing Silva in a wide area next season, knowing that he would be as creative as, for example, Henrikh Mkhitaryan while also chipping in with more defensive work.
Fernando Santos, the coach of the Portugal national team and a man of similar footballing principles to Mourinho, loves Silva for the same reasons. Even if he managed to win Euro 2016 without him, Silva unfortunately missing out on the tournament in France due to an injury picked up at the worst possible time. That injury, though, gave him a proper rest which Monaco are feeling the benefit of this year.
His surprise work-rate that sets Silva apart from the merely brilliant number 10s that are produced by many of the big European academies. And yet it is also the reason that Silva left Benfica, the club where he first emerged. Silva has always been a Benfica fan and dazzled as a creative midfielder for Benfica B during the 2013-14 season, at the age of 19. His mazy dribbling was so good that he was nicknamed 'Messizinho' at the club.
But controversial coach Jorge Jesus thought that he had enough good players in those positions and so he told Silva his plan to integrate him into the Benfica side. For the 2014-15 season Jesus wanted Silva to play at left-back. That is not how Silva saw his career panning out so he looked for an exit. Fortunately he was represented by Jorge Mendes, whose close friend Luis Campos, a former scout for Jose Mourinho at Real Madrid, was Monaco's technical director. Campos had been involved in taking plenty of other Mendes clients to Monaco and in August 2014, just before Silva's 20th birthday, he signed a loan deal to Ligue 1 for the season.
Leonardo Jardim had arrived at Monaco that summer, in part because of his success with the young Portuguese players at Sporting CP, and he immediately found Silva to be his type of player. Silva grew into the team in his first season but Monaco were keen to make his transfer permanent, which they did for €20million in January 2015. In his second and third seasons in the principality, Silva became more and more important to the team, taking creative leadership over from his experienced compatriot Joao Moutinho.
This season Jardim has played an aggressive 4-4-2 with Silva tucking in from the right, finding space, thinking quickly, cutting teams open with his surgical left foot. With two quick full-backs in the team as well as Mbappe running in behind, there is always plenty of movement in front of Silva. He always knows how to pick the right option and execute it. He has nine goals and 12 assists so far this season and is favourite to win the UNFP's player of the season award, ahead of the other nominees Marco Verratti, Alexandre Lacazette and Edinson Cavani.
Monaco fans sing Dortmund songs after hearing of team bus explosion
There are not many midfielders as creative and hard working as Silva, still just 22 years old but with three years' experience playing in a highly-functioning team in the Champions League. He is a dream purchase for any top side, which is why he will be so expensive. But with potential Ligue 1 and Champions League double on the cards this season, his time at Monaco is not done yet.
Join our new commenting forum
Join thought-provoking conversations, follow other Independent readers and see their replies