Manchester United transfer news: Cesc Fabregas bids will be rejected, says Barcelona manager Gerardo Martino
'It doesn't matter what any offer from Manchester United is - we're not selling him', confirms Barcelona vice-president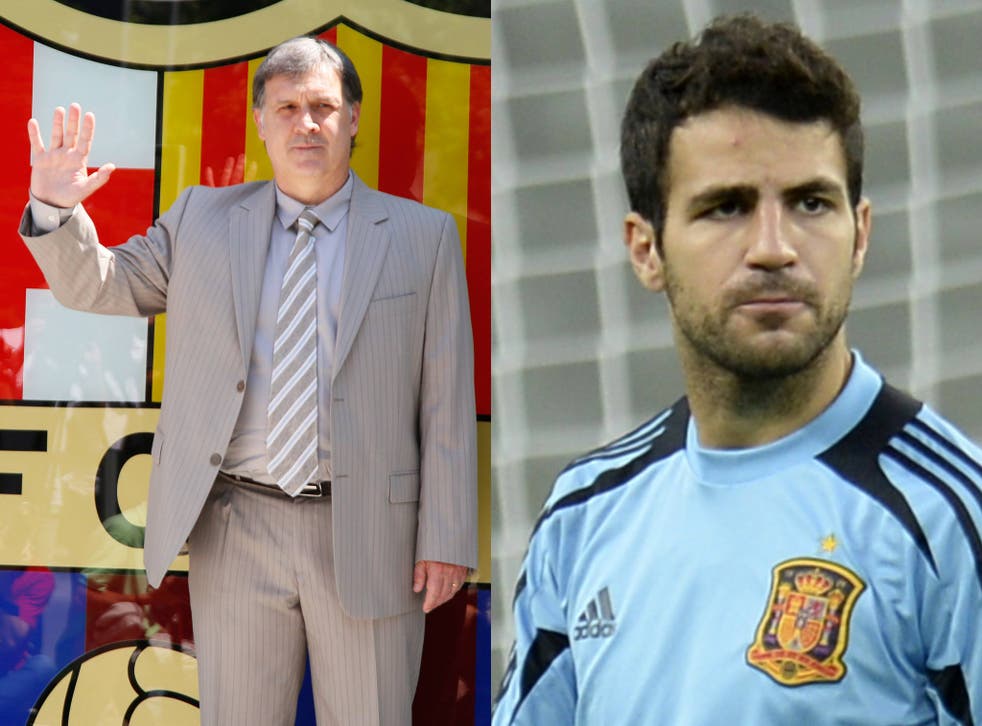 David Moyes said yesterday that Manchester United's pursuit of Cesc Fabregas was 'ongoing' - however it now appears 'over'.
New manager Gerardo Martino has declared that the club will reject all bids for the Spanish midfielder.
The new boss at the Nou Camp was speaking at his official unveiling at which he made it clear that the former Arsenal captain is a vital part of his squad.
"I'm not going to involve myself in the club's accounts, but considering the club has already rejected two offers, I would guess it will reject a third," he said.
"In other words, Fabregas will remain here."
That stance has been confirmed by Barcelona vice-president Josep Maria Bartomeu.
"It doesn't matter what any offer from Manchester United is - we're not selling him. We're counting on him. He's not for sale," he said.
"If there was a higher offer would we accept it? No. He's a great player. It doesn't bother us that Manchester United want him. We're proud that a club like that wants one of our players."
The latest developments follow a letter from president Sandro Rosell to United telling them that Fabregas is not for sale and they should stop disrupting the player.
The Independent revealed earlier this week that sources close to the Spain international suggested his head had been turned by interest from United to the extent that he was "considering his future".
However, the comments from Martino should be enough to assure the midfielder his future remains at the Nou Camp.
Register for free to continue reading
Registration is a free and easy way to support our truly independent journalism
By registering, you will also enjoy limited access to Premium articles, exclusive newsletters, commenting, and virtual events with our leading journalists
Already have an account? sign in
Register for free to continue reading
Registration is a free and easy way to support our truly independent journalism
By registering, you will also enjoy limited access to Premium articles, exclusive newsletters, commenting, and virtual events with our leading journalists
Already have an account? sign in
Join our new commenting forum
Join thought-provoking conversations, follow other Independent readers and see their replies