Gareth Bale or Antoine Griezmann? Weighing up Manchester United's big summer transfer decision
Jose Mourinho once again will be a busy man this summer with two of the Spanish capital's most valuable commodities on his radar - but which one should he choose?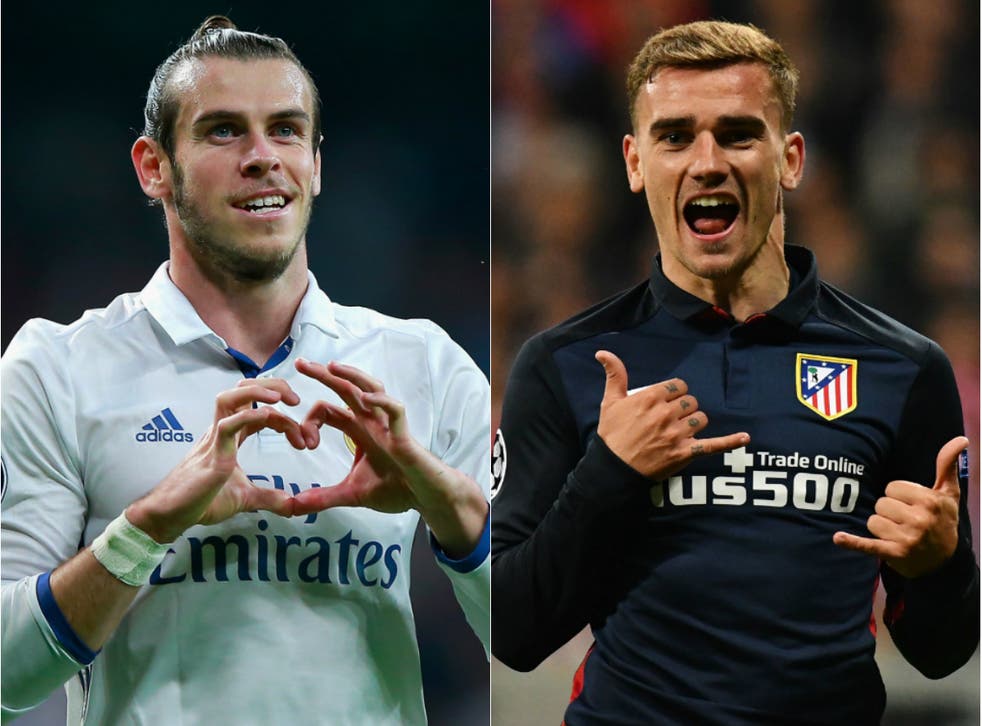 Manchester United are set for another big spending summer and have two of world football's biggest names in their sights.
Atletico Madrid's Antoine Griezmann has been a target for the club for some time and could be prized away from the Spanish capital for £85million but Gareth Bale is also a real option with the Welshman's situation at Real Madrid not as certain as it once was.
Signing the Atletico striker remains the primary aim, but United have found the situation difficult, and have gone back and forth in terms of alternative options. It also remains up in the air whether Griezmann will even leave Diego Simeone's side this summer.
Manchester United summer transfer targets

Show all 8
The long-mooted big-money move for Bale is still subject to a few issues, but it is understood that a deal is "much likelier" than at any point in his time at the Bernabeu with the player himself willing to move to Old Trafford this summer.
Manager Jose Mourinho is believed to favour Griezmann but which way should they go? Independent Sport have weighed up the decision:
Ed Malyon
For me it would have to be Griezmann. Having seen a lot of both players in the flesh over the last couple of seasons, it is impossible not to be bowled over by how talented they are.
Bale brings immense power and speed. If he were to be made into the focal point of Manchester United's attack then you could see how devastating he would be. Just remember how unstoppable he was in his last season in the Premier League and then add in a more talented supporting cast.
Bale would also be happier in England. Though there would be less sun when he's out on the golf course, his family would be far closer and it would please his partner, Emma. This happier home life can help on-field performance.
But the injuries are a concern, and this would be a very expensive mistake if the Welshman were to spend as much time on the sidelines in Manchester as he has in Madrid.
Griezmann has never suffered from the same issues. He's technically more gifted and he's certainly more versatile. The Frenchman is not just the choice of Jose Mourinho but of Paul Pogba - two people who will have a significant say in United's medium-term future.
Grizou is the safer option but is also entering his peak. This summer would be the perfect time to sign him.
Luke Brown
It has been four years since Sir Alex Ferguson decided to retire, during which Manchester United have spent £389m on transfers and finished fourth once. They can ill-afford yet another season of underachievement and if they are going to spend big on a superstar this summer, they need him to begin delivering the goods immediately.
Bale has experience playing in the Premier League and so would take far less time to adjust to United's system than Griezmann, who has never played outside of Spain. There is also a more natural gap for Bale in United's current squad. In Ibrahimovic, Rashford and Martial, Mourinho already has options through the middle – albeit of varied quality. But he does not have a single traditional winger in his squad: a player like Bale who can hug the touchline and repeatedly beat his man.
True, the Frenchman scores more. As more of an out-and-out forward that is to be expected. But Bale is the more creative player, having registered as many assists in 17 La Liga matches this season as Griezmann has in double that number. There are questions over his fitness, but – when international games are factored in – this is the first season in 7 years that he won't have played in more than 40 matches.
With a proper rest this summer, there is no reason he cannot return to his very best at United, the player who single-handedly dragged a poor Spurs side to the verge of Champions League qualification in 2013 and who scores goals as sublime as the one which won the 2014 Copa del Rey final.
Ben Burrows
As problems go it's not a bad one to have. Make no mistake, both players would walk into this Manchester United team - I like Jesse Lingard too but a Galactico he isn't - and would be home run transfers should Ed Woodward be able to pull either off this summer.
But you can only have one and for my money I'd go with Griezmann. The Atletico Madrid star is electric, able to play anywhere across a front free he would add a much-needed explosive threat that hitherto only Marcus Rashford seems able to provide this team. This current United side has been so ponderous at times this season - add Griezmann's dynamism and it looks a whole different animal.
And then there are the goals. Having infamously scored less than Bournemouth and 24 fewer than champions-elect Chelsea finding the back of the net has been this team's primary problem - and that's before Zlatan Ibrahimovic's impending exit. With the enigmatic Swede all but certainly on his way and Rashford still a delicate talent in need of nurturing Mourinho has no choice but to address his forward line in the summer window and while Bale is hardly goal-shy Griezmann is the only way to go. The Frenchman would walk day one as the number one No.9. Bale, as good as he is, would never be that and would fit better in wider areas a position where United are actually well stocked.
It's a nice problem to have, but Griezmann is the answer.
Jack Austin
Put simply, whichever player you choose it is a gamble.
If you gamble on Griezmann, you're going chips in on a player that has only ever played in La Liga, where forwards traditionally perform better – just ask Liverpool flop Iago Aspas, who has actually scored more league goals than the Frenchman this season.
If you gamble on Bale, you're backing a potentially lame horse. Yes, if he returns to he will without doubt be the best player in the Premier League – but given his injuries, how often will you see that? What sort of return will United get for their, probably, new world-record transfer? Injuries have marred his time in Madrid, which is odd to say of a two-time Champions League winner.
But, too much money has been spent, particularly by Manchester United, on world-class players who just can't cut it in England – Angel Di Maria being a prime example – and Bale offers the more immediate promise of success, which is what they need. So I'd go for Bale. Then go back for Griezmann next summer. The money's there to do it, after all.
Join our new commenting forum
Join thought-provoking conversations, follow other Independent readers and see their replies