Manchester United want three more but done deals have Jose Mourinho sure Paul Pogba's talent will finally be unleashed
Tensions have eased with the signing of Nemanja Matic but in an ideal world Mourinho would like two full backs and another midfielder with a deal for Ivan Perisic not yet dead
Miguel Delaney
Chief Football Writer
Thursday 03 August 2017 08:00 Comments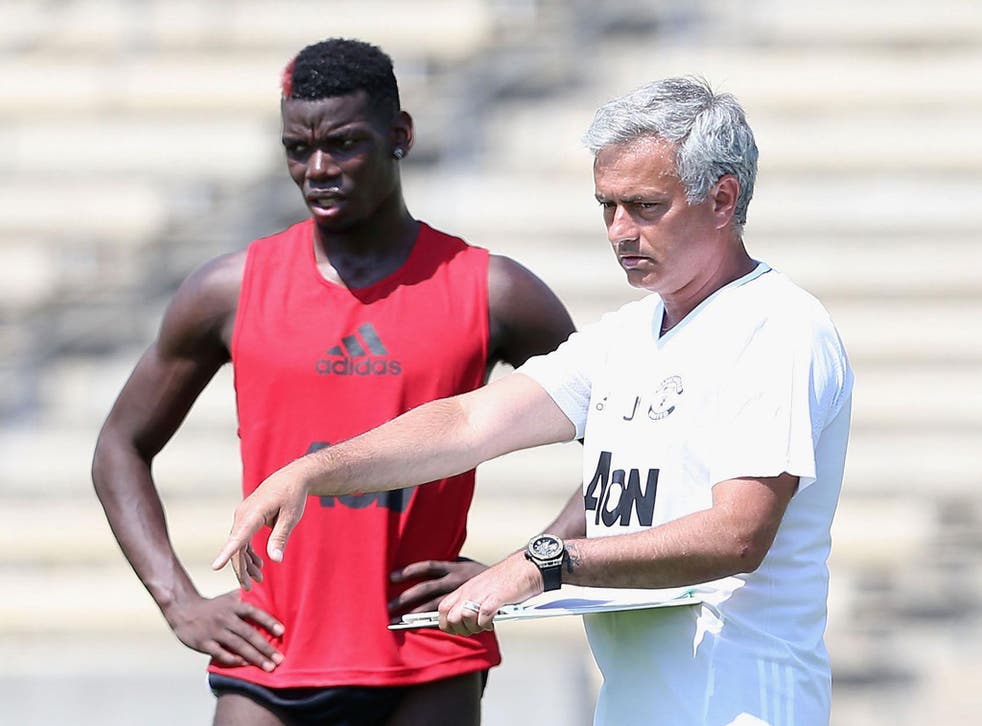 A few weeks ago, in one of the quieter moments on Manchester United's preseason tour, Jose Mourinho asked Paul Pogba a question he didn't want to ask and that he knew would create a lot of noise. He wondered whether the French star would consider occasionally playing as a defensive midfielder this season.
It was all the more galling for Mourinho because club sources say he has a lot of faith that Pogba will make a big leap this season, and even believes he can hit up to 15 goals.
The very question however reflected how difficult United were finding it to sign a defensive midfielder, represented a big reason why Mourinho was last week so publicly disgruntled with their transfer business, and is now why he is much happier.
How Manchester United could line up next season

Show all 12
By getting his former Chelsea lieutenant Nemanja Matic, the United boss also got his top priority for the summer beyond signing a primary centre-forward. That is how crucial a defensive midfielder was to his plans. The Portuguese now has his framework, but he still doesn't have complete satisfaction.
The tension that arose over transfers in the past month has been eased, but hasn't completely gone away. United sources say Mourinho still believes they should have done the vast majority - if not all business - before the US tour to give him more time to work with players and also feels that delays have also made the actual deals more difficult too, especially in the case of Ivan Perisic.
The Croatian - or someone a lot like him - represents the main piece missing from Mourinho's ideal structure, if not quite ideal XI. As it stands, his likely starting line-up would be: David De Gea; Antonio Valencia, Eric Bailly, Victor Lindelof, Luke Shaw; Nemanja Matic, Ander Herrera; Marcus Rashford, Pogba, Jesse Lingard or Henrikh Mkhitaryan; Romelu Lukaku.
The Portuguese does really like Lingard as a useful player - and big-game scorer - but he also represents the obvious area where that side could be upgraded, where Mourinho could still do with the type of classically Mourinho wideman that Perisic represents. United are wary of doing business with Internazionale again after the frustration of negotiating for the £48m-priced winger over the last two months, but those close to the clubs still think it will eventually happen.
Those close to Old Trafford, however, do not think Anthony Martial will be going the other way. Ed Woodward and many others in the hierarchy believe he is a precocious talent to be invested in for the future, but there is also an argument that he is badly needed right now, even if not always a starter.
Martial is one of the few players among their attacking options who offers that something different, that bit of unpredictable - if often erratic - magic. It leads to another lingering question about United's transfer business this summer, especially in attack.
They have already again been put forward as likely favourites for the title along with neighbours Manchester City, but there does appear to be something of a discrepancy in terms of attacking quality. Whereas United have Lukaku, Martial, Rashford, Mkhitaryan and Mata as primary options, with Lingard, Ashley Young and Marouane Fellaini as back-ups - although Mourinho is known to be a fan of Scott McTominay - in what are fairly fixed positions, City have many different fluid attacking possibilities that can consist of: Kevin De Bruyne, David Silva, Bernardo Silva, Raheem Sterling, Leroy Sane, Sergio Aguero, Gabriel Jesus and potentially Alexis Sanchez. All are capable of that Martial magic, some very consistently, and all would be primary options anywhere else.
That is why there is still a feeling that United need that true elevation in attacking quality this season, and why it would make more than commercial sense to still buy a "star".
It probably doesn't help that that Mourinho bases many attacking signings on their defensive qualities, but then he did want another striker this summer, but effectively had to pick between that and other priorities. That has pointed to another source of tension in that there is a feeling that the Glazers have slightly tightened spending this summer. If Mourinho had his way, he would still bring that extra attacker and two full-backs. Serge Aurier has been offered to United as well as a few clubs, and a deal could be done for the right price for the side of the pitch. For the left side, though, the Portuguese is said to have been impressed with Shaw's response to last season's rigours and now has much more faith in him. The feeling, according to one source, is that "the penny has dropped".
It also greatly eases all of this that Mourinho can now instantly drop in to defensive midfield a player he completely trusts and who completely understands what he wants in Matic.
Manchester United summer transfer targets

Show all 8
It should ensure that the base of the team functions exactly as the Portuguese wants, too, allowing them all to play much higher up the pitch and completely freeing Pogba. Mourinho also greatly believes that will ensure the French star can really express himself this season, can really double down on the obvious talent that he only dabbed at the league with last season; that he can then get those 15 goals.
A Pogba playing like that will make a huge difference to United's attack even if they don't get that star. That should not be overlooked in all of this, even if it also shouldn't overlooked that Mourinho isn't completely happy just yet.
Register for free to continue reading
Registration is a free and easy way to support our truly independent journalism
By registering, you will also enjoy limited access to Premium articles, exclusive newsletters, commenting, and virtual events with our leading journalists
Already have an account? sign in
Join our new commenting forum
Join thought-provoking conversations, follow other Independent readers and see their replies