Why Victor Lindelof has all the attributes to succeed in the heart of Manchester United's defence
The 'Iceman' cometh to Old Trafford this summer and he has everything needed to be a brilliant acquisition
Andy Brassell
Wednesday 14 June 2017 17:36 Comments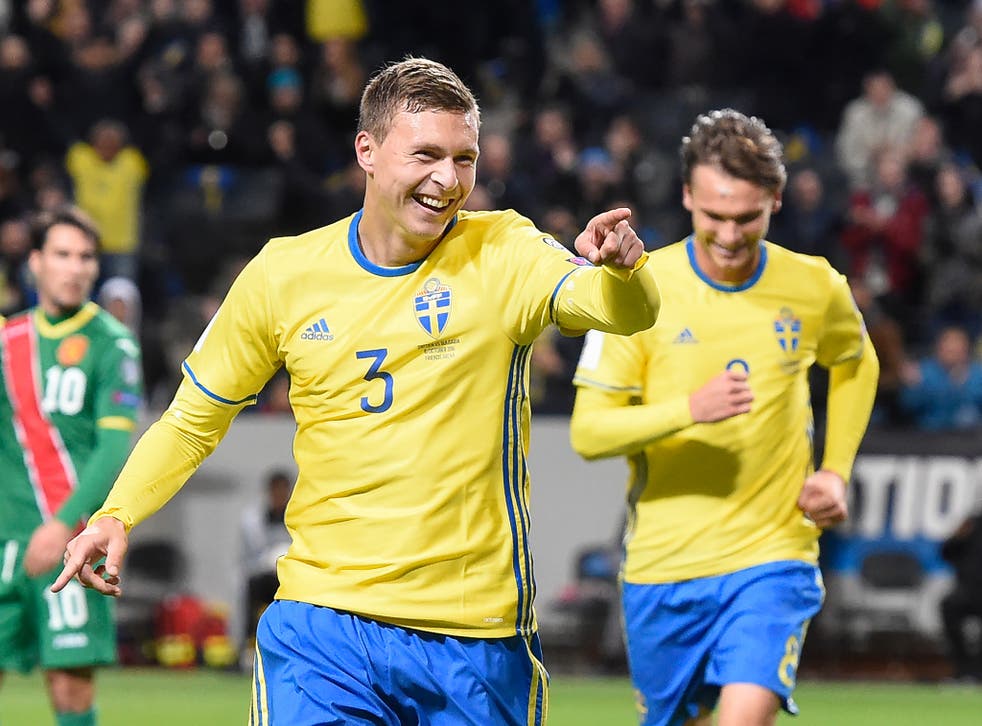 There has rarely been any suggestion of Victor Lindelöf letting his meteoric rise to international renown go to his head, but even if he had done so on the eve of his move to Manchester United, he was keeping it well hidden in the basement of the Friends Arena after Sweden's dramatic win over France on Friday night. He had just starred in a gritty, determined team display by Janne Andersson's team, announcing their continuing evolution into a force to be reckoned with in Europe's World Cup qualifiers.
Lindelöf exited the changing rooms in the guise of reluctant hero, a bashful smile peeking from below the hood pulled low over his face, looking even more green than his actual 22 years would suggest. A couple of British journalists keeping an eye out for United's imminent signing missed him completely, in fact, so unassuming was his manner.
This is the man that was nicknamed 'Iceman' at Benfica; the crazier that things around Lindelöf have become, the more his sang froid has shone through in stark contrast. After his initial breakthrough into the Benfica first-team, less than 18 months ago, a row developed between the Lisbon giants and his hometown club Vasteras SK (who sold him to As Águias for €60,000 in 2012) over bonus payments and eventual sell-on cash.
How Manchester United could line up next season

Show all 12
It took the best part of a year to resolve – the third-tier side will now become one of Sweden's richest as they stand to bank €4.1 million of the initial €35 million that United will pay in transfer fee – but the unseemliness of it all never affected Lindelöf. As soon as the Liga season was done, he prefaced international duty by returning straight home, happily posing with starstruck local children for photos and autographs and making a visit to his former employers.
In Stockholm last weekend, it was impossible to go anywhere without bumping into Swedish media figures singing the praises of Lindelöf on every level – not just in terms of his rapid development on the field, but in his continuing humility off it. Zlatan Ibrahimovic will always be a cherished figure for the nation, but Lindelöf (who has Zlatan's emphatic seal of approval, by the way) is one of the chief standard bearers for a new, very different generation.
Summer transfer window: Likely deals and biggest rumours
Together with RB Leipzig's Emil Forsberg, Lindelöf brings a new image to this Sweden team. True, Andersson's side still tick all the requisite boxes in terms of industry and athleticism, but there's more of a cultured edge to them, and it starts with their young centre-back. He has all the strength and speed that you would hope for from a defender with ambitions to become the cornerstone of a Premier League giant, but he has a rare poise as well.
Lindelöf is immaculate in his distribution, rarely giving the ball away – he completed 88% of his passes in 40 games across Liga and Champions League last season – and has the sort of expansive vision that fires hope he might be the eventual successor to Rio Ferdinand's throne at the heart of United's defence. When he struck home a direct free-kick in the derby at Sporting in April to take Benfica to the brink of the title, the only surprise was that he hadn't done it before.
Much of this fluency comes from his time spent playing a right-back. He was a fixture there in Sweden's European Under-21 Championship victory in 2015, even smashing in the fifth penalty in the shootout against Portugal in the final.
It was in that position that Lindelöf was expected to flourish at Benfica too. When he returned to Lisbon after that glorious summer for Sweden in the Czech Republic, he wouldn't have been over-assuming in expecting that he might finally make the step up to the first-team, with first-choice right-back Maxi Pereira choosing to make a highly controversial switch to bitter rivals Porto.
In the event, new coach Rui Vitória overlooked him and by the winter window, it looked as if – like Bernardo Silva before him – he would be another young talent to the exit Estádio da Luz with just a single senior appearance under his belt, having played just 25 minutes in a dead rubber with Porto in May 2014. In late January 2015, he was all set for a loan move to second-tier Middlesbrough, with a €3 million purchase option included, when a Benfica injury crisis saw him pressed into service as an emergency centre-back.
Lindelöf has never looked back, playing as if he's been there for a lifetime as Benfica have gone on to rack up a third and fourth successive title, while also performing laudably in the Champions League. A frantic Benfica rushed to sign him to an improved contract as his initial €30 million buyout clause started to look inadequate, and now it seems like United got off fairly lightly by paying what they have. None of this has affected Lindelöf in the slightest, of course. That sense of calm will stand him in good stead as his career changes dimension again.
Register for free to continue reading
Registration is a free and easy way to support our truly independent journalism
By registering, you will also enjoy limited access to Premium articles, exclusive newsletters, commenting, and virtual events with our leading journalists
Already have an account? sign in
Join our new commenting forum
Join thought-provoking conversations, follow other Independent readers and see their replies