Nani transfer: No future for winger at Sporting Lisbon as club cannot afford his wages when loan deal with Manchester United runs out
Despite becoming the outstanding player in the Portuguese League, the player says there are 'always possibilities' of a return to Old Trafford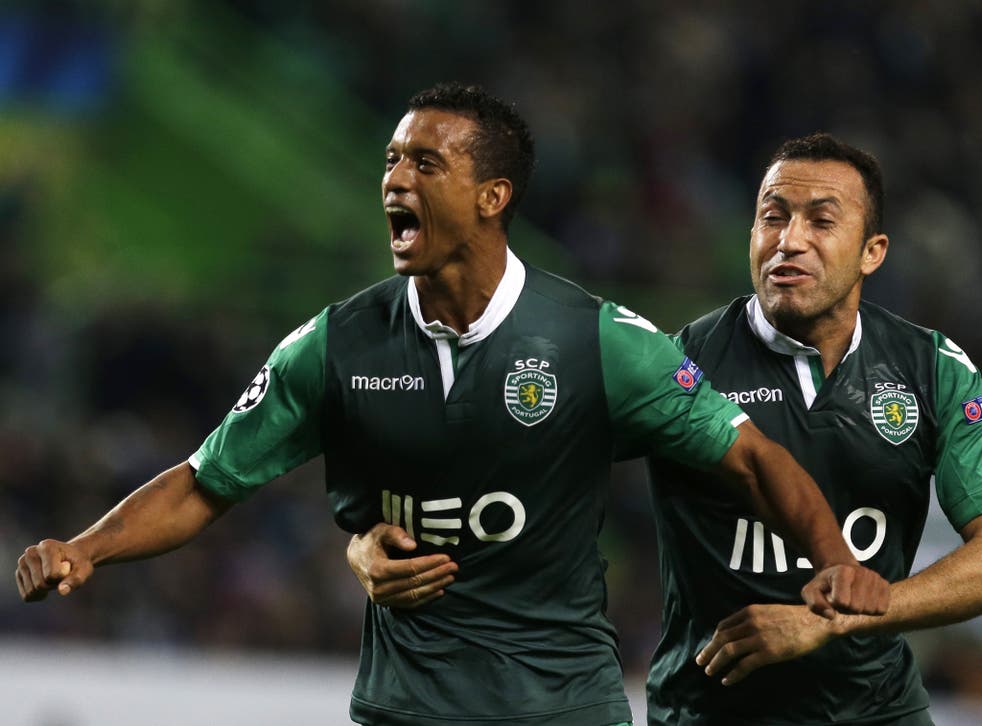 Manchester United winger Luis Nani will return to Old Trafford from Portugal in the summer unless a buyer can be found, because Sporting Lisbon cannot afford to pay his wages.
Nani commands a salary of €5m (£3.95m), paid for by United, during his season's work at the Portuguese club – a sum which is more than a quarter of Sporting's entire budget for player acquisitions and wages. Though he has started very strongly in his loan period and has become the outstanding player in the Portuguese League, Sporting's financial position rules out any prospect of them making his loan permanent. Benfica and Porto are far wealthier.
However, the terms of the loan move from Old Trafford do not allow United to take Nani back in January, having agreed to him being the makeweight in the deal which took Marcos Rojo into Louis van Gaal's squad in August.
Nani, who has established himself as one of the dressing-room leaders in Marco Silva's side, reiterated this week that he believes there are "always possibilities" that he can return to United from his loan at Sporting and the Old Trafford outfit "are my club." But Van Gaal will be aware that the gulf between the Premier League and Portuguese top flight means the 28-year-old's achievements must be kept in context. Unless Nani can continue the Champions League form he demonstrated in scoring in the 3-1 win over Maribor in midweek, he is likely to seek a move to Italy, Germany or Spain in the summer.
Nani has been seen as the players' representative in a frosty relationship with the Sporting president, Bruno de Carvalho, who criticised the team after their defeat to Vitoria Guimaraes in the Portuguese league. Nani responded with a thinly veiled attack on the president. When Sporting subsequently beat Schalke 4-2 at home on 5 November in the Champions League, Nani said: "Those who don't know how to lose, don't know how to win." That was understood to have left De Carvalho considering disciplinary action against him.
The player this week sought to smooth things over and demonstrate that he is not agitating to leave Sporting before the end of the season.
Nani's hopes of reviving his United career depend on leading his side into a strong display against Chelsea in their final Champions League group game in two weeks. Sporting will probably need to take at least a point from Stamford Bridge to qualify for the knockout stages, with Schalke, third in the group, expected to beat Maribor.
Register for free to continue reading
Registration is a free and easy way to support our truly independent journalism
By registering, you will also enjoy limited access to Premium articles, exclusive newsletters, commenting, and virtual events with our leading journalists
Already have an account? sign in
Register for free to continue reading
Registration is a free and easy way to support our truly independent journalism
By registering, you will also enjoy limited access to Premium articles, exclusive newsletters, commenting, and virtual events with our leading journalists
Already have an account? sign in
Join our new commenting forum
Join thought-provoking conversations, follow other Independent readers and see their replies