Newcastle transfer news: Nicklas Bendtner 'negotiates deal' as ex-Arsenal forward nears Premier League return
Bendtner has returned to training with Wolfsburg in an unfit state and could be sold this month after starting just five matches in 2015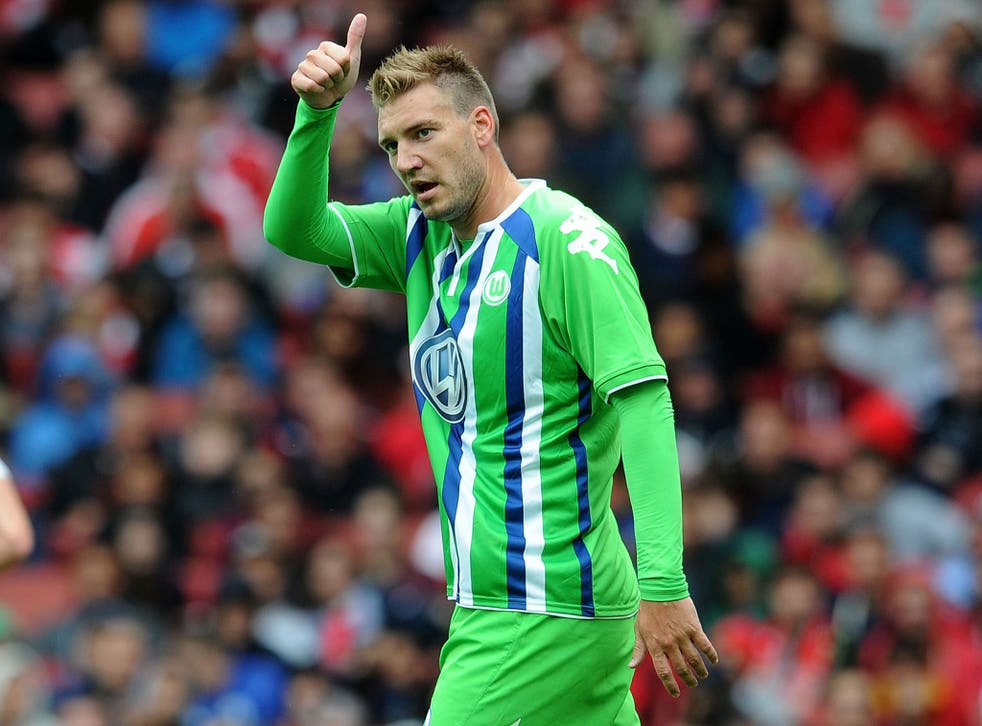 Nicklas Bendtner could be in line for a Premier League return after being linked with a move to strugglers Newcastle, but he will need to improve his fitness first after the striker was made to do laps of the training pitch after returning to Wolfsburg following the winter break.
The former Arsenal forward is out of favour and out of shape after Wolfsburg head coach Dieter Hecking admitted he was not happy with the Denmark international's conditioning, revealing that he would make Bendtner catch up on his fitness or else fine him.
The news will not impress any potential suitors looking to sign the 27-year-old, with German newspaper Bild claiming that Newcastle are leading the race for his signature in a bid to avoid Premier League relegation this season.
Local newspaper Wolfsburger Nachrichten adds that Bendtner's agent, Ivan Marko Benes, has already negotiated a deal for the striker to return to England a year-and-a-half after leaving Arsenal on a free transfer, and adds that the Magpies could make an official offer later this week.
Hecking was unimpressed with Bendtner after he failed to meet the standards expected during the three-week winter break, and he told reporters: "Nicklas has to run because he obviously did not carry out our training plans 100 per cent. It's evident that he did not work enough during the winter break, and thus he either has to catch up on those runs or pay a fine."
Bendtner took his punishment though, with Hecking admitting that he responded "professionally and that he "can't see anything wrong with [the punishment]".
The Dane even took to his Instagram account to show off his slim physique and added the caption: "Another morning run is done. I am only getting stronger. This is just the frame, not the finished portrait."
Bendtner appears to have a bleak future at Wolfsburg regardless of Newcastle's January transfer plans though, after his current situation at the Bundesliga club was described by the player himself as "unsustainable".
"Everyone can add up the numbers," Bendtner told Bild. "We played a total of 53 matches in 2015, and I started five of them."
Register for free to continue reading
Registration is a free and easy way to support our truly independent journalism
By registering, you will also enjoy limited access to Premium articles, exclusive newsletters, commenting, and virtual events with our leading journalists
Already have an account? sign in
Register for free to continue reading
Registration is a free and easy way to support our truly independent journalism
By registering, you will also enjoy limited access to Premium articles, exclusive newsletters, commenting, and virtual events with our leading journalists
Already have an account? sign in
Join our new commenting forum
Join thought-provoking conversations, follow other Independent readers and see their replies