Now is time for Wenger to splash cash, says Ramsey
Arsenal midfielder urges manager to spend big in summer to end trophy drought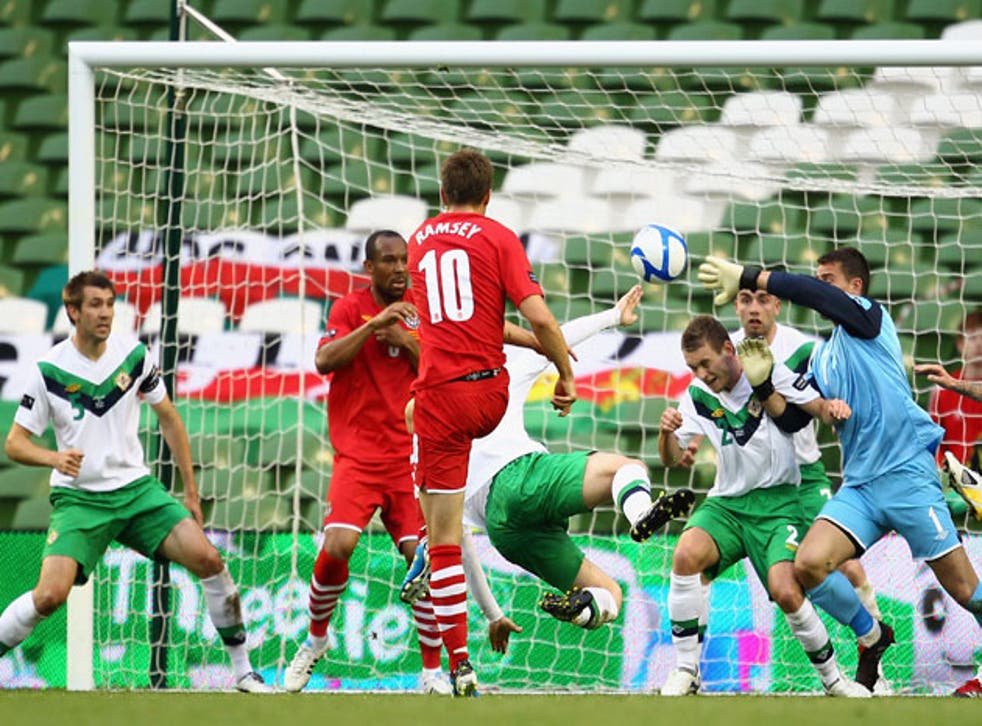 Aaron Ramsey, the Arsenal midfielder, insists that the Gunners must splash the cash this summer if they are serious about ending their six-year trophy drought.
Arsenal have just suffered another below-par and trophyless season, losing the Carling Cup final to relegated Birmingham City and finishing fourth in the Premier League, a place behind Manchester City.
That has increased the frustration and fury among restless Arsenal supporters, with manager Arsène Wenger the target of direct criticism – during the club's final-day draw at Fulham – for his failure to bring big-name players to the Emirates.
Ramsey, who scored the opening goal in Wales' 2-0 victory over Northern Ireland in the Carling Nations Cup in front of just 529 fans at the Aviva Stadium in Dublin on Friday night, believes his manager must spend big before pre-season starts in order to recaptures past glories.
Ramsey, 20, said: "I'm sure there will be changes like any other season but I expect Arsène will be active in the transfer market.
"There have already been a few names mentioned and I am sure there will be a few players in and out. Obviously we haven't won anything for a long time. The pressure has grown and the fans have been quite vocal lately. But the spirit in the dressing room is the same as always. Everyone gets on with each other so there is nothing wrong with the team spirit. Hopefully we can go on and win a trophy next season."
After returning from the horrific double leg break suffered at Stoke in February 2010, Ramsey is determined to become more influential at club level next season.
The Wales captain rounded off the current campaign by demonstrating his importance to his country with an inspired display on Friday to seal a first win for rookie Dragons manager Gary Speed against Northern Ireland in Dublin. Ramsey said: "It was a good night's work. In spells we played some good football and we created some chances, but it was important we got the win. I was pleased with my goal and it's always nice when you score for your country."
Now Ramsey, who enjoyed loan spells at Nottingham Forest and Cardiff City on his road to recovery, is aiming to be of the same importance to the Gunners in the 2011-12 campaign. Ramsey said: "Personally next season will be a big one for me as it's my first full campaign since my injury. I'm pretty happy with what I've done this season.
"I got myself back to match fitness and I'm happy with that. Like everybody else I'll have a break now but I know I can have a good season next year."
While Ramsey aims to kick on in the next campaign, another Wales star faces an uncertain future.
Craig Bellamy spent the season on loan at Cardiff City from Manchester City and lined up alongside Ramsey during his stint in south Wales,m but Bellamy is set for showdown meetings with Roberto Mancini next week.
Any decision following the crunch talks with the City manager will also rest on the extent of a persistent hamstring injury.
Bellamy has endured an injury-ravaged career in which he has undergone nine major operations. He only recently returned from the latest hamstring problem in the first leg of the Welsh club's Championship play-off semi-final defeat against Reading.
But the 31-year-old, who has attracted interest from Premier League duo Sunderland and Bolton Wanderers as well as a second spell at Cardiff, pulled up in the 33rd minute at a deserted Aviva Stadium chasing Neil Taylor's long ball.
Bellamy instantly signalled to the bench but lasted until past the hour mark when he was replaced by Robert Earnshaw, who scored Wales' second goal to draw level with Mark Hughes and Cliff Jones as the Dragons' sixth all-time highest goal-scorer with 16. Bellamy said: "My hamstring was a little bit tight but I expected that as it's only 14 days since the injury. It was cramp but it was inevitable."
Bellamy was delighted to end a six-match losing streak and is adamant that Wales' youthful side can go on to qualify for major championships in the future.
Bellamy added: "It was good to win as it's Gary's first one as manager. It's important for the young players. I remember when Mark Hughes was in charge it took a while for his reign to get going.
"We won a game early but then went something like 12 without winning. But he started building a team.
"It was frustrating as Northern Ireland didn't want to come out and play but a lot of teams do the same. But we were patient and kept the ball. It was as comfortable an internationalwin as you will get.
"For the likes of Rambo [Ramsey] and [West Ham midfielder] Jack Collison it's all about the future. I hope these boys can lead us to a major championship in the next five years.
"I want these players to achieve something that I wasn't able to do. But it's still important for me to be here. I have a good relationship with the manager and I still have something to offer."
Register for free to continue reading
Registration is a free and easy way to support our truly independent journalism
By registering, you will also enjoy limited access to Premium articles, exclusive newsletters, commenting, and virtual events with our leading journalists
Already have an account? sign in
Register for free to continue reading
Registration is a free and easy way to support our truly independent journalism
By registering, you will also enjoy limited access to Premium articles, exclusive newsletters, commenting, and virtual events with our leading journalists
Already have an account? sign in
Join our new commenting forum
Join thought-provoking conversations, follow other Independent readers and see their replies