Paul Pogba: Juventus midfielder signs Manchester United shirt for fan in Los Angeles
The midfielder dropped yet another hint that he is nearing a return to Old Trafford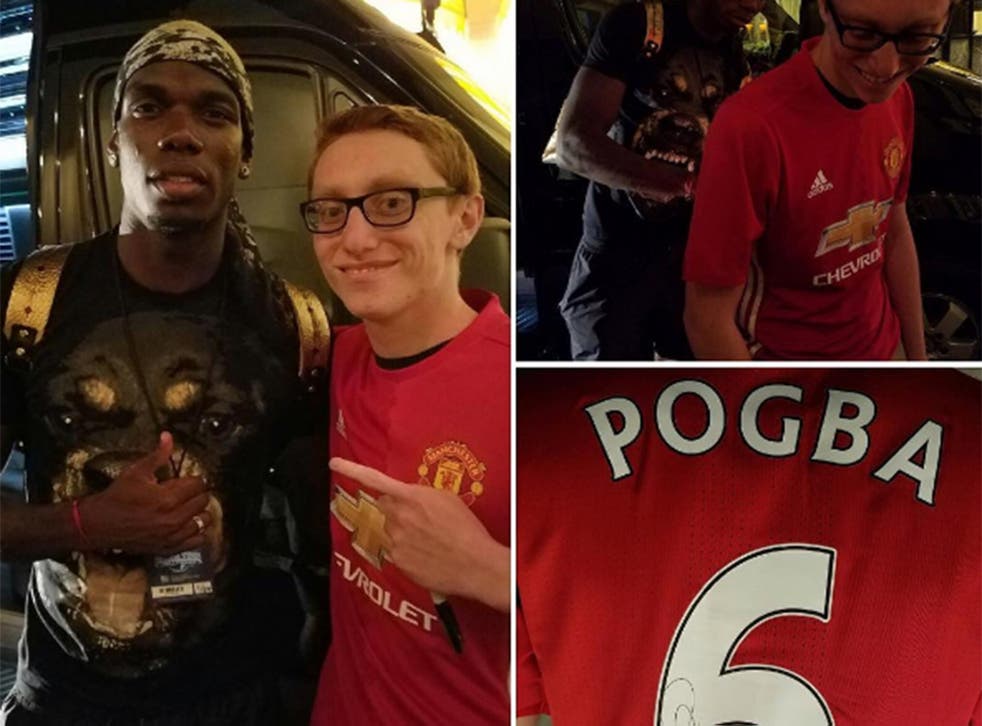 Paul Pogba has indicated that his long-drawn-out move to Manchester United is nearing completion by signing a fan's shirt.
Jonathan Perkins, who was celebrating his 18th birthday while wearing a new United jersey with 'Pogba 6' printed on the back, spotted the France international in Los Angeles on Friday.
Perkins asked him for an autograph and, despite the fact that his return to Old Trafford is yet to be confirmed, Pogba obliged.
"So this just happened! (Probably the first United jersey he has signed since the impending transfer)," Perkins wrote on his Instagram account.
"Thanks @paulpogba for making my 18th birthday a little more special!"
Pogba has regularly dropped hints regarding his future on his own Instagram account this summer.

On Saturday, the 23-year-old posted two pictures of himself at Universal Studios, each with a playful caption.
"Breaking news: Pogba undergoes medical check in Universal Studios amusement park California," read the first.
Manchester United's best XI with Paul Pogba

Show all 11
"News: we catch Pogba with his contract in Universal Studios LA amusement park," he added to the other.
Pogba's move from Juventus is expected to be announced in the coming days.
Register for free to continue reading
Registration is a free and easy way to support our truly independent journalism
By registering, you will also enjoy limited access to Premium articles, exclusive newsletters, commenting, and virtual events with our leading journalists
Already have an account? sign in
Register for free to continue reading
Registration is a free and easy way to support our truly independent journalism
By registering, you will also enjoy limited access to Premium articles, exclusive newsletters, commenting, and virtual events with our leading journalists
Already have an account? sign in
Join our new commenting forum
Join thought-provoking conversations, follow other Independent readers and see their replies