Pep Guardiola and Sergio Aguero confirm striker is staying at Man City
The Argentina international faced an uncertain future with the club Comments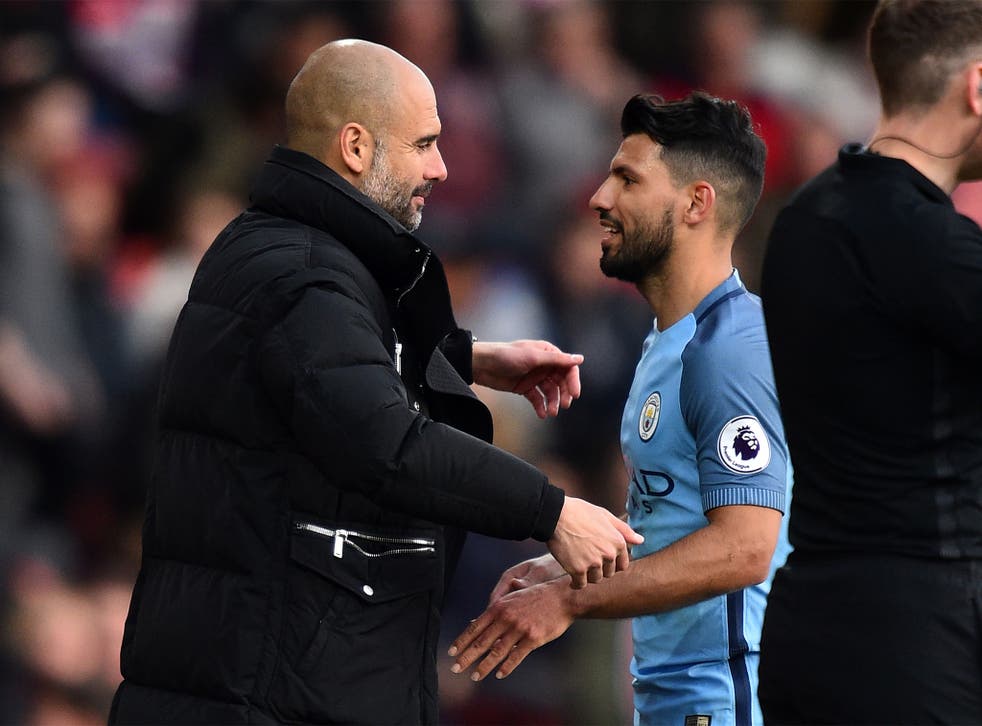 Sergio Aguero and Pep Guardiola have both confirmed that the Argentina international will remain a Manchester City player.
Manchester City won 5-0 at Watford to seal third place in the Premier League and direct entry to the Champions League group stage next season.
And despite Aguero's role in the team coming under scrutiny this season, Guardiola confirmed briefly in his press conference that Aguero would be staying at the Etihad Stadium.
Aguero then told reporters in the mixed zone that he would be staying, just as he stepped onto the City bus outside Vicarage Road.
The Argentina international, 28, has struggled with injuries in recent seasons and now have Gabriel Jesus to compete with for a starting place.
Aguero told an Argentine radio station in March that he was planning on a return in 2018, despite his current City deal running until 2020.
But he also confirmed that senior figures in Manchester had agreed to let him out of his contract early should Independiente come knocking.
"It's clear to me that when my contract ends, after the World Cup [Russia 2018], I'm going to Independiente.
"Here at the club they are great with me, they always told me that they were open if the chance of a transfer arises.
"But where am I going to go in Europe? No, when I go, when my contract ends, I'm going to Argentina to play for El Rojo. From Manchester, straight to Avellaneda."
However it is that last piece of the puzzle which may now have changed.
While Independiente would love their prodigal son to return, senior officials at the club say Aguero wishes to play "two or three more years" in Europe.
"Our desire is for him to return now but this is not possible."
Aguero holds the Avellaneda club close to his heart and has previously offered financial help as well as calling prospective youth signings to help convince them to choose El Rojo.
Register for free to continue reading
Registration is a free and easy way to support our truly independent journalism
By registering, you will also enjoy limited access to Premium articles, exclusive newsletters, commenting, and virtual events with our leading journalists
Already have an account? sign in
Join our new commenting forum
Join thought-provoking conversations, follow other Independent readers and see their replies