Radamel Falcao analysis: Manchester United have signed a top talent yet to hit his stride
Colombian has scored goals galore but has been out of Champions League for five years and missed World Cup. Jack Pitt-Brooke recounts his curious career and reveals how he can be a United legend
Jack Pitt-Brooke
Tuesday 02 September 2014 12:59 Comments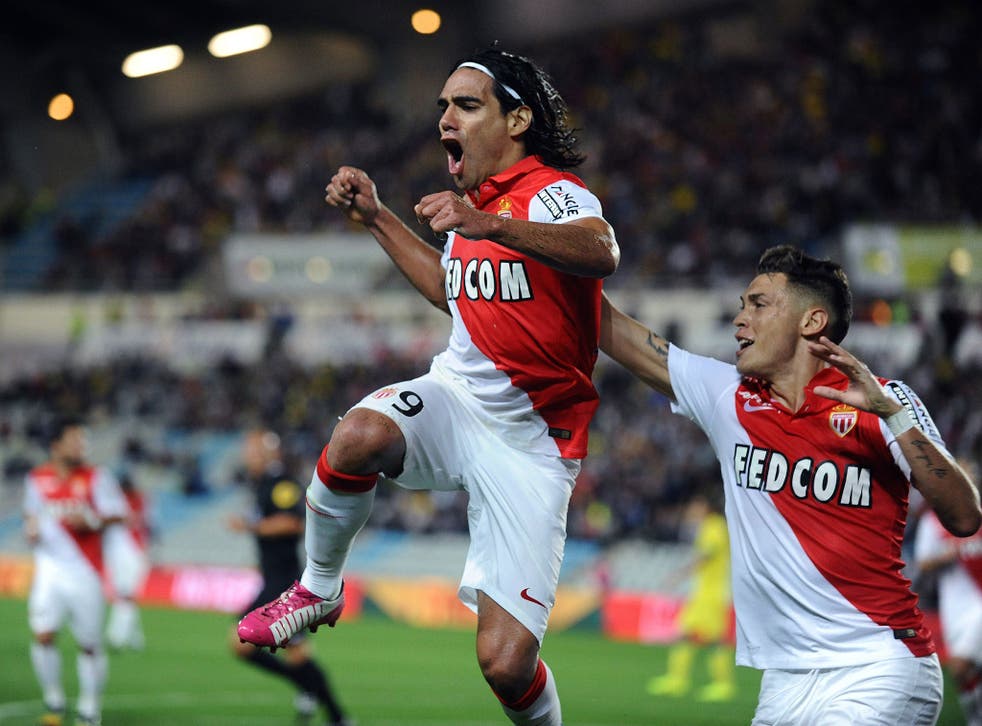 For one of the most dangerous No 9s in world football, Radamel Falcao has been curiously underexposed. The 28-year-old, who has joined Manchester United, comes with a track record of remarkable success. He has scored mountains of goals wherever he has played, averaging close to one goal a game in two seasons in Portugal and two seasons in Spain.
If the Colombian can shake off the knee injury that has ruined his 2014 so far – blocking his participation in the World Cup and any possible move to a bigger side – he could be a wonderful addition to the Premier League. As a centre-forward, he is futuristically complete – powerful, graceful, balanced and ruthless.
Yet despite all this, Falcao's career to date has been slightly unusual. He has never quite been at the centre stage of the world game. He has never played at a World Cup. He has played just eight times in the Champions League, all for Porto, five seasons ago. Now he has joined United, this will be his fifth consecutive year out of the world's greatest club competition. He has won just one European domestic league title – with Porto – but two Europa Leagues.
Not a bad career so far, certainly, but compared to his natural peers – Sergio Aguero, Edinson Cavani, Zlatan Ibrahimovic – it is not one that has occupied the very biggest matches and moments. Which is not to say that he is not a clutch player, as he dominated the Europa League and scored in the final in both 2011 and 2012. Maybe he has just always been in the wrong place at the wrong time.
The qualified success that Falcao has enjoyed, though, should certainly be no surprise. He was, even by the standards of the best South Americans, identified from childhood as a football star of the future. His father, Radamel Garcia King, was a footballer and he named his son, Radamel Falcao Garcia Zarate, after the Brazilian midfielder Falcao, a star of the 1982 World Cup and Sven Goran Eriksson's great Roma side of the mid-1980s.
Top 10 most expensive players ever

Show all 10
He grew up moving around Colombia and Venezuela, focused only on following his father into the professional game, at the expense of everything else. He was so obviously talented that he made his debut for a Colombian senior side, Lanceros, at 13 years old, before joining Millonarios and from there to Buenos Aires giants River Plate at 15.
It would have been a daunting move for any boy, but Falcao was persuaded, in part, to take it by the example of his hero Juan Pablo Angel, another Colombian who played for River. "That is what made me leave," Falcao told The Times in 2012. "It was hard, being far from home, not knowing anyone, with a different climate and different food. But I was enchanted by River because [Juan Pablo Angel] had played there."
Falcao quickly impressed with the skills that have made him such a success – his strength, his speed, his nose for goal and his burning will. Soon enough he came under the tutelage of Diego Simeone, the young former midfielder starting to make his name as a coach. The two struck up a relationship quickly and River won the Torneo Clausura – the Argentinian spring championship – in June 2008.
After one more year in South America, Falcao eventually moved to Europe, to Porto, at the age of 23. His first season was an instant success, as he scored in his first four matches for the side who are better than anyone else at recruiting the best talent from South America. While it was not a vintage year for the club, 34 goals in 42 games showed the obvious scoring qualities that have defined his career ever since.
Porto appointed a new coach the following summer, 32-year-old Andre Villas-Boas, and the team quickly turned into one of the best in Europe. They won the Portuguese title, unbeaten in the 30-game season, as well as winning the Portuguese cup and the Europa League. In the pursuit of that trophy, Falcao showed a remarkable hunger, befitting his nickname "el Tigre", the Tiger. He scored a hat-trick in the quarter-final first leg against Spartak Moscow, four in the semi-final first leg against Villarreal and then the only goal of the final, at Lansdowne Road against Braga. He finished the season with three trophies and 39 goals in 42 games.
That summer Villas-Boas left Porto for Chelsea while Falcao joined Atletico Madrid, replacing Sergio Aguero. It was a new club and a new league but the simple business of goalscoring remained the same. Falcao scored 24 La Liga goals – only Lionel Messi and Cristiano Ronaldo scored more – and was reunited in December 2011 with his old coach Simeone. The history of Simeone and Atletico is well known now – it climaxed in May with the Spanish title and the Champions League final – but it started with the 2012 Europa League.
Falcao won that trophy twice in a row, scoring twice in the 2012 final, against Athletic Bilbao. When he scored a hat-trick against Chelsea in the 2012 Super Cup, he made it unambiguously clear that he was among Europe's best strikers. Unfortunately, Atletico were not in the Champions League and while Falcao's second and last season there was even more prolific, with 28 league goals, he left with just the Copa del Rey to show for it.
With interest, again, from Europe's top clubs, Falcao chose to move to Monaco, along with other Jorge Mendes clients, joining owner Dmitry Rybolovlev's new project in a £50m move. Again, curiously, Falcao stayed out of the Champions League but he was just starting to deliver when he ruptured knee ligaments after a heavy tackle in a cup game against non-league Chasselay in January this year.
That injury ruled him out for the rest of the season and the World Cup. Real Madrid signed his Colombia and Monaco team-mate James Rodriguez instead. Falcao missed out on his dream move, but has joined another huge club, albeit one at a low ebb. He will have to wait to get back into the Champions League but few strikers could give United a better chance of getting there.
Register for free to continue reading
Registration is a free and easy way to support our truly independent journalism
By registering, you will also enjoy limited access to Premium articles, exclusive newsletters, commenting, and virtual events with our leading journalists
Already have an account? sign in
Join our new commenting forum
Join thought-provoking conversations, follow other Independent readers and see their replies