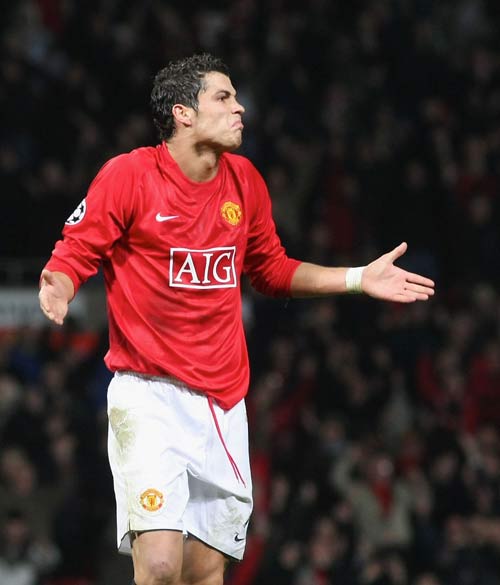 In an utterance as remarkable as any he has issued this summer, Cristiano Ronaldo declared last night that he agreed with the Fifa president Sepp Blatter's assertion that Manchester United should stop treating him like a "modern-day slave" and release him to Real Madrid.
"I agree with the statements of the president, he is right," Ronaldo said and, pressed on where he would spend next season, he reiterated the point. "You know what I said, what I want and what I would like. Let's see. I agree completely with the president of Fifa. Now I have to wait and see, but I do not know where I will begin the season."
Coming from a 23-year-old who is paid £120,000 a week by a club considering allowing him to complete his recuperation from ankle surgery in the Algarve and delay his return to Manchester, Ronaldo's assertion will prompt as much indignation in football as Blatter did when he said yesterday that players, tied to longer contracts since the Bosman ruling, were enslaved and should be given greater freedom to move on.
The metaphor Blatter chose was even more unfortunate than his line of argument which, taken to its logical conclusion would allow for no transfer market and let any player leave for the highest bidder at the drop of a hat, with all the consequences that would have for the sport's poorer clubs. But Ronaldo was unmoved. He agrees he should be allowed to join Real, though he suggested while leaving his rehabilitation clinic in the Algarve that he does not expect to be playing for anyone for 10 or 12 weeks, following his operation. That prognosis is far worse than expected at United, who had hoped he might be fit within six weeks.
Contrary to some reports, the Portuguese also said he had not agreed personal terms with Real. "It is not true that I have an agreement with Real Madrid, there is no agreement," said Ronaldo, who announced himself to be "completely optimistic and calm". That reinforces the idea, expounded by the club's president, Ramon Calderon, at the weekend, that Ronaldo will be a United player next season.
There was little sense in Ronaldo's brief utterance that he had taken much stock of Blatter's comments, but agreeing to his suggestion that he is enslaved will leave him liable to a colourful response from opposing supporters if he extends his United career.
United led a chorus of opposition yesterday to comments which appear to rank alongside Blatter's legendary assertion that women footballers should wear "tighter shorts" to make the game easier on the eye. "All our players, like at other clubs, enter into their contracts after an open and free negotiation," the Old Trafford side said. "Most do so after taking advice from a Fifa-registered agent. Many do so on a number of occasions and enjoy long and successful stays at Old Trafford."
Arsenal, struggling to keep Emmanuel Adebayor, and Chelsea, whose £130,000-a-week offer to Frank Lampard has been rejected, may empathise, though some would argue that the treatment of Lampard has been less than exemplary. In the pre-Bosman era, when clubs could hold a player's registration and refuse to release it even if that individual's contract had come to an end, footballers could have claimed to be in clubs' thrall.
But the idea that a player such as Ronaldo may, one year into a five-year contract, declare on a whim that he wishes to fulfil a "dream" of playing in Spain, banishes any notion of contractual arrangements.
Even the Professional Footballers' Association were astonished. Deputy chief executive Mick McGuire, said: "It is so inappropriate that [Blatter] loses any credibility in the argument. There are some words that should never be used in such a context. The word 'slavery' gets people wound up and destroys any argument he has."
Richard Bevan, the chief executive of the League Managers' Association, said Blatter was way out of touch. "The transfer system is underwritten and regulated by Fifa. It is the cornerstone of developing talent right up the football pyramid," he said.
Some players provide evidence of Blatter's view. It could be argued that Aston Villa's Gareth Barry, for all the criticism he has received for questioning his manager Martin O'Neill's reluctance to discuss his move to Liverpool, has been poorly treated.
Join our commenting forum
Join thought-provoking conversations, follow other Independent readers and see their replies