Sneijder's wage demands scupper United transfer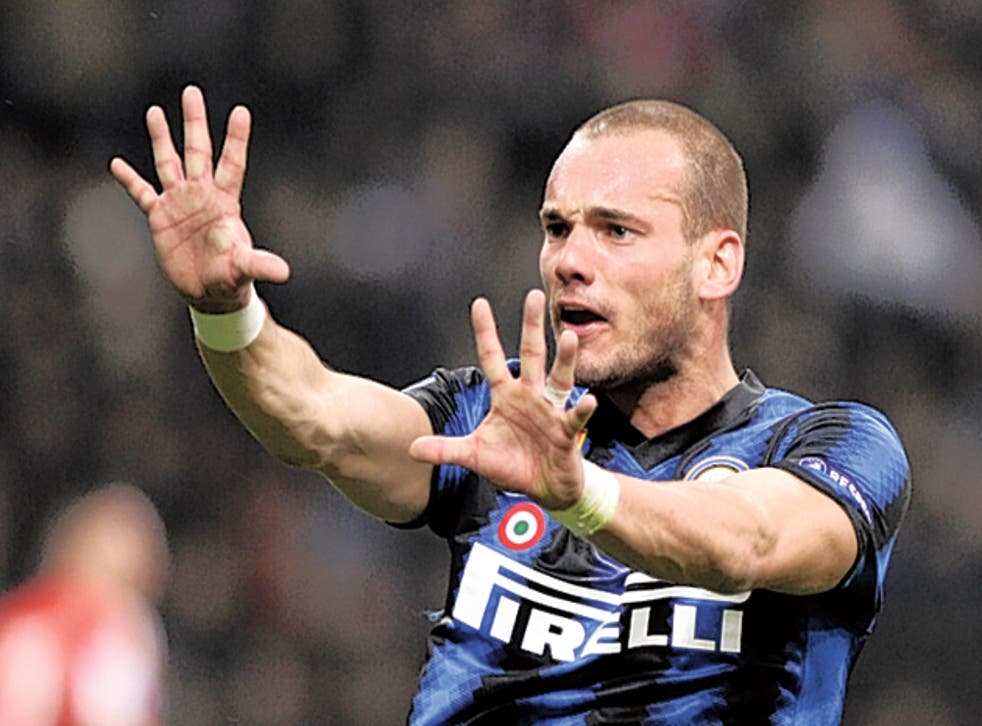 Manchester United do not expect Wesley Sneijder to sign for the club ahead of the new Premier League campaign. There has been no movement on the prospective purchase of the 27-year-old for months and, with only 19 days remaining until the transfer window closes, the Premier League champions consider the prospect of a move for him to be closed. Though the club do not publicly discuss their transfer business, they are willing to let it be known that chief executive David Gill's position on the issue – disclosed most recently on pre-season tour of the United States – has not changed. United's stance on the non-existence of a deal is an emphatic one.
A highly placed source at a Premier League club – not Manchester United – has told The Independent that Sneijder is desperate to leave Internazionale because of his belief that there is no prospect of substantial success there and his conviction that the club has not developed its squad since winning the Champions League in 2010. But wages matter more to the player than ambition: his basic weekly wage demands of at least £200,000 have been off the scale, for both United and Manchester City. United will not discuss, on or off the record, the reasons why Sneijder will not be joining them, though wages are likely to feature substantially. The player also falls outside the usual United policy to avoid paying heavily for players over the age of 26. Dimitar Berbatov's arrival for £30.5m in 2008 was the last to break this unwritten rule, though that was attributable to Sir Alex Ferguson's unstinting belief that the club must sign him.
Evidence of Ferguson's belief that Sneijder might be signed materialised on 31 July with these words, attributed to a source, in an online article: "If he wants to come he must accept our contract offer. If not, we have other options in mind. We're done talking." But 48 hours before that declaration, Gill had publicly made it clear that, as far as he was concerned, the deal was dead. "We didn't progress that one [Sneijder]. I'm not doing anything on anything at the moment, so they are all dead," Gill told journalists in Washington during the tour. There had been only preliminary contact with Inter, Gill said.
The 31 July comments belonged to Ferguson's practice of using the newspapers to exert pressure on players but Sneijder will have to jettison his financial ambition if there is to be any hope of a deal being salvaged. The conviction at United that he will not do so is absolute. The club's willingness to let it be known that they consider the deal dead is not a result of the breakdown of talks or of some development in the past two or three days. There has simply been no prospect of a deal for many weeks.
Join our new commenting forum
Join thought-provoking conversations, follow other Independent readers and see their replies