Luis Suarez transfer news: Arsenal triggered release clause with £40m bid, but Liverpool ignored it reveals owner John W Henry
Henry reveals that the club refused to sell Suarez last summer with his belief that player contracts mean very little in this day and age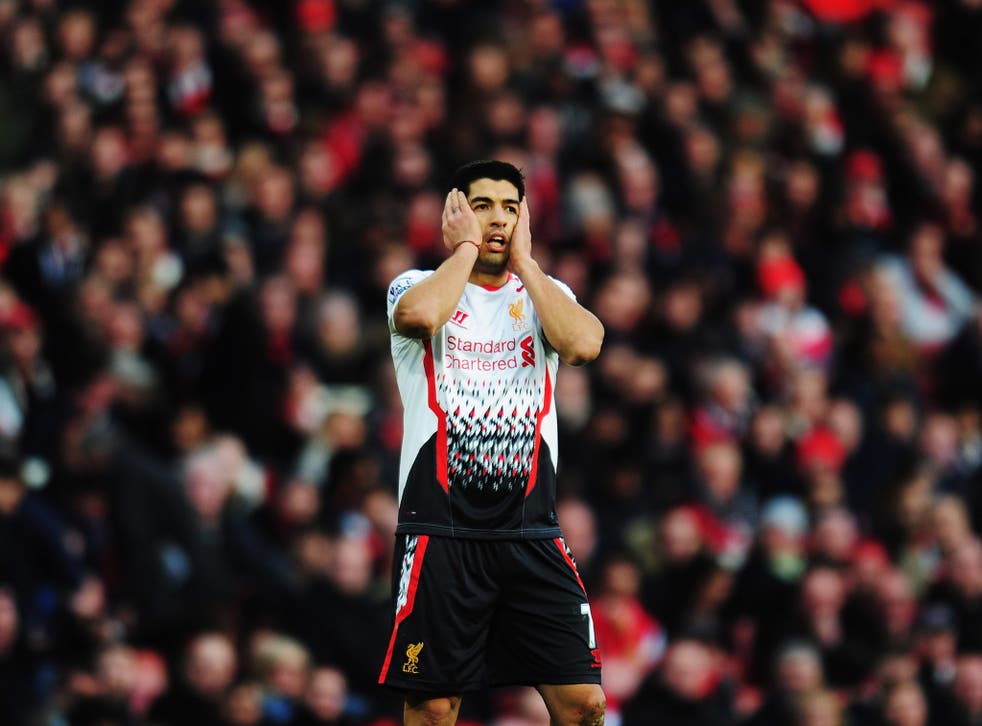 Arsenal did activate a release clause in Luis Suarez's contract last summer when they made a £40m plus a pound offer for the Liverpool striker, but the Reds' hierarchy rejected the bid because "contracts don't seem to mean a lot".
That is the view of Liverpool owner John W Henry, who has revealed that the club refused to allow the Uruguayan to leave the club and are now reaping the benefits, with the 26-year-old agreeing a new four-and-a-half year contract to remain at Anfield.
The Gunners thought they had activated a clause that would allow them to negotiate a move for Suarez, who was pushing for a move away from the club after they failed to secure European football at the end of last season.
Liverpool: The latest match pictures

Show all 50
And Henry confirmed his belief that they were in a position to reject the approach as "apparently these contacts don't seem to hold", despite the view that it was a breach of contract or as Suarez put it at the time the club had reneged on their word.
Speaking at the MIT Sloan Sports Analytics Conference over the weekend, Henry also said in a filmed panel discussion that Liverpool will qualify for the Champions League and have an outsiders chance of winning the Premier League this season.
"Luis Suarez is the top scorer in the English Premier League which is arguably the top soccer league in the world," said Henry.
"And he had a buy-out clause - I don't know what degree I should go into this - but he had a buy-out clause of £40million - more than 60 million (US) dollars. So Arsenal, one of our prime rivals this year ... they offered £40million and one pound for him and triggered his buy-out clause.
"But what we've found over the years is that contracts don't seem to mean a lot in England - actually not in England, in world football. It doesn't matter how long a player's contract is, he can decide he's leaving.
"We sold Fernando Torres for £50million. We didn't want to sell but we were forced to.
"For the first time (with Suarez) we took the position that we weren't selling.
"Since apparently these contracts don't seem to hold, we took the position we're just not selling and it's been great for Luis, it's been great for us, and what will happen at the end of year ... I think we're going to make Champions League and we have a small chance of winning the Premier League this year.
"We have three gentlemen up front: Suarez, (Raheem) Sterling and (Daniel) Sturridge. Those three are young, and I think Luis and those three could be together for a long time."
Liverpool experienced their own release clause heartache in the January transfer window, when their pursuit of Dnipro Dnipropetrovsk winger Yevhen Konoplyanka looked to be edging towards a £15m transfer, only to fall at the last hurdle as confusion spread over an apparent release clause in his contract.
The Reds were also interested in Atletico Madrid striker Diego Costa last summer, when the Brazilian-born Spanish international had a £27m release clause of his own. Despite reports that the Premier League club activated that fee, Costa chose to remain with the La Liga title contenders and has since signed a new deal of his own, with an inflated release clause believed to be in the region of £32m.
Register for free to continue reading
Registration is a free and easy way to support our truly independent journalism
By registering, you will also enjoy limited access to Premium articles, exclusive newsletters, commenting, and virtual events with our leading journalists
Already have an account? sign in
Register for free to continue reading
Registration is a free and easy way to support our truly independent journalism
By registering, you will also enjoy limited access to Premium articles, exclusive newsletters, commenting, and virtual events with our leading journalists
Already have an account? sign in
Join our new commenting forum
Join thought-provoking conversations, follow other Independent readers and see their replies