Transfer news: Tottenham keen on Manchester United striker Javier Hernandez and will fund move with Emmanuel Adebayor sale
Andre Villas-Boas wants to strengthen his attacking options in January with move for out-of-favour Hernandez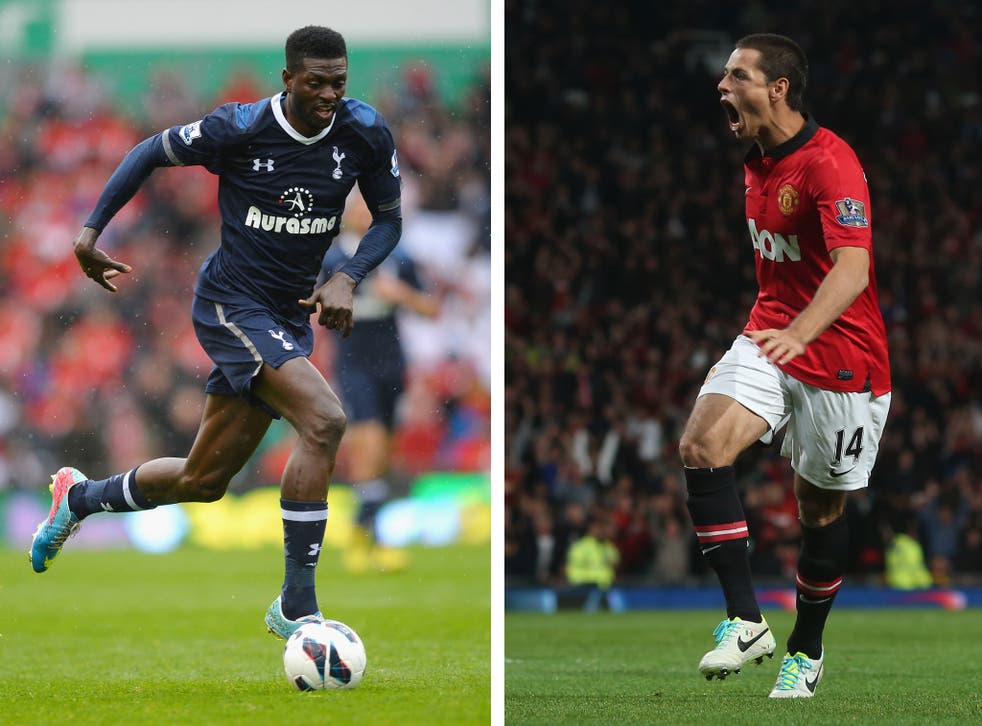 Tottenham are looking to add to their attack with the signing of Manchester United striker Javier Hernandez, and hope to offload Emmanuel Adebayor in the process.
Adebayor is clearly third choice under Andre Villas-Boas having failed to impress during his time at White Hart Lane. The Togolese striker, who joined the club on a permanent basis in 2012 after a season-long loan from Manchester City, is currently on £100,000-a-week but he is currently behind Roberto Soldado and Jermaine Defoe in the pecking order.
The Evening Standard is reporting that Besiktas remain a possible destination for Adebayor, who was close to a Spurs exit in the summer until his high wage demands put off potential buyers, while other clubs in the Middle-East and Russia are believed to be interested.
However, it is reported that he wishes to remain in a higher profile European League having played in both the Premier League and La Liga in recent years.
Villas-Boas is keen to sign another striker when the transfer window reopens at the start of next year, with Manchester United's Mexican forward on the club's list of targets. Adebayor earns close to £100,000 a week, making him the club's highest-paid player but he struggled to find his best form last season after joining Spurs permanently in the summer of 2012.
At the end of last season, Villas-Boas made it clear his priorities in attack lay elsewhere and then Adebayor's pre-season was reduced when he was granted compassionate leave following the death of his brother.
He was asked to train with the club's development squad but has now returned to work with the first team. Even though Adebayor's chances of reviving his Spurs career look slim, Defoe believes he still has something to offer. He said: "He is someone that we're going to need. Hopefully he will be back soon with the team."
Hernandez had spoken last week of his determination to break into the United first team, but admitted that he may have to look elsewhere if he can't earn a starting berth.
"I strive for that, I am working towards that; earning a spot as a starter," Hernandez told Mexican TV station Deportes Telemundo.
"I am going on four years here at Manchester United and, like I have always said, I am happy to be able to play for one of the best clubs in the world.
"I am happy, doing my best every single day to earn more minutes on the pitch.
"All of us want to be able to contribute our part so this team can win championships.
"I know my performance on the pitch will allow me to achieve that goal some day either here [in Manchester] or elsewhere for any other club.
"I just need to be given more opportunities to showcase what I can do," Hernandez told the US Spanish-language TV station Telemundo.
Register for free to continue reading
Registration is a free and easy way to support our truly independent journalism
By registering, you will also enjoy limited access to Premium articles, exclusive newsletters, commenting, and virtual events with our leading journalists
Already have an account? sign in
Register for free to continue reading
Registration is a free and easy way to support our truly independent journalism
By registering, you will also enjoy limited access to Premium articles, exclusive newsletters, commenting, and virtual events with our leading journalists
Already have an account? sign in
Join our new commenting forum
Join thought-provoking conversations, follow other Independent readers and see their replies