Transfer news: Zinedine Zidane claims £86m for Real Madrid star Gareth Bale is 'incomprehensible' after Tottenham switch
Former world-record transfer Zidane believes the fee is too much for any player although he is looking forward to helping Bale develop to his full potential
Jack de Menezes
Monday 09 September 2013 12:08 Comments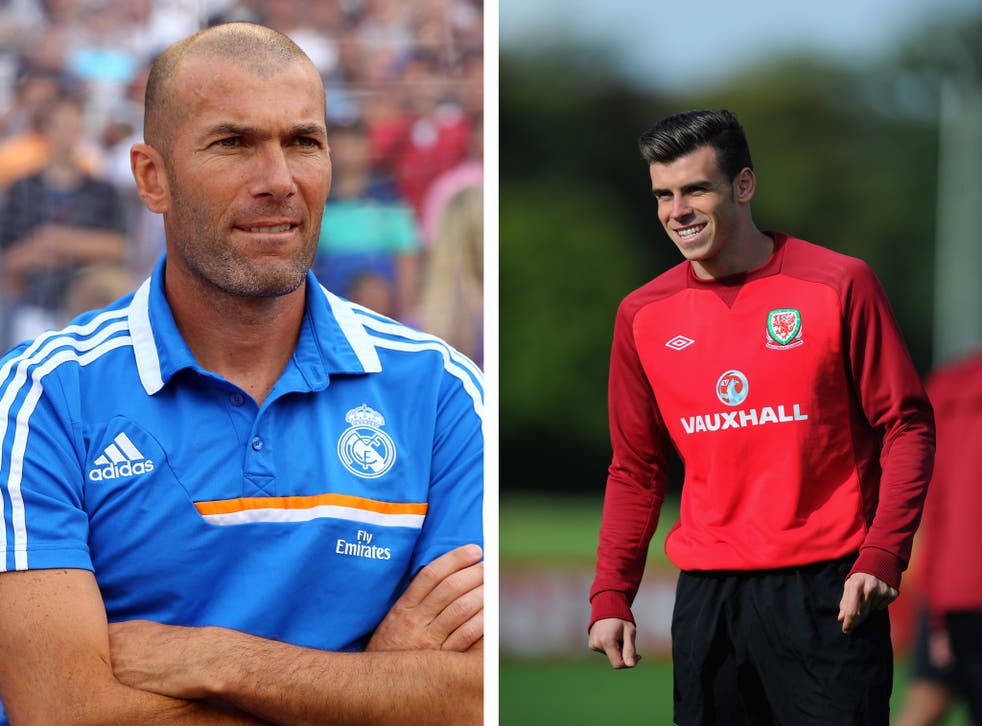 Real Madrid legend Zinedine Zidane has claimed it is "incomprehensible" that the club shelled out £86m to Tottenham in order to sign Gareth Bale, having admitted that no player is worth that much money.
The Spanish club completed the acquisition of Bale of transfer deadline day, with the Welshman paraded to Real fans at the Santiago Bernabeu alongside his family.
The move is said to have broken the world-record transfer fee, although the actual figure is yet to be confirmed with Real claiming to have paid £78m for Bale, while Spurs say they agreed to sell him for £86m – which would break the £80m Real paid for Cristiano Ronaldo in 2009.
Zidane spoke publicly during the summer while the transfer saga dragged on, advising Bale to push for a move as the chance to join the Galactico's is a "once in a lifetime" opportunity.
But the current assistant coach to Carlo Ancelotti has now claimed that the fee is too much for any player regardless of their talent. Zidane is a previous holder of the world-record when he completed a switch to Madrid for £46.6m from Italian side Juventus.
Speaking to French TV station Canal Plus about whether Bale was worth it, Zidane said: "You need to ask that question in a year's time.
"Ten years ago, they bought me for 75m euros and I said I wasn't worth it.
"Today, I tend to say a player is not worth that. Two clubs agree on a price and no-one is forcing the other to do anything.
"That's football. Unfortunately, it's incomprehensible with what's happening today to pay so much."
However, Zidane did admit he is looking forward to working with the 24-year-old, and is ready to help him develop to his full potential.
"My role will certainly be to tell him that he plays as he knows how to, to not put too much pressure on himself," he said.
"He has an incredible potential but he still has room for improvement."
Bale's arrival paved the way for Mesut Ozil's exit, with the German moving to Spurs' arch rivals Arsenal in a £42.5m deadline day deal. Since the move, Ozil has spoken of how he was forced out of the La LIga club, and his excitement at playing for the Gunners and under the guidance of manager Arsene Wenger.
Ozil joins his fellow Germany internationals Lukas Podolski and Per Mertesacker in north London, and the towering centre-back – who has captained the Gunners this season in the absence of club captain Thomas Vermaelen and vice-captain Mikel Arteta – feels the club have pulled off a "massive signing in the attacking midfielder.
"I think he is worth what we paid for him," Mertesacker told the Daily Mail.
"He is a phenomenal player and I think he has not reached his best at the moment. I think his contribution to this club will be massive."
Register for free to continue reading
Registration is a free and easy way to support our truly independent journalism
By registering, you will also enjoy limited access to Premium articles, exclusive newsletters, commenting, and virtual events with our leading journalists
Already have an account? sign in
Join our new commenting forum
Join thought-provoking conversations, follow other Independent readers and see their replies