Manchester City out for revenge against Chelsea in Women's Super League shootout
Chelsea were awarded the 2019/20 league title via 'points per game' when City were ahead in the league table. They meet again in 2021 with everything to play for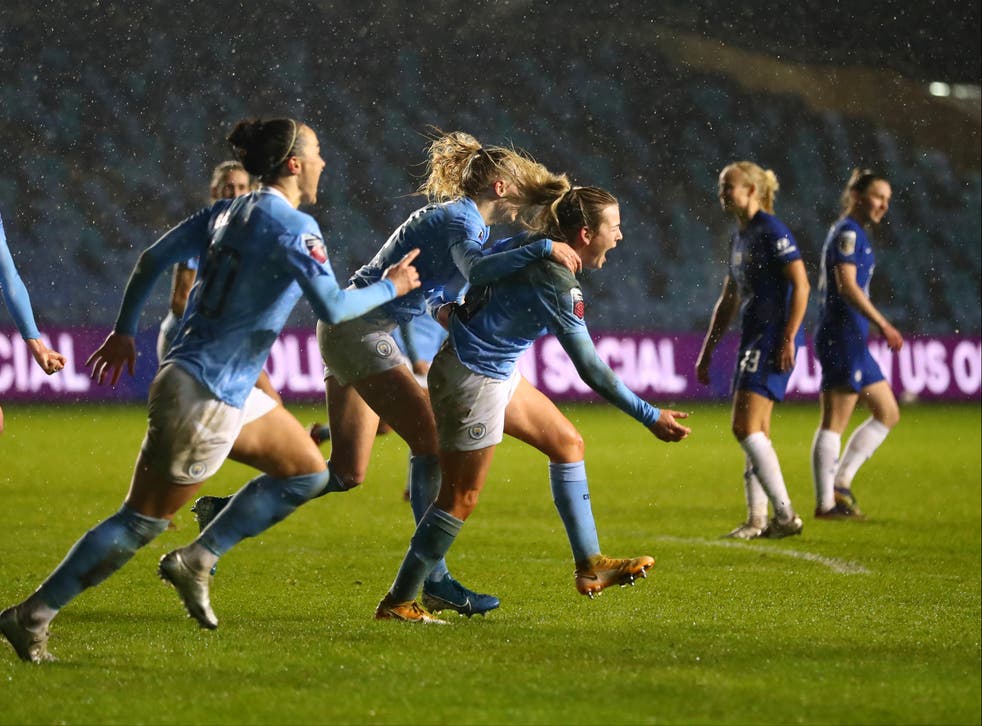 A little over a year ago, unbeknownst to either side, Manchester City and Chelsea played out a title decider at the Academy Stadium.  
At the time, there were still at least six games to go and, with both sides due to face Manchester United, a sense that there would be more twists in the title race. Yet the match turned out to be the last league fixture either side played.
At times chaotic, at times brilliant, the 3-3 draw epitomised the two sides who are models of parent-club investment in the women's game.
With the WSL curtailed due to the coronavirus panic, the league was decided on a 'points per game' basis. Chelsea were awarded the title, despite Manchester City being ahead of them in the table, thanks to a game in hand. 
Officially, Manchester City said that they "understand and accept the method used"  but privately it must have rankled to see their long-time rivals handed the trophy when they had been ahead. 
Fast forward fourteen months and the two clubs find themselves in the same position again; albeit with a greater awareness of what rests on the tie. On Wednesday evening, they will play what is in effect a straight shootout for the league title.
For Manchester City, it will be an opportunity to avenge last season. They have the ability to do it but against Chelsea, it often takes more than that.
There were points this season where it looked unlikely the race for the title would be this close.
Having appointed former academy coach Gareth Taylor to the role vacated by long-term manager Nick Cushing, the start of Taylor's tenure was stuttering. A lack of efficiency in front of goal led to disappointing draws against Brighton and Reading, whilst a second-half collapse saw them give up a two goal lead against Manchester United. 
However, the underlying numbers always suggested Manchester City were unlucky as opposed to bad. A change in fortunes was inevitable and since the start of December, they have won every league fixture. 
Only a comprehensive defeat to Barcelona in the Women's Champions League has hinted that Taylor's side might not yet have the requisite nous to confidently compete at the very top of women's football.
It is a skill that Emma Hayes' Chelsea side have in spades. Their own Champions League quarter-final win against Wolfsburg was characterised by spending long spells riding their luck, but the two legs finished with a comfortable 5-1 aggregate scoreline in their favour.
It can be hard to characterise that ability. What is it that means a team can always find what it needs in a big game, even when it looks unlikely? But it is there, on paper, in Chelsea's results. They have not lost to a title rival in any competition in the past two seasons.
Manchester City have borne the brunt of that grit and grind. Gareth Taylor has faced Hayes three times across three different competitions. He has lost all of them.
There have been caveats to each of those losses. In the Community Shield, Jill Scott was sent off before Chelsea opened the scoring. In the league, Chelsea were awarded a dubious penalty. 
Even in the Continental Cup quarter-final, Manchester City looked like they had won the tie when Lauren Hemp scored in the 85th minute, only for Niamh Charles to equalise four minutes later and Chelsea to go on to win in extra time. The victory was their first ever at the Academy Stadium, which has been open since 2015. 
But that is the problem with this Chelsea team. There will always be caveats because even in the most unlikely of situations, they somehow find a way.
On paper, City pose numerous threats to this Chelsea side. Lauren Hemp, Lucy Bronze and Sam Mewis all have more than enough talent to cause serious problems to a Chelsea backline which has a tendency to look very nervous, very quickly. The key is for Taylor to turn those theoretical advantages into real ones.
They have done it before. Back in 2016, City secured their only league title thanks to a 2-0 win over Chelsea.
The circumstances were eerily similar - a reflection of how thoroughly the fortunes of these two sides have been intertwined over the past five years. The home side required a win to have any hope of taking the title. In 2016, it was Chelsea who were at home and it was City who held on to their pre-existing lead.
There are still players within the City squad from that day. Lucy Bronze won the penalty that Toni Duggan scored, whilst Steph Houghton captained the side. Of course, this time though, they will have to do what Chelsea failed to.
Regardless of the result, Manchester City should feel confident that they are on the right path. There was naturally a question mark over Taylor's appointment. Was a coach who had never managed in first-team football the right fit for such a high-profile role?
Over the season, however, he has seamlessly slotted in to the side. As was the case with his predecessor Cushing, City's internal appointments create a continuity of ethos which breeds success. A win against Chelsea, and a league title in his debut season, would comprehensively demonstrate that.
Join our new commenting forum
Join thought-provoking conversations, follow other Independent readers and see their replies