Tokyo 2020 Olympics: Home nations agree to Team GB women's football team
Team GB has traditionally not competed in Olympic football tournaments
Matt Slater
Tuesday 02 October 2018 08:17 Comments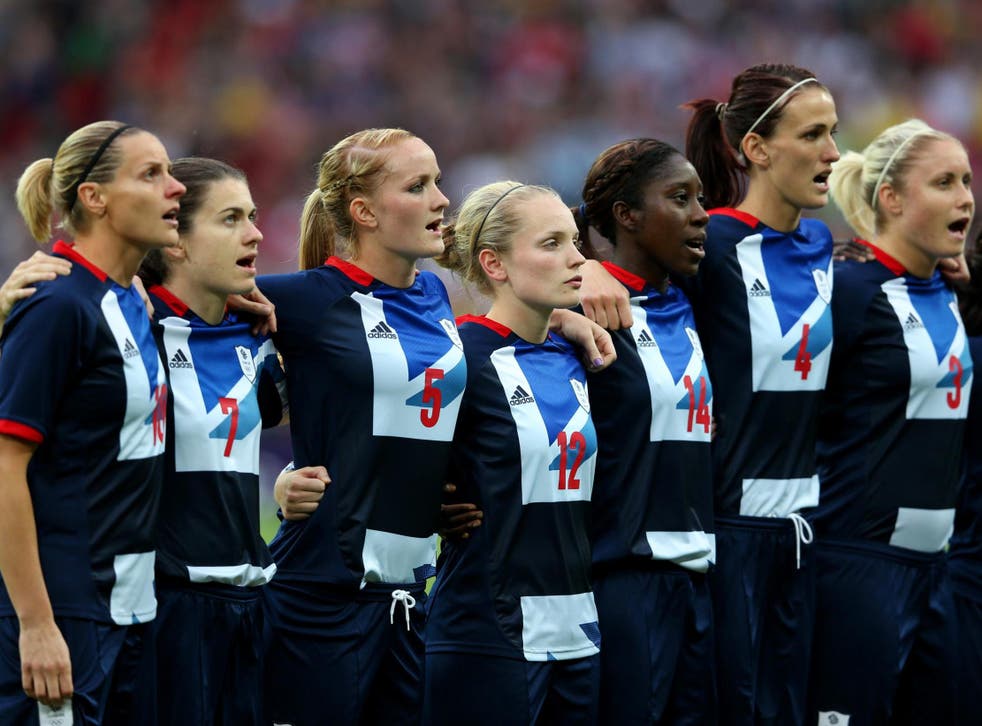 The football associations of the four home nations have agreed to allow a British women's team to try to qualify for the 2020 Olympics in Tokyo, Fifa have confirmed.
Team GB has traditionally not competed in Olympic football tournaments because of fears it could tempt Fifa to force England, North Ireland, Scotland and Wales to compete as a United Kingdom team permanently.
These concerns were put aside, though, for London 2012, when a men's team took part for the first time since 1972 and a women's team competed for the first time. But, with Northern Ireland, Scotland and Wales still opposed to playing as a combined British team, no agreement was reached to enter teams for Rio 2016.
Fifa has always said it would sanction a British Olympic team, providing the Football Association, Irish Football Association, Scottish Football Association and Football Association of Wales all agreed to it.
After much cajoling by the British Olympic Association, that agreement has been reached but only for a women's team.
In a statement from the Organising Committee for FIFA Competitions, Fifa said it has now "received written confirmation" from the four FAs, confirming their desire to see a British women's team in Tokyo.
England, now ranked third in the world, are the nominated country to try to qualify for the 2020 Games, which means they will need to be one of the top three European nations at next year's Women's World Cup in France.
The British team in 2012 won all three of its group-stage games, including a 1-0 win over Brazil in front of 70,000 fans at Wembley, but lost 2-0 to Canada in the quarter-finals.
Captained by Casey Stoney, the British squad of 19 players was made up of 17 from England and two from Scotland, although Northern Irish goalkeeper Emma Higgins was on the reserves list.
As well as the update on the British Olympic team, the Fifa competitions committee also approved the procedures for the 2019 Women's World Cup draw, which takes place in Paris on December 8.
There will be four pots of six teams, with teams allocated to each pot according to their Fifa ranking, and teams from the same confederation will be kept part, except for three of the nine European sides in the draw.
This means England and Scotland could be drawn against each other. Northern Ireland and Wales failed to qualify.
The committee, which is chaired by the president of European football's governing body Uefa, Aleksander Ceferin, also discussed a proposal to increase the prize money for the tournament and set up a fund to compensate the players' clubs for the first time, bringing the women's tournament in line with the men's.
This issue was raised by Uefa vice-president Karl-Erik Nilsson at the Fifa Congress before this summer's men's World Cup in Russia, with several leading figures in the women's game saying it was overdue.
Register for free to continue reading
Registration is a free and easy way to support our truly independent journalism
By registering, you will also enjoy limited access to Premium articles, exclusive newsletters, commenting, and virtual events with our leading journalists
Already have an account? sign in
Join our new commenting forum
Join thought-provoking conversations, follow other Independent readers and see their replies