England national anthem vs Belgium third-place play-off
England vs Belgium World Cup 2018: Three Lions leave Russia with a whimper to finish fourth after convincing defeat
England 0-2 Belgium: Thomas Meunier and Eden Hazard seal third place for Roberto Martinez's side and condemn England to fourth place and three defeats at the World Cup
England will return home on Sunday with no medals and no tangible proof that they have bettered the Italia '90 side, who lost the equivalent of this game 28 years ago.
But all the other gains of Gareth Southgate's team and their summer remain intact after a 2-0 defeat by Belgium in St Petersburg that always felt more like a friendly. Competitive World Cup 2018 games have a special feel – you know it when you see it – and this one did not. In truth, England's World Cup campaign ended in Moscow late on Wednesday night. This was just a coda.
Losing this game was a mild disappointment to England, given how Southgate had spoken of wanting to better the Italia '90 side, to record their best ever World Cup display on foreign soil. But watching this game, as Belgium out-played England, picking them apart with ease, it did feel as if fourth place rather than third was right.
Belgium vs England World Cup player ratings

Show all 22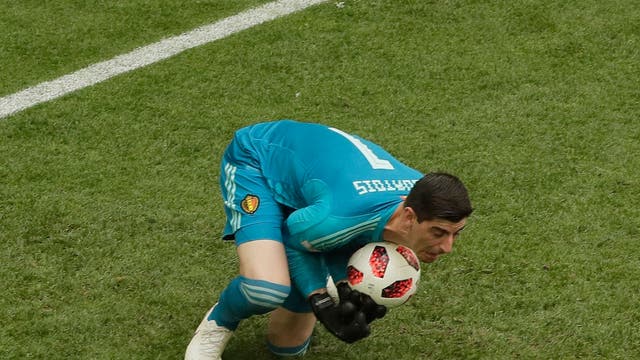 Because while both of these teams will be frustrated to even be here, and would still be sickened not to be in Sunday's final at the Luzhniki Stadium, on this evidence Belgium would be far more deserving of being there. They looked hungrier for this match, with more of a point to prove, as Roberto Martinez picked a full-strength side.
Rewarding their manager's trust in them, Eden Hazard and Kevin De Bruyne were far better than everyone else on the pitch. De Bruyne found space with ease, creating chances for his team-mates, and with better finishing he might have orchestrated a far more comfortable win. Hazard scored Belgium's second, with eight minutes left, killing off England's attempted fight-back.
It was a reminder that Hazard and De Bruyne had been two of the best players of the tournament before they ran into the French wall here in St Petersburg four days ago, disappointingly failing to find a response. That one poor night may live with that Belgium team for the rest of their careers.
For England this deserved defeat was more of a reminder of how much they still need to improve ahead of Euro 2020 to compete with the best sides. Because as well as they have done this tournament, and how well they have defended and build from the back, there are clearly still questions in midfield, how they create chances, and the support they have for Harry Kane, who looked tired and isolated again. Even if Romelu Lukaku's blank does almost ensure him the Golden Boot.
The fact that England lost all three games they have played against teams with more midfield quality than them – Belgium, Croatia, Belgium again – gives Southgate something to think about ahead of the new season. Especially given they play Croatia and Spain in the Nations League this autumn. England never came to terms with the elusive De Bruyne today, just as they lost track of Luka Modric in the semi-final.
Here Southgate tried to freshen up the team after the draining trauma of Wednesday night at the Luzhniki. He made five changes and switched the formation to a 3-4-3. But all the talk about hunger, wanting to win, and living up to the standards of the first few games did not quite make it out onto the pitch. England did not play with anything like the same energy and pressure that they have shown earlier this summer. Belgium were able to pass the ball wherever they wanted, with no red shirt ever looking like stopping them.
The opening Belgian goal, four minutes in, was a testament to this. A move that started with Thibaut Courtois led to Lukaku dropping back into space, not followed by the England centre-backs, not cut off by their two holders. So he could take his time to turn and play a pass through to Nacer Chadli, bounding down the left. Chadli's cross was finished by Thomas Meunier, darting in from the far post, ahead of Danny Rose. No England player did much to stop it.
If Belgium had been sharper in the final third, they would have run away with it. The England defence spent far too much time back-pedalling, with little protection from Eric Dier and Fabian Delph. Pickford had to save from De Bruyne's deflected shot, and when De Bruyne played Lukaku through, only a heavy touch allowed Pickford to get there first. Toby Alderweireld was unmarked in the box from a set piece, but his acrobatic volley flew over.
Southgate had to change things at half-time so he took off Rose and Sterling and moved back to the 3-5-2 from earlier in the tournament, bringing on Marcus Rashford and Jesse Lingard. That gave England a structure they were more comfortable with, and more legs in midfield, helping them to get further up the pitch. They created two chances, but they fell to Dier, of all people, and his uncharacteristic chip was cleared off the line by Alderweireld.
Soon after Lukaku was taken off for Dries Mertens, meaning that Kane is almost certain to win the Golden Boot trophy. Only a hat-trick from Kylian Mbappe or Antoine Griezmann in Sunday's final could stop him.
But that was arguably the high point of the game for this tired England team, and Belgium quickly scored their second. De Bruyne, unplayable all day, ghosted through and slid a pass through to Hazard, who skipped away from Phil Jones just as easily as he did in the FA Cup final back in May. He slotted in, winning Belgium the game and the bronze medal. Although he must wonder whether he might have won even more.
Join our new commenting forum
Join thought-provoking conversations, follow other Independent readers and see their replies