Why Manchester United may have to wait for Serbia's World Cup star Sergej Milinkovic-Savic
Spending a few seasons at Juventus could prove to be the ideal finishing school for the midfielder's emerging talent, as was the case for a certain Paul Pogba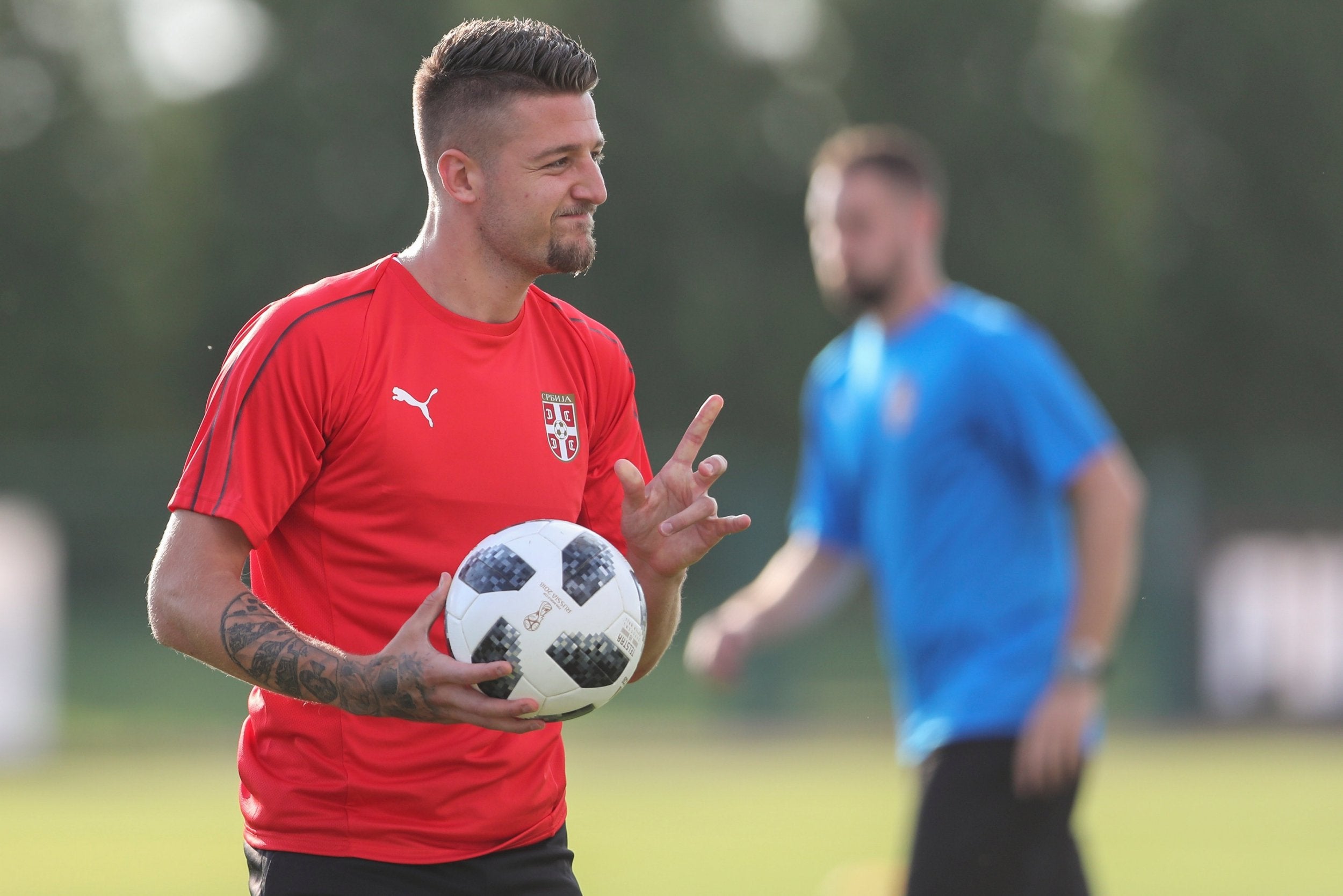 While the World Cup always presents football fans with the chance to watch a side they might not otherwise get the opportunity to see in action, it often becomes something of a pseudo-scouting mission for transfer targets too. Supporters may relish the chance to take in a Brazil or Argentina match for the first time in four years, but they also use the competition to keep a close eye on the players who have recently been linked with their club team.
As a result, there is little doubt that the 2018 edition of Fifa's global showpiece has brought Sergej Milinković-Savić sharply into focus, the Lazio midfielder arriving in Russia with Manchester United, Real Madrid and Juventus all discussed as potential landing spots later this summer. Indeed, much of the pre-match build-up to Serbia's opening game was dedicated to the 23-year-old who enjoyed another excellent campaign in the Italian capital last season.
Weighing in with 14 goals and six assists for Lazio in 2017/18, Milinković-Savić underlined the quality that has seen transfer fees of around €100m mentioned already, and the Group E clash with Costa Rica presented him with another chance to showcase that potential. It was an opportunity he certainly did not squander, delivering the kind of versatile and physical performance that has made him such a wanted man.
World Cup 2018: 10 players to watch in Group E
Show all 10
Whatever Serbia needed, he delivered. As they pushed forward in search of a goal it was his creativity that repeatedly unlocked a resilient opposition defence; he was unfortunate, though, with an early effort of his own and even more unlucky to see Aleksandar Mitrović squander two of his well laid-out chances. Both coming from perfectly weighted through balls, the Newcastle striker really should have finished each time, yet somehow wasted them and made the game a much closer contest than it should have been.
That left Serbia looking to retreat into their own half and hold off the Central American side, with Milinković-Savić playing his part there too. Diligently holding his position, winning tackles and superb in the air throughout, he was like a completely different player when his side lost possession, able to fulfil his duties with or without the ball.
His athleticism should come as no surprise; his father Nikola Milinković was a midfielder in La Liga with Lleida and Almería while his mother Milana Savić was a basketball player for Yugoslavia. His brother Vanja is currently a goalkeeper with Torino, and his family seem to believe that a move to the same city would certainly benefit Sergej.
"I've told him many times that Juventus would be perfect for him, the ideal club," his father said in an interview with Italian newspaper Tuttosport this weekend. "In Turin there is a prestigious club with multiple trophies that has been dominating the scene for years. He'd have the opportunity to grow and improve until reaching full maturity.
"With top quality teammates like Paulo Dybala, Douglas Costa and so forth, he could win the Scudetto, Coppa Italia and why not give an important contribution to triumph in the Champions League? Juve always go far in that competition and if they were to win the most prestigious trophy, Sergej could even dream of the Ballon d'Or."
Supporters of the Bianconeri will be overjoyed to hear those words, particularly as Milinković-Savić is exactly the type of player the Serie A giants have lacked since Paul Pogba returned to Manchester United. Comparisons between the two men are unavoidable, filling a similar role on the pitch and both possessing the same incredible blend of raw physicality and wonderful technical skills.
His father went on in that aforementioned interview to state that he could move on again after using Juventus to help him become a more complete player. "That's what Zinedine Zidane did" continued Milinković senior. But it is also the same path Pogba took, leaving Old Trafford to learn new skills and hone his craft, returning as a polished gem and a proven winner.
Those are lofty parallels to draw – particularly for a young player who has yet to achieve tangible success – but it also underscores something else that was on display at the Cosmos Arena in Samara: Milinković-Savić is far from the finished article, occasionally guilty of overcomplicating his play and taking unnecessary risks around his own penalty area. Sound familiar?
Watching him thrive in a role that allows him to blur the lines between midfield and attack leads to the inevitable question of how he could fit alongside Pogba should United press on in their attempts to sign him. They each favour that same position, starting deeper but with the freedom to push forward and, while they could certainly find a way to make it work, one would inevitably be forced to suppress those instincts and play in a slightly different way.
Pogba learned to do just that while trying to fit in around Andrea Pirlo, Arturo Vidal and Claudio Marchisio in Turin, so perhaps spending a few seasons at Juventus could indeed prove to be the ideal finishing school for Milinković-Savić's emerging talent too, as was the case for the Frenchman.
For now though he will be focussed on helping his own national team reach the knockout stages of the World Cup. Switzerland and Brazil await, opponents who will undoubtedly present a very different challenges to Costa Rica as Serbia look to reach the knockout stages for the first time since 1998. But the two games will allow Milinković-Savić another chance to show potential suitors just what he can do, and why he is being touted as the next €100m player.
Manchester United and Juventus will certainly be watching.
Join our commenting forum
Join thought-provoking conversations, follow other Independent readers and see their replies