Moscow in meltdown as Russia celebrates historic win
Host nation celebrates after nailbiting penalty shootout victory against Spain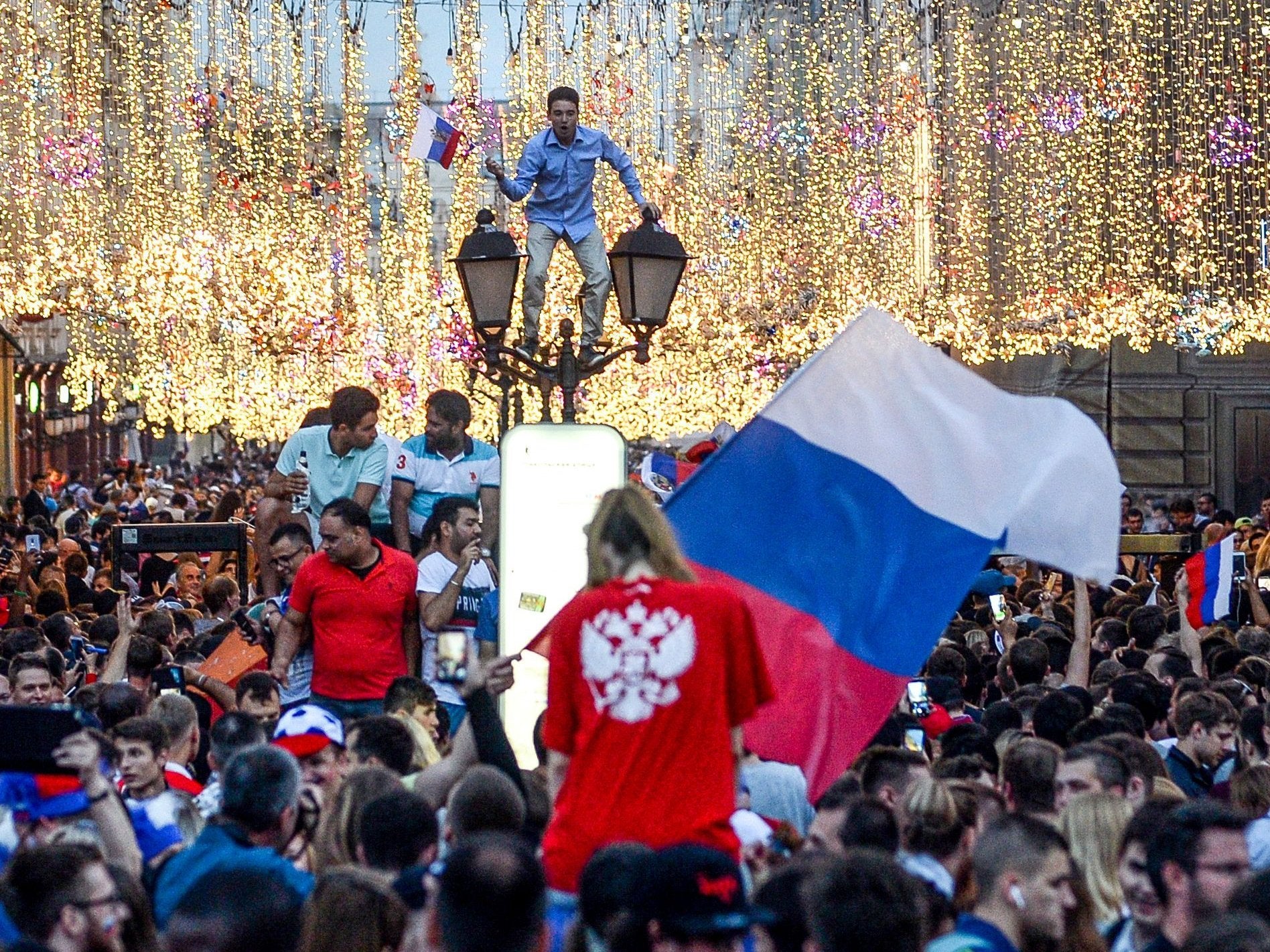 A banner in the Luzhniki stadium called for a fairytale, and a fairytale is what they got. With penalty kicks against highly fancied Spain, Russia won a most improbable victory – and earned one of the knock-out shocks of World Cup history.
It was, perhaps, Russia's most famous triumph since 1945. All across the capital, citizens began to party as such. From cars, and from bars, Russians chanted the name of their country in unison. "Ros-si-ya, Ros-si-ya."
In the central Chistye Prudi district traffic ground to a halt as two men, deep in alcoholic haze, staggered back and forth across the main boulevard, flags draped across their shoulders.
On another day they would have risked death. But not today. Instead, Moscow's usually irritable drivers gave high fives and honked in joyful rhythm. Car horns and the enduring notes of Ro-Si-Ya provided a harmony of sorts. For several hours now, Moscow has been shaking to this unusually disruptive tune.
At the "Spanish Canteen" tapas bar around the corner, it was a bittersweet scene. The chef had been supporting Spain, and went into hiding sometime after his team missed the crucial fourth penalty. For a few moments, the paella orders stopped. Waiting staff said he had been seen crying.
As the wine flowed and, presumably, the chef cried a bit more, the salsa music was switched on and the dancing began.
"Spanish, go home!" two fans chanted, before turning to their queso and Rioja.
Yekaterina Alexandrova, 54, a former Russian embassy official in Spain, Cuba, Costa Rica and Ecuador, said she had arrived at the bar with split loyalties. She and her son were avid Barcelona fans, but country came first today. They were rooting for Russia. Her "enigmatic soul" could hardly explain how it had happened.
Eventually, the chef, Fernando Ruiz del Castillo, returned to the bar. Sportingly, he suggested the better team won.
Not even the Russian supporters could agree. With a possession ratio of 80-20, and a debatable penalty to draw level, the Russian side clearly rode their luck today. One of the patrons, Igor Bushmakin, 31, who was seen wearing a kokoshnik tiara, said the Russia team was "a level lower than the Spaniards", and were forced to play disruptive football. It said a lot that the goalkeeper was the man of the match in an altogether dour game, he added.
Not that any of that mattered. Russia had set up their defence brilliantly, parking a "convoy of tanks" across the middle of the park. The Spanish simply couldn't see a way through.
10 best players to have left the World Cup
Show all 10
"We do defence well in our country, and now the Spanish know it," said Mr Bushmakin.
"Putin promised us all a technological breakthrough – and this, I'm sure as hell, is it!"
Join our commenting forum
Join thought-provoking conversations, follow other Independent readers and see their replies