World Cup 2018: More than 1,200 British football hooligans banned from going to Russia by Home Office
Police are undertaking efforts to root out the 58 remaining passports to make sure they are not able to travel to the football tournament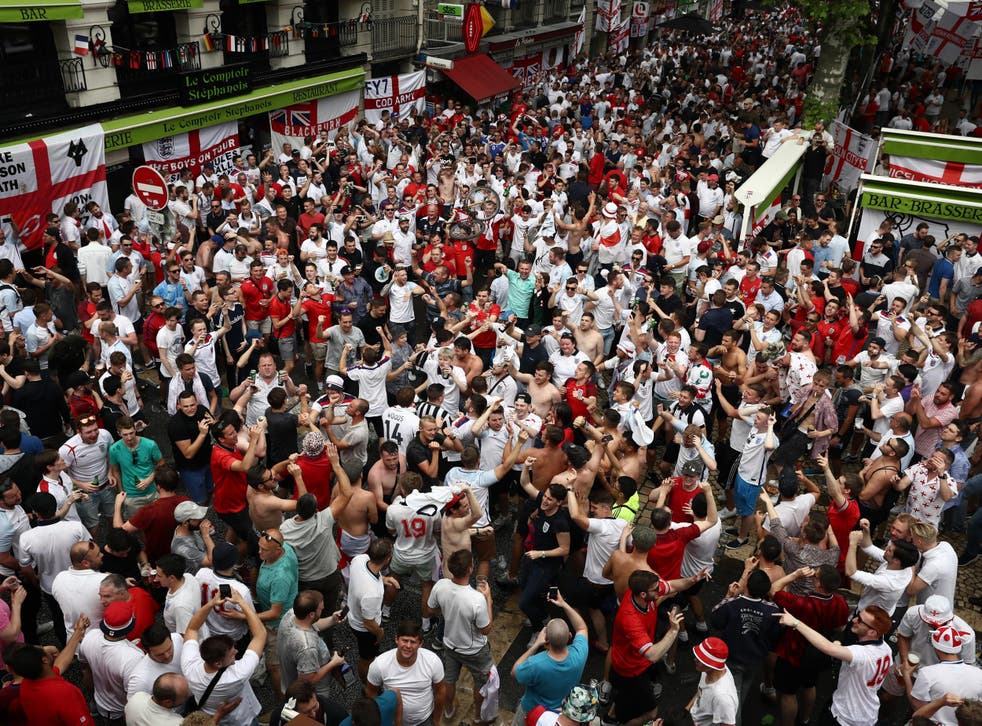 The Home Office has said more than 1,200 troublemakers with a history of football-related disorder have been banned from going to the World Cup in Russia.
The Football Banning Orders Authority, part of the Home Office, has ordered 1,312 individuals subject to football banning orders who hold a passport to surrender it to police.
The latest figures show that of the 1,312 Britons who are subject to orders that stop them from travelling to overseas games, 1,254 have either decided to hand over the documents voluntarily, were forced to do so, or did not own a passport in the first place.
Police are now undertaking efforts to root out the 58 remaining passports to make sure they are not able to travel to the football tournament, which gets underway on Thursday.
They will also be deployed at UK ports during the 21st World Cup to stop any suspected troublemakers from managing to get to Moscow.
Football banning orders – which can last for up to 10 years – aim to bar hooligans from travelling to international sporting events. Breaching a banning order is a criminal offence and can lead to a fine of up to £5,000 and a six-month prison sentence.
World Cup 2018: Ten players to watch in Group H

Show all 10
Deputy Chief Constable Mark Roberts, the national lead for football policing, said: "Ahead of the World Cup, a comprehensive policing operation has been in place across the country to account for passports of those on banning orders, which has once again seen only a handful of those outstanding.
"The legislation used for banning orders is the most effective of its kind, and affords us the ability to ensure the vast majority of England supporters travelling to Russia are genuine fans who simply want to enjoy the tournament."
Up to 10,000 British fans are expected to travel for the tournament – with concerns raised over possible racist and homophobic intimidation and the threat of violence and anti-British sentiment from local troublemakers.
Russian hooligans have a history of violent clashes with opposing teams – during the 2016 European Championships in France at least five Britons were left seriously injured and 30 needed hospital treatment.
Police will hold the passports of those seized until the final of the World Cup on 15 July.
England team arrive in Russia for World Cup
A UK policing delegation will travel to Russia – at the request of the host country – to work with their local counterparts to help in making sure there is a safe and trouble-free tournament for England fans.
Nick Hurd, the minister for policing and the fire service said: "The World Cup is a festival of football and is no place for violence or disorder. The UK's system of football banning orders is unique and means that people intent on causing trouble in Russia will instead be staying at home.
"I'm grateful to police forces for taking the necessary enforcement action to ensure that these thugs won't be able to ruin the tournament for real fans."
Last month an influential committee of UK MPs raised fears over "heightened risks" faced by LGBT+ and ethnic minority football fans if they attend the forthcoming tournament.
MPs remain particularly concerned about lack of "specific provisions" to protect BAME and LGBT+ football fans, who already face additional risks of attack and persecution in a country whose government has taken "little action to combat homophobia", the report said.
Register for free to continue reading
Registration is a free and easy way to support our truly independent journalism
By registering, you will also enjoy limited access to Premium articles, exclusive newsletters, commenting, and virtual events with our leading journalists
Already have an account? sign in
Register for free to continue reading
Registration is a free and easy way to support our truly independent journalism
By registering, you will also enjoy limited access to Premium articles, exclusive newsletters, commenting, and virtual events with our leading journalists
Already have an account? sign in
Join our new commenting forum
Join thought-provoking conversations, follow other Independent readers and see their replies