World Cup 2018: Gareth Southgate warns England over diving and ill-discipline with VAR watching on in Russia
Changes in officiating raise the prospect of England players having to adjust their games in Russia because of the increased scrutiny from officials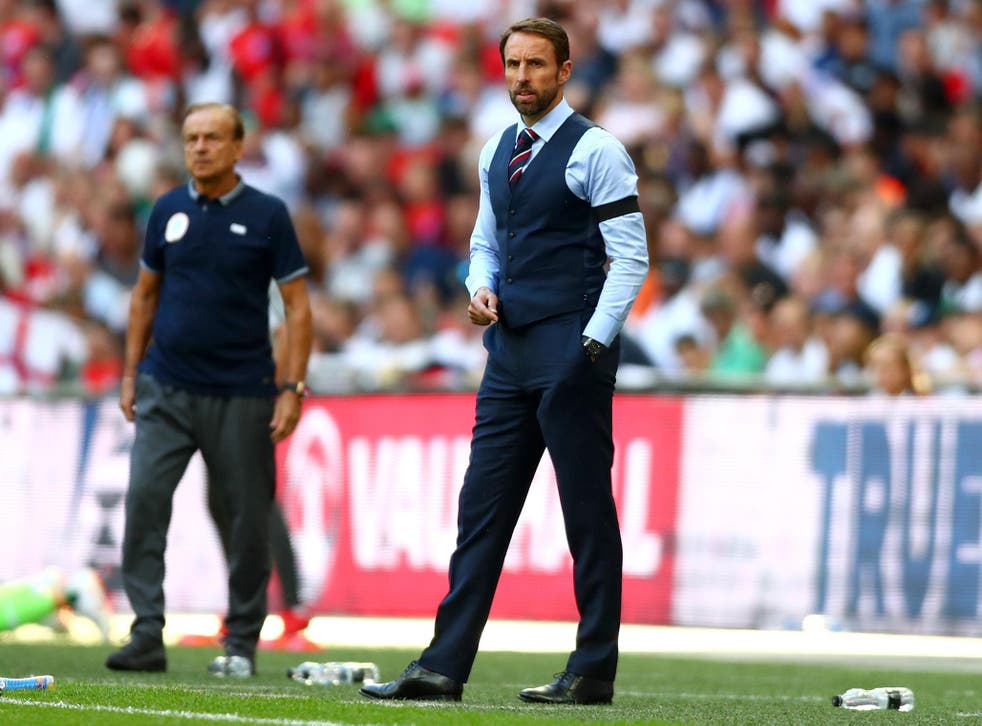 Gareth Southgate has told his England players that the use of VAR at the World Cup means that they cannot afford to take any risks with discipline or diving, because they will be caught on camera and punished.
In a team meeting at The Grove hotel on Saturday morning, before England's 2-1 win over Nigeria, Southgate told his squad that if they ever thought they could "get away with anything", they no longer could because of VAR. This raises the prospect of England players having to adjust their games in Russia because of the increased scrutiny from officials. Southgate has told them they "have to be aware of" the changes and their implications.
"It's a conversation we had this [Saturday] morning with everybody, for that very reason," Southgate said after the Nigeria game. "Not that we are looking to get away with anything, but if we thought we could, that's gone. We have to be vigilant in all areas of the pitch."
Away from the World Cup: the secret lives of goalposts in Russia

Show all 28
Southgate was asked about diving – Raheem Sterling was booked for simulation on Saturday – and he said that bad tackles could be an issue too for his players. "Whatever is [decided], there have been tackles we've had in recent games that would be pulled up, might have been yellow or red cards. For all our players, it's something we have to be aware of."
Southgate said that his players understood what VAR would mean. "They recognised that's going to come in," Southgate said. "It's a system everybody is still getting used to and how it's implemented is going to be key because if you look at any corner, for example, if you go looking for infringements you could find hundreds. How that is going to be interpreted is going to be really important for the consistency in the tournament."
​Southgate also spoke about the importance of off-field discipline, and how after the incident with Sterling reporting late from holiday, he had to ensure that standards did not drop. "I have been a player, and I know that when things get sloppy, standards drop. And we have to make sure they do not drop." While a more experienced dressing room could ensure that does not happen, the fact that this is a young England team means that Southgate has to take more of a hands-on role with disciplinary issues.
"I don't think we are quite at that stage where they are ready to do [police themselves]," Southgate said. "In an ideal world, in any sport, you have experienced senior players who take control of situations. I don't think they are quite ready to take total ownership of those decisions, because of their age and their experience. In the end it is for the long term benefit of the team, but I also know when to step in to set the tone and I know with each player that is slightly different. But they will react off the leader and that leader has to be strong."
Register for free to continue reading
Registration is a free and easy way to support our truly independent journalism
By registering, you will also enjoy limited access to Premium articles, exclusive newsletters, commenting, and virtual events with our leading journalists
Already have an account? sign in
Register for free to continue reading
Registration is a free and easy way to support our truly independent journalism
By registering, you will also enjoy limited access to Premium articles, exclusive newsletters, commenting, and virtual events with our leading journalists
Already have an account? sign in
Join our new commenting forum
Join thought-provoking conversations, follow other Independent readers and see their replies