World Cup 2018: England fans scuffle with each other but not fighting Russians, say police
Fears of violent clashes between hooligans so far unfounded as police report 'good atmosphere' between rivals
Chris Baynes
Friday 29 June 2018 19:27 Comments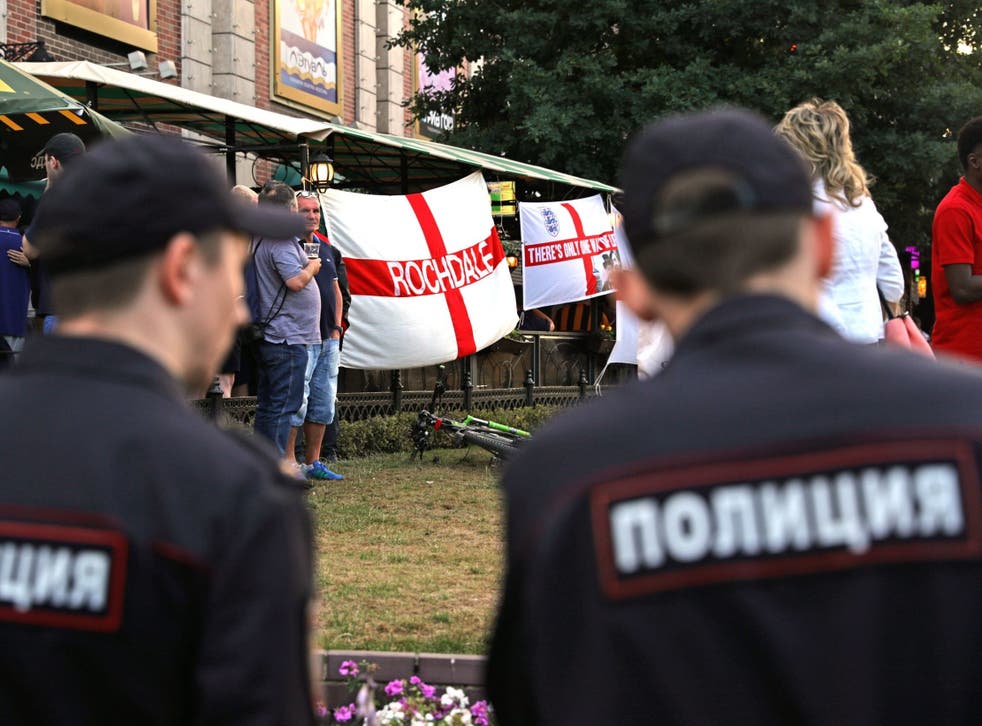 Fears of violence between England supporters and Russian hooligans has so far proved unfounded, British police have said, although a few English fans are facing bans from future matches after fighting with each other ahead of their team's World Cup game against Belgium.
A team of police spotters monitoring travelling fans also reported "a good atmosphere" between the English and supporters of rival nations.
England's Euro 2016 campaign was marred by violence in Marseille which left dozens of Britons in hospital following clashes with Russian and French hooligans.
MPs warned ahead of the World Cup that "anti-British hostility" following the poisoning of Sergei Skripal may place the travelling English in greater danger.
Many England fans chose to stay at home, amid fears of violence, racism and homophobia.
But police spotters said there had been "no incidents" involving rival supporters as the tournament's group stage drew to a close on Thursday, with minor clashes only breaking out between England fans travelling to Russia through Poland.
Deputy chief constable Mark Roberts, who is leading UK police World Cup investigation team, said: "Police on the ground in Poland have reflected on the good atmosphere witnessed in Gdansk, as a large number of coaches travel to Kaliningrad
"The team of spotters in Gdansk reported one scuffle between England supporters, which fellow fans quickly stopped. The people involved are being further investigated with a view to securing football banning orders on their return to the UK."
He added: "In Kaliningrad, there remains a good atmosphere between England and Belgian fans and no incidents have been seen or reported overnight."
Russia state media have expressed a sense of vindication over the relative peace with which the World Cup's opening fortnight has passed.
"The British press used 'those scary Russians' to frighten its fans so much ahead of the World Cup that most of them decided to stay home," said a Channel One presenter said in an evening news broadcast. "Now it looks like the fans who did come are no longer reading the English papers."
Russia and England fans clash at Euro 2016 – in pictures

Show all 15
Mr Roberts, of the National Police Chiefs' Council (NPCC), said the majority of England fans had been "making friends wherever they are going", praising their behaviour as "in the main, excellent".
"While there have been a couple of isolated incidents, which have been dealt with swiftly by police in both Russia and the UK, the vast majority of the fans out in Russia are simply enjoying the football and being good guests of the country," he added.
Two England fans were banned from attending football matches earlier this week after they were filmed singing an antisemitic song and performing Nazi salutes at a bar in Volgograd, which hosted the team's opening World Cup match against Tunisia.
Another man subject to a football banning order was stopped at Luton Airport on Wednesday as he attempted to travel to Russia with a new passport. He was among 1,312 known troublemakers who were forced to surrender their passports ahead of the World Cup.
The NPCC said the man would be summonsed to court for breaching the banning order.
Register for free to continue reading
Registration is a free and easy way to support our truly independent journalism
By registering, you will also enjoy limited access to Premium articles, exclusive newsletters, commenting, and virtual events with our leading journalists
Already have an account? sign in
Join our new commenting forum
Join thought-provoking conversations, follow other Independent readers and see their replies