World Cup 2018: Kicked out of the game with Switzerland, Neymar needs to give himself a kick if Brazil are to succeed
Despite hobbling away after becoming the most fouled player at a World Cup in 20 years, Neymar's performance borderlined on a schoolboy level as he tore Brazil's tactics apart
It was the image that no one in Brazil wanted to see, and that is not just the full-time scoreboard that confirms they have now have failed to win their first World Cup game back since that 7-1 defeat. It could actually be something much further reaching, but for a host of reasons.
That was the sight of Neymar visibly hobbling through the Rostov Arena mixed zone, after Switzerland subjected him to more fouls than any World Cup player in a single game in 20 years.
The Brazilian star then stopped for media, even beckoning journalists over to another area and creating a huge surge, and declared that there's "nothing to worry about".
Brazil vs Switzerland: Player ratings

Show all 24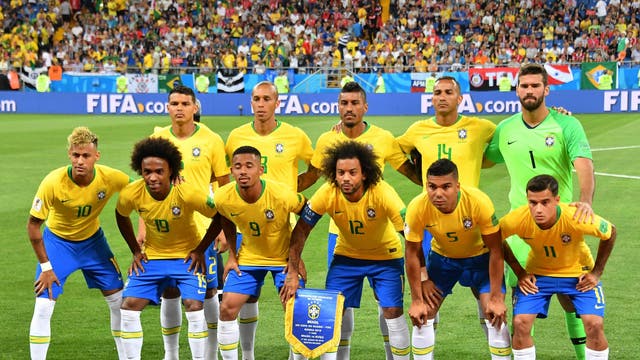 But while that might be true of this injury, it is not necessarily true of his indulgent play and its influence on the team. Neymar said these words while wearing a cap that completely covered that flamboyant new haircut and although he usually wears some branded headwear after the games, it on this occasion felt reflective of his performance. His flair had been subdued, obscured.
And the worst part was that, as with the haircut, he seemed to be so desperately trying to show it off.
This is where the worry is. Neymar admittedly went into this 1-1 draw with Switzerland short of full fitness, but the problem here wasn't the lack of sharpness caused by physical issues. It was a lack of sharpness caused by his decision-making. There were just so many occasions when Brazil were quickly building a move, only for Neymar to completely slow it down by taking a number of unnecessary touches.
It was, in truth, juvenile stuff; the sort of ball-hogging you see in schoolboy football. It also completely negated the more mature and punishingly quick approach Brazil have marked themselves out with in the qualifying campaign.
Because of play like this, there are some on the fringes of the camp who have delicately broached the theory that some time out of the team may not be the worst for either Tite or Neymar. That feels ridiculous since, regardless of anything else, it is always worth having that kind of talent for the constant manner it occupies opposition defences and the constant – and very real – threat of something remarkable out of nowhere. But it's not to say Tite couldn't do with applying the kind of discipline on Neymar that he has done on the rest of the Brazil team. It does feel like he needs a bit of a kick, and not of the type that the Swiss made him endure.
It's similarly difficult not to link that indulgent play to the ludicrous way Neymar is more generally endured at Paris Saint-Germain. The star can get away with a lot in the French capital, and it doesn't really affect him because his extreme talent can still get away with a lot in the French league, but that changes when the stakes escalate and the talent gap closes – like here. It also seems to reflect a change in his game, and a reversion.
Neymar had seemed to significantly grow up at Barcelona across the 2014/15 and 2015/16 campaigns, shedding the more infantile elements of his game, only to so quickly pick them up again. Many around Barcelona felt that was inevitable due to the way he has been more than indulged by the significant entourage around him.
One story has it that, during his injury, Neymar was supposed to record a promotion with one of his sponsored companies and the tightly controlled schedule had it at no more than six hours. Except, as they went into the last hour, the player just decided he'd had enough. He was bored, and that was that. The last hour would not be recorded.
Such an attitude may mean that he won't achieve the records he should, either, but it can also be exaggerated.
Some of that entourage were actually out in Rostov-on-Don on the eve of the game, in a popular bar called 'New York New York', but there were only seven of them and nothing showy like champagne. His father even stopped for several photos and was willing to chat to everyone.
The son could do with stripping things down in the same way, returning to the incision of two years ago.
This match might be the kick he needs, if hopefully not involving the kick that keeps him out.
Join our new commenting forum
Join thought-provoking conversations, follow other Independent readers and see their replies