Wilfred Ndidi ready for next step forward in blossoming career as Nigeria bid to take World Cup by storm
Exclusive interview: 'Footballers from where I come from have made it big due to the talent but for me, I believe it's my hard work and the luck that God has given me'
Rahman Osman
Saturday 16 June 2018 10:16 Comments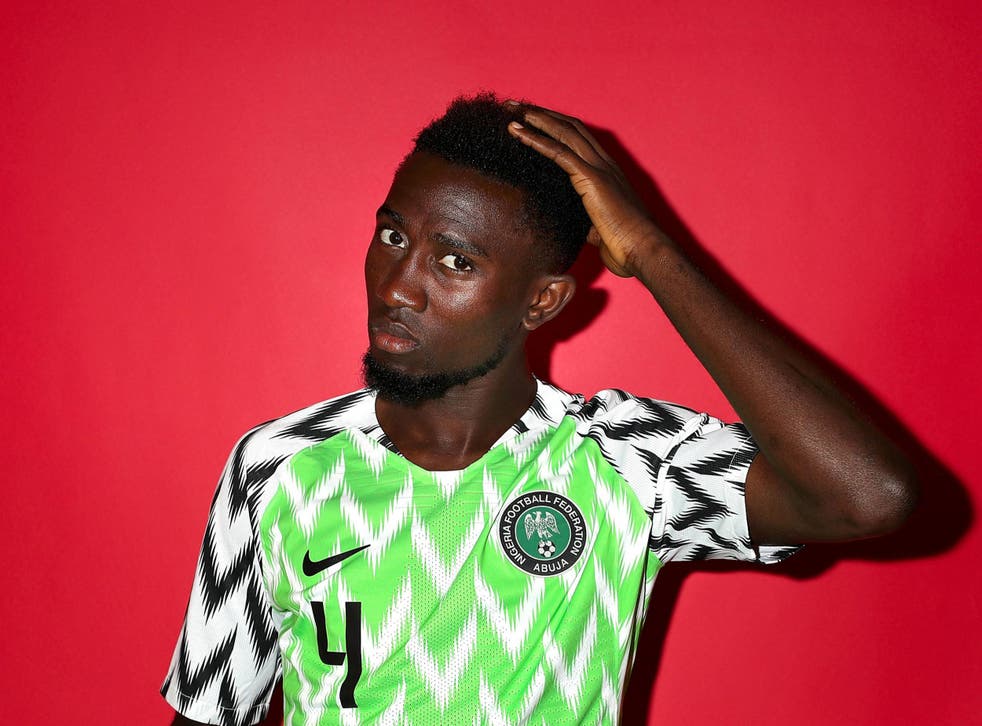 "My dad was a military man and didn't want me to be a footballer, but my mum taught me to strive on. Not that it guaranteed me any success, but the act of striving kept alive my hope to be a footballer and now I will be playing at the World Cup."
These were the last words of Wilfred Ndidi, sitting on his balcony at the Hilton in London just a few hours before the Super Eagles of Nigeria took on the Three Lions of England as part of their preparations for this summer's World Cup in Russia.
The Leicester City midfielder had always wanted to make it to the highest level when he used to play amateur football in Festac Town, a small residential estate in Lagos. His dream of playing alongside John Obi Mikel at the World Cup is just a few days away from being a reality, but the journey has not been an easy one.
2018 World Cup group-by-group guide

Show all 33
"For me whatever is happening I always say I am lucky enough that I am one of the few privileged to have played football. It's my dream job and I will do it for free today and forever," Ndidi says. "There are a lot of stories of how footballers from where I come from have made it big due to the talent but for me, I believe it's my hard work and the luck that God has given me.
"I am just being real here – to come from where I come from, to be playing in the English Premier League and on the verge of going to the World Cup is nothing short of how I saw myself during my days in Festac, selling and helping my mum."
Ndidi has wasted little time in settling into English football since arriving in the East Midlands from Genk midway through last season and his reputation has risen just as quickly.
At the time of his signing, Leicester were struggling under the weight of being such unlikely Premier League champions. N'Golo Kanté, so integral to that remarkable triumph, was long gone. Nampalys Mendy and Daniel Amartey had both tried to replace him but failed.
Ndidi, though, has not only plugged the Kanté-shaped hole but outperformed his predecessor in some areas. This past Premier League season, Kanté clocked up 130 successful tackles and interceptions combined at Chelsea. Ndidi ended with 153, more than any player in Europe's top five leagues. Given his tender age, he can only get better.
"When I came a lot of people kept on saying that the position was Kanté's but I kept on telling myself: 'Look, you cannot be Kante.' If I played very well then someday I would also be remembered as a great," he says.
"Unfortunately I came just a season after the team won the league. Naturally, there would be some huge boots to fill but I am happy with how things have gone."
Ndidi had made just seven appearances for Leicester when Claudio Ranieri, the architect of the title triumph and the man who had brought him to the club, was controversially dismissed. Ranieri paid the price for underwhelming results and mounting unrest in the dressing room, but his final Leicester signing remains grateful.
"I was a little bit disappointed that I did not get to help Ranieri because he showed so much faith in bringing me and I was disappointed when he was sacked but to be a professional footballer, I have to get used to stuff like that. I took it on the chin and still message him from time to time."
And so, from the Nath Academy in Ikeja via Genk and Leicester, Ndidi has reached Kaliningrad, where the Super Eagles play Croatia on Saturday. In a tight group that also features Lionel Messi's Argentina as well as the drilled and disciplined Iceland, three early points would be most welcome.
Much of the pre-tournament attention on Nigeria has focused on their kit, which sold out within minutes of release earlier this month when three million orders were placed online. Ndidi is a fan of the strip himself but remains conscious that come kick-off on Saturday, he and his team-mates will be involved in a football match, not a fashion show.
"The jersey and its hype does not add any pressure to us," he stresses. "Before seeing it in person I thought it was just normal talking up to get something sold, but I must say yes it's very nice. It brings out the culture that has made us the green nation that we are in Africa.
"But what is the use of a good jersey if we are unable to play with pride and represent this nation that I am so proud of to have been born in? I think that what this jersey does to us is that it gives us one more reason to go out there and show the world that Nigeria can compete and win against any other side."
Mikel, Ndidi's national team captain, briefly interrupts this interview to congratulate his midfield partner on becoming a superstar and getting the most media attention of any player in the camp. Ndidi is popular within the squad as well as outside of it, and has integrated well at Leicester too. He and Jamie Vardy are often seen cracking jokes.
While Ndidi can be confident of starting for his country, Vardy's impact with England in Russia is likely to come from the bench. Harry Kane is not only Gareth Southgate's first-choice frontman but also his captain. Ndidi, though, feels Vardy is at the same level as Kane and believes his Leicester team-mate has qualities that could make the difference for England.
"For me, aside from Nigeria, I would like to see England win the World Cup," he says. "They certainly have the men for it and Vardy is certainly one of the reasons why they will stand a chance. Just look among all their true strikers – no one is as smart and fast as he is and even though there are other players who are equally good, Vardy for me is up there. I train and get to play with him and against him so I can tell what his true qualities are.
"Harry [Maguire, the Leicester centre-back] is a solid rock at the back and a contemporary defender who is so passionate about playing for his nation. He never stops talking about playing for England, even in the dressing room so that should certainly mean a lot for him."
For Ndidi though, the focus remains on Nigeria. Four years ago, he was hawking groundnuts on the streets around Festac and helping his mother to wash windscreens. Now, he is on the verge of playing in the world's greatest football tournament. On Saturday, he takes that final step.
Register for free to continue reading
Registration is a free and easy way to support our truly independent journalism
By registering, you will also enjoy limited access to Premium articles, exclusive newsletters, commenting, and virtual events with our leading journalists
Already have an account? sign in
Join our new commenting forum
Join thought-provoking conversations, follow other Independent readers and see their replies