WSL prepares for curtain raiser but shadow cast by Mark Sampson case looms large over women's game
Preview: The new season of the Women's Super League begins on Friday night against a poisonous backdrop of division, recrimination and turmoil following the sacking of the England boss
Glenn Moore
Friday 22 September 2017 11:40 Comments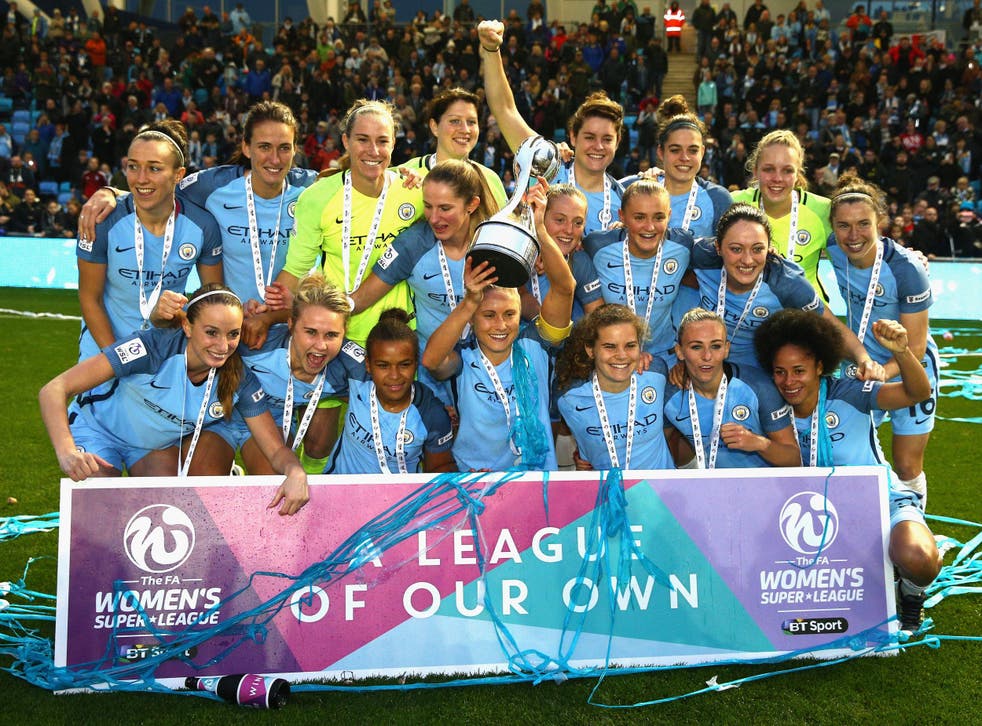 A fortnight ago leading players from women's football met at Wembley Stadium for a photo-shoot and media session to promote the FA Women's Super League, which returns on Friday with the Merseyside derby.
There were a lot of questions along the lines of it being "a great time to be involved in women's football", referencing the four million viewers Channel 4 drew to watch England in the summer's European Championship semi-final, and the game's growing technical quality and professionalism.
Although the furore over Eniola Aluko's allegations of racism and bullying by England coach Mark Sampson was already rumbling the atmosphere was positive and light-hearted. There was a real belief the sport would build on the momentum generated by the lionesses' campaign.
Now, however, the league begins its first wintertime season against a poisonous backdrop of division, recrimination and turmoil. Less than 24 hours after overseeing a 6-0 victory over Russia in the first World Cup qualifier on Tuesday Sampson was fired, FA executives having finally got around to actually reading a 2014 report into allegations of 'inappropriate behaviour' involving players when he was manager of Bristol Academy. The Aluko affair has turned very nasty, pitting current internationals against exiled ones and splitting the fanbase. Further damaging revelations are likely, especially as any players who felt constrained by Sampson's position are now free to speak.
As if this was not enough there is concern as to how many fans in a family-orientated sport will turn out for a winter competition when the evenings grow dark and chilly. Furthermore some clubs in both divisions will be wondering why they are bothering as, with licences due for renewal at the end of the season, the FA are proposing another revamp. This would split the game into three tiers, a full-time WSL, a part-time second level under new branding, and the regional, largely amateur Women's Premier League. A club such as Sunderland, who have reverted to part-time status, seem likely to be relegated regardless of results.
Insisting WSL clubs are full-time is a risk, as at present only five are, which would make for a very small, dull league. But the FA hope ambitious clubs such as Tottenham and Brighton, both newly promoted to WSL2, or even Southampton, currently operating only an U21 team but with a heritage in the sport, will seize the chance to gain accelerated promotion to the elite. After all, that's what Manchester City did in 2014 and they won the treble last season. The FA are desperate for the women's game to become self-sustaining (or at least look as if it could be one day) and believe only a fully professional league, raising standards and competitiveness, will bring in enough TV and commercial revenue to do so.
They may have a point. Logically only Manchester City, Chelsea or Arsenal, all teams heavily funded by their men's clubs, can win the WSL. Chelsea, now installed at AFC Wimbledon's Kingsmeadow, have the best-balanced squad but could have a split dressing room with key players seemingly on either side of the Aluko/Sampson divide. City have lost Lucy Bronze while Arsenal gained Vivianne Miedema, one of four players from the victorious Euro 2017 Dutch team.
Of the rest Liverpool are favourites to come fourth. Newly-promoted Everton should survive, having gone full-time, along with a Birmingham City team based on a fine youth system and a Reading one bolstered by Fara Williams. That leaves Sunderland, Yeovil and Bristol City struggling for points and future relevance. Doncaster Belles are favourites in WSL2 but the main interest will be in how former England coach Hope Powell fares on her return to management at Brighton.
Eight of the 20 men's Premier League clubs are now represented in the 20-team WSL with a further seven in the 72-team WPL. Of the rest Bournemouth and Burnley are further down the pyramid, Swansea in the Welsh Premier League, and Southampton have their U21 team. That leaves only Manchester United, despite regular criticism and a good girls' programme, absent from the adult sport. The FA would love the proposed new structure to lure them into getting involved, but there is no sign of a change of heart at present. It is hard to imagine the events of the last few weeks will change Old Trafford minds.
For more information and to purchase tickets, visit: www.FAWSL.com
Predictions
Champions: Arsenal
Surprise package: Reading
Golden boot: Vivianne Miedema (Arsenal)
Player of the year: Jordan Nobbs (Arsenal)
Young player of the year: Keira Walsh (Man City)
Register for free to continue reading
Registration is a free and easy way to support our truly independent journalism
By registering, you will also enjoy limited access to Premium articles, exclusive newsletters, commenting, and virtual events with our leading journalists
Already have an account? sign in
Join our new commenting forum
Join thought-provoking conversations, follow other Independent readers and see their replies