After a quarter of a century, Koch remains untouchable
Male records are being broken every other week but marks set by dubious East German should not stand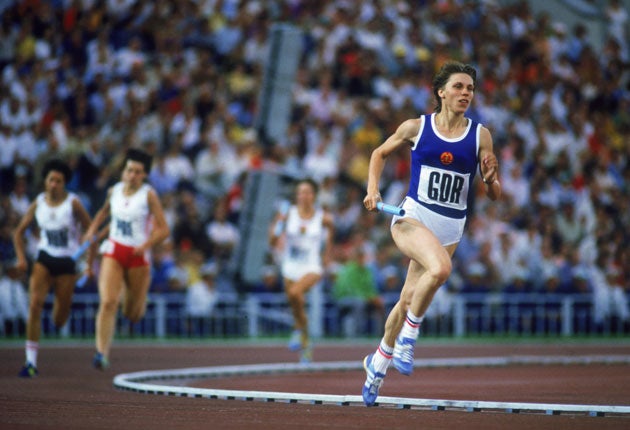 There was no chance of the Lightning Bolt striking at the Spaladium Arena in Split yesterday. Track and field's most prolific record-breaker of recent times has been undergoing running repairs since his sudden acquaintance with defeat in Stockholm a month ago. He also has a book to promote, chronicling how he revised the 100 metres world record three times over the course of 2008 and 2009 and the 200m record twice.
Still, this afternoon in the Croatian capital, day two of the Continental Cup – as the old World Cup team competition has been renamed – will feature David Rudisha, the 21-year-old Kenyan who has set new global figures for the 800m twice in the past fortnight – 1min 41.09sec in Berlin and 1:41.01 in Rieti. David Oliver, the American who came within 0.02sec of the 110m hurdles world record in Paris in July, will also be in action.
For the best of the bunch in men's track events, it seems the world record ledger remains an open book. Sadly, to the women's elite at the majority of distances on the track, it is shut tight. From 100m to 800m it has been a closed book since the 1980s.
The one individual world record set in the World Cup has been out of reach for 25 years. At the Bruce Stadium in Canberra on 6 October 1985, Marita Koch blitzed 400m in 47.60sec. Watching it now on YouTube, it remains a stunning sight to behold. Running in the unfavourably tight second lane, Koch sets off like she is running a 200m race and just keeps going, as though she is immune to the natural brake fluid of lactic acid.
In a quarter of a century, no other female 400m runner has broken 48 seconds. In the Continental Cup race in Split yesterday, only one woman broke 50sec, Amantle Montsho of Botswana, prevailing in 49.89. Christine Ohuruogu, the Olympic champion, has a lifetime best of 49.61.
Koch's untouchable time stands as a legacy of the track and field machine of the German Democratic Republic – a machine that was found to have been not so much oiled as turbo-charged by a systematic doping programme when documents of the Stasi secret police force came to light after the fall of the Berlin Wall.
In an extensive examination of Stasi files for their revelatory 1991 book Doping-Dokumente, Brigitte Berendonk and Werner Franke uncovered a list of annual dosages of Oral-Turinabol administered to Koch and the other leading lights of the all-conquering East German women's track and field squad. They also unearthed a letter from Koch to Jenapharm complaining that Barbel Wockel, who won the European 200m title ahead of her in Athens in 1982, was being given stronger doses of the steroids because her uncle was president of the pharmaceutical company that fed the East German athletics regime.
Not that Koch has ever acknowledged any taint. Now 53 and running a sports shop with her husband and former coach, Wolfgang Meier, in Rostock, she has insisted: "At the World Championships in Helsinki in 1983 I had to go to dope-testing three times and always I was clean. The same applies to my career overall. I was a mature and responsible athlete."
There are three other East German marks that remain unbeaten: the men's and women's discus records held by Jürgen Schult (74.08m) and Gabriele Reinsch (76.80m with a lighter implement) plus the 4 x 100m relay time of 41.37sec set by Koch's team-mates Silke Gladisch, Sabine Rieger, Ingrid Auerswald and Marlies Göhr at the 1985 World Cup in Canberra.
Koch's 400m performance in the Australian capital eclipsed a record that had been held by Jarmila Kratochvilova, but the world 800m record set in Munich in 1983 by the big hulk of a Czechoslovakian – 1 min 53.28sec – remains unchallenged.
Like Koch, Kratochvilova never failed a drugs test but her build, and her sudden progress late in her track and field life (she didn't break 53sec for 400m until the age of 27 and was 32 when she broke the 800m record) raised more than a few eyebrows.
When she competed on the US indoor circuit in 1984, Dr Leroy Perry, a chiropractor who worked closely with leading athletes in the United States, told the Los Angeles Times: "I've never seen a body like that. I think there is something chemically different about her physiological make-up, and it had to happen in the last five years. And I'm sure it hasn't come from weightlifting."
The United States sprinter Florence Griffith-Joyner underwent a similar physical transformation before she put the 100m and 200m records beyond reach, at 10.49sec and 21.34sec respectively, in 1988. She, too, never failed a drugs test, but Carl Lewis, in his autobiography, Inside Track, described her sudden leap from also-ran to untouchable as "a change that came too quickly for the imagination." He added: "Her physical appearance alone – muscles popping everywhere – made a lot of people wonder. Then there was the voice, much deeper than it had been in the past."
Flo-Jo died in 1998, aged 38, after suffering an epileptic seizure. Her records, however, live on. Like those of Marita Koch and Jarmila Kratochvilova, they are likely to remain beyond reach for a good while yet.
Join our commenting forum
Join thought-provoking conversations, follow other Independent readers and see their replies