Anniversary Games 2015: David Weir regrets lost momentum after Paralympic triumph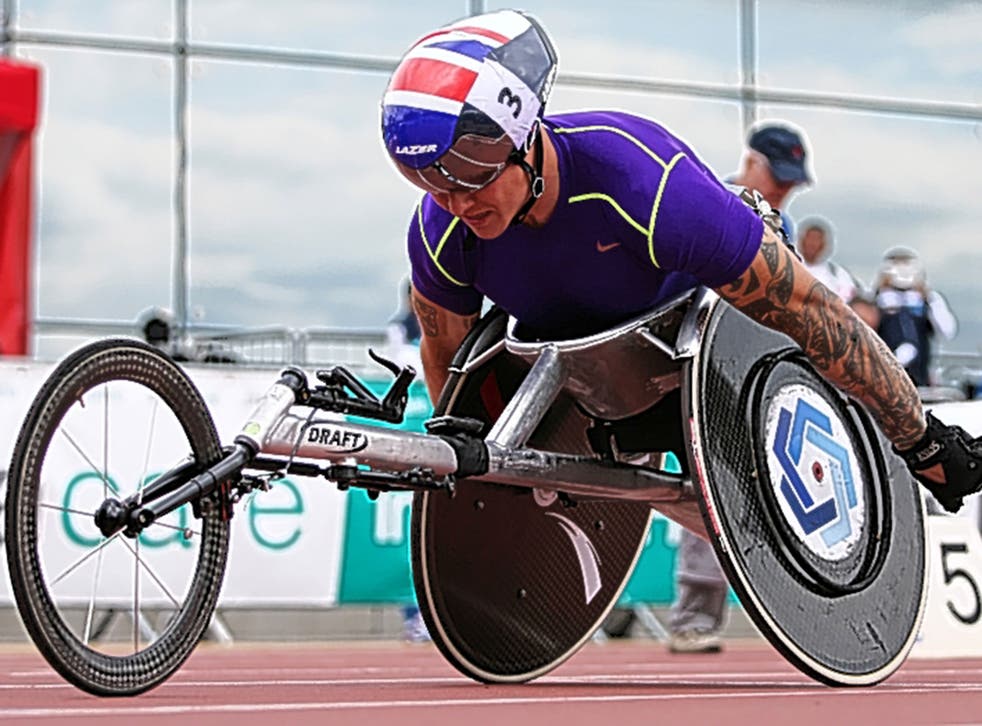 David Weir's return to the Olympic Stadium today will bring back memories from the heady days of London 2012 but it will be accompanied by a sense of regret.
The four-time Paralympic gold medallist from three years ago lines up for the 1500m on the final day of the Anniversary Games today knowing an opportunity has been missed.
Some 20,000 tickets have been sold for the Paralympic element of the three days of athletics but Weir fears that the movement has missed a trick on the highs of London 2012 when Britain's Paralympic athletes were greeted by packed stands for every single session.
"The momentum has been lost from 2012 and 2013," he said, "and if we're not careful it'll go back to how it was before."
Weir can recall times competing in front of virtually one man and his dog in the early days of the wheelchair racer's career until the last Paralympics, which proved a pinnacle for Weir's sport with the now 36-year-old as its key player.
Of the last Anniversary Games in 2013, when the final day was a sell-out, Weir said: "In 2013, it was still in people's memories, people still wanted to come and see us."
For a Paralympic event, 20,000 is still a strong crowd but still less than half of the preceding two days of Diamond League action yesterday and Friday, much to Weir's chagrin.
"It's a bit disappointing," he said of the numbers. "I think there's been a lack of publicity."
Weir would rather have seen himself compete alongside the able-bodied athletes on the Diamond League schedule, along with his fellow British stars of London 2012 such as the sprinter Jonnie Peacock and the wheelchair racer Hannah Cockroft.
"It's only a few more hours and I'm sure we could have fitted into the schedule," added Weir. "But the IPC [International Paralympic Committee] wanted their own way and, with them, that doesn't seem to be the right way.
"We all remember how special 2012 was and, as Paralympic athletes, we never felt left out. Just take any Seb Coe speech – every time he talked of the Games he talked about the Olympics and Paralympics as one. We need to get back to that. We need to be in Diamond League races, we need to be in people's faces."
Amid all the frustration, Weir is happy to be back at the Olympic Stadium where he won three of his four golds, the other coming in the final event of London 2012, the marathon.
At the start of last week, though, there was a fear he would not race at all having been struck down with a throat infection after an earlier shoulder injury.
"If you'd asked me a few days ago, I probably would have said, 'this isn't going to happen'. I was really feverish," he added. "But the last few days I feel like I've been getting back to where I was. I just don't know how I'll go. I can only do my best."
He is well aware that expectation will be high from a public used to seeing him undefeated on home soil. "Hopefully people understand how my build-up has been," he said. "I'm going out there to win but it very much depends on the day."
In the build-up, there are times when he has glanced back at his races from London 2012 on YouTube. "It's funny because I'll watch back in amazement really," he said. And the quadruple gold is something he would obviously love to do next year at the Rio Games but he admits such an undertaking would be harder than London, such are the calibre of athletes now emerging.
But, fitness permitting, he will definitely be in Rio. "I'd just be happy to pick up a medal in Rio," he said. "I'd be happy with that as I feel like I've achieved everything I need to. That's not to say I won't train 100 per cent to be in the best shape I can possibly be."
Today's events will be shown on C4, 2-4.40pm
Register for free to continue reading
Registration is a free and easy way to support our truly independent journalism
By registering, you will also enjoy limited access to Premium articles, exclusive newsletters, commenting, and virtual events with our leading journalists
Already have an account? sign in
Register for free to continue reading
Registration is a free and easy way to support our truly independent journalism
By registering, you will also enjoy limited access to Premium articles, exclusive newsletters, commenting, and virtual events with our leading journalists
Already have an account? sign in
Join our new commenting forum
Join thought-provoking conversations, follow other Independent readers and see their replies