At home in Oregon, Mo Farah still lives under a dubious haze of unanswered questions
We might not have to wait too much longer for the rigorous independent assessment on Salazar
Ian Herbert
Monday 21 December 2015 01:11 Comments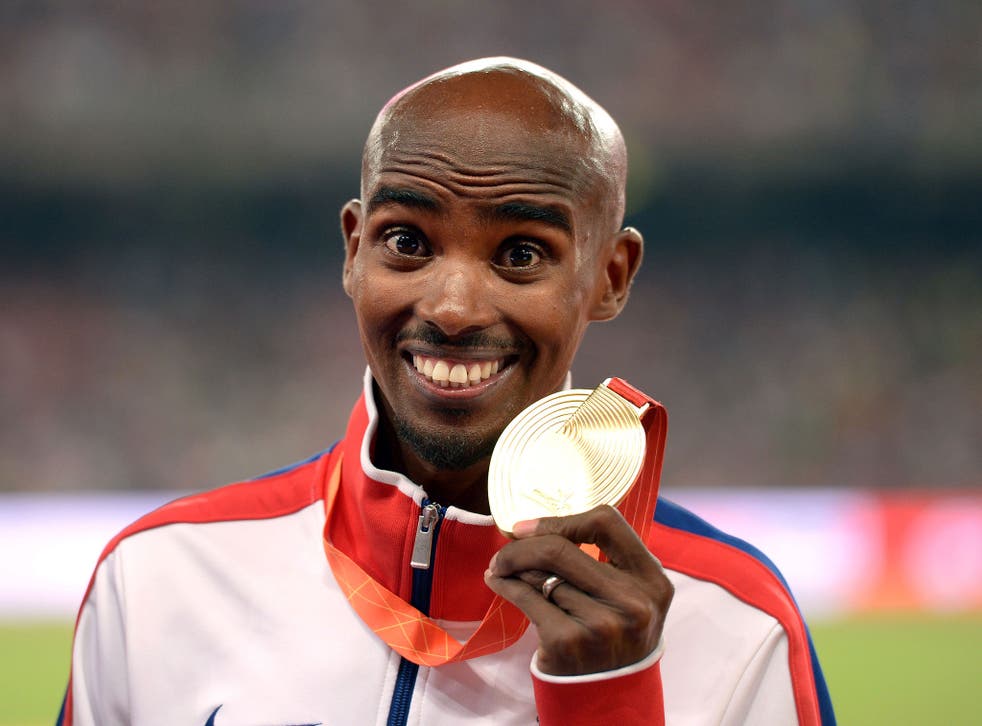 Six words buried in one of those nice, soft-focus interviews with Mo Farah told us why there is still something unsettling about him. "At his home in Portland, Oregon," was the scene-setting sentence for this week's Radio Times interview which reveals how Mrs Farah will be cooking this week "and is great in the kitchen". So now we know it. Even on Christmas Day, Farah is an Alberto Salazar, Nike Oregon Project athlete.
All the money in the world that this athlete throws at Freud Communications – whom he engaged for some serious image-building this summer when the BBC broadcast detailed allegations that Salazar, his coach, had promoted testosterone-fuelled cheating – cannot remove the fact that the depth of his association with the subject of a full-blown doping controversy is deeply destructive.
We might not have to wait too much longer for the rigorous independent assessment on Salazar, who denies all allegations. It is thought that the US Anti-Doping Agency's work in securing a key testimony might be nearing its conclusion, with findings to be published next month. It might have gone quiet but this story is as alive as ever. Farah's already reached his own conclusions, though. He related last week how Salazar had promised him that he was "going to write a dossier setting out all the facts". As if to suggest that the said document – 12,000 words replete with gaping holes, mysteries and a vicious personal attack on one of the programme's witnesses – had cleared everything up. It actually created a greater miasma of doubt than ever.
What the controversy really required was for Farah to put himself at a distance from Salazar until the investigation had been concluded and, at the very least, undertake full, transparent discussions with the athletics writers who'll ask about more than Tania Farah's Christmas kitchen. What we have been treated to instead is a swirl of denial, obfuscation and indignation towards those who had the temerity to utter the words "Salazar" and "Farah" in the same breath.
British Athletics' paralysis in the eye of the initial storm made a press conference Farah gave at that time seem moderately impressive, even though there was a launch into the third person when he spoke – "it's all Mo, Mo, Mo," he complained – which is the first sign of the sportsman's ego running away with him.
But within hours of that event Farah had unceremoniously baled out on a dawn flight home to Oregon, failing to show at a Birmingham Diamond League meeting. And though he popped up in an athletes/journalists mixed zone in Monaco a month later, it was hardly the place to seriously pose the new questions about him which had surfaced by then. Like: "Mo, how could you have failed to answer the door to drug testers told to ring your doorbell repeatedly over the course of an hour?" No mention of that in the Radio Times.
With such an absence of qualitative information from Farah, there has been a more impressionistic journey into his world this past year – and it has a been a less than charming experience. His is the story of semi-detachment from UK Athletics, in which that permanent base in Oregon means that day-to-day control of knowledge and information on his training regime and data is held by Salazar and the Nike sports scientists.
It is the story of one hugely wealthy athlete, whose company recently revealed a £1.96m profit for the last financial year, having British Athletics dancing almost entirely to his tune. The organisation's performance director, Neil Black, is Farah's personal physio and its head of endurance Barry Fudge devoted to him, when Farah is not in the United States. You do wonder how the British-based athletes feel about that.
At least the British public saw the comparative merits of Jess Ennis-Hill and Farah for what they were at the weekend. Ennis-Hill's accomplishment – World Championships gold barely a year after giving birth to her first child – put her BBC Sports Personality of the Year award odds way ahead of Farah's, going into last night's event. Farah was even behind rugby league's Kevin Sinfield – even though this was the year when he took on and beat the Kenyans and Ethiopians with 5,000m and 10,000m gold at the Worlds.
It was a measure of the place athletics is in that a two-year ban imposed on one of Salazar's Oregon athletes, Daniele Meucci – who trained with Farah – elicited minimal coverage a few weeks back. Meucci, the 2010 European Championship 10,000m bronze medallist, metaphorically failed to hear his own doorbell more than three times.
Our man just doesn't want to talk about stuff like that, though. "Farah sighs… he's loath to go back to those few months," Sport magazine reported in another friendly interview with him last week, having helpfully asked him "how difficult that period was for him and his family". By the law of unintended consequences, a headline above the free sheet's feature piece said everything about Farah and his insistence that the problems engulfing his sport's credibility are not his problem: "Mo Farah on the year he rose above it all."
West Indies collapse spells danger ahead for the 'giants'
Still the unconscionable decline of West Indies cricket goes on. Those who grieve for the side will have looked away from the Hobart scorecard which told of the innings and 212-run defeat to Australia. Still no evidence that the International Cricket Council has the mildest concern as it reinforces the hegemony and vast wealth of India, England and Australia. "The giants may soon have no one to play against but each other," The Economist suggested a few days ago.
Visionary Jimmy Hill was nobody's man in the middle
The unspoken, private tragedy of Jimmy Hill's decline had stretched over very many months. It's more than a year since I tried to reach him for a piece about football commentators. The word came back that he wasn't well. You knew that he would have looked his struggle square in the face, though, because that's how it always was with him.
Hill, whose countless moments of vision included telling a young Southern Television broadcaster called Richard Davies to see what it did for his profile to start calling himself Dickie, was once told by his Match of the Day editor Brian Barwick that he'd finished top of a viewers' poll for favourite sports presenter.
"Lovely," said Hill.
Barwick then told him he'd also finished top in the viewers' poll for their least favourite presenter.
"Lovely," said Hill.
"Lovely?" asked Barwick. "Yes," replied Hill. "The place you don't want to finish in those blasted surveys is middle."
And he was right.
Register for free to continue reading
Registration is a free and easy way to support our truly independent journalism
By registering, you will also enjoy limited access to Premium articles, exclusive newsletters, commenting, and virtual events with our leading journalists
Already have an account? sign in
Join our new commenting forum
Join thought-provoking conversations, follow other Independent readers and see their replies